Melbourne has a lot going for it as a top holiday destination. The City offers a mix of cosmopolitan and old-world charms, a trendy food scene and attractions within easy reach. Venture out of the City and you can experience nature at its finest amongst the lush mountain ranges, rugged coastlines and – at the right time of the year – family-friendly snowfields perfect for skiing or tobogganing.
With so much to do, it is important to plan your time in Melbourne wisely. After a recent trip to Melbourne, made possible by Klook, we have put together a collection of travel tips for those who are planning a Melbourne holiday.
For those who are unfamiliar, Klook (www.klook.com) is a travel services booking website that offers activities in over 270 destinations. Founded in 2014, Klook's investors include Softbank's Vision Fund, OurCrowd and Goldman Sachs and it has a valuation of more than $1 billion. With such muscle, it offers in-destination tours and discounted attraction bookings – in other words, many good deals for travellers.
Booking on Klook is a breeze. Either go online or use the Klook app to make a booking and get an e-voucher to use at attractions or for services.
---
-- Story continues below --
Enjoy BIG Savings with Klook's Summer Sale!
Klook is having a Summer Sale with up to 10% off Klook activities from 3 May to 30 June 2019. The promo codes for the Klook Summer Sale are:
<ESCAPE8> for 8% off Klook activities, min spend $150
<ESCAPE10> for 10% off Klook activities, min spend $400
Get the full details on how you can ENJOYS SAVINGS on your holiday here.
Melbourne Travel Tips
Here are some travel tips that we picked up from our recent travels to Melbourne, courtesy of Klook.
---
WiFi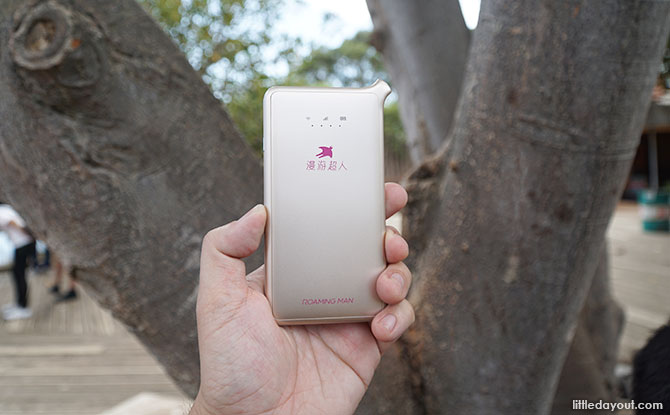 WiFi is a travel essential nowadays. Not only is good for communications through apps like Whatsapp, it also works great for navigation and, of course, sharing the latest pics with friends and family back home.
During our recent trip to Melbourne, we made use of a 4G WiFi device from Roaming Man which we booked from Klook. The Roaming Man WiFi device connectivity was more than adequate for our needs in Melbourne, even away from City at locations like Phillip Island and the Dandenongs. We used it mainly for navigation, searching for information online and whatsapp calls. Find out more about the Roaming Man 4G WiFi device here.
---
iVenture Card
One card to consider for your visit to Melbourne is the iVenture Card. This Card (which comes in physical form or an e-version) provides access to 30 of the top attractions in Melbourne and saves you a bunch of money.
Examples of attractions within the City covered in the iVenture Card include the Melbourne Zoo, Old Melbourne Gaol, Eureka Skydeck 88, LEGOLAND Discovery Centre, the Melbourne Star Ferris Wheel and SEA LIFE Aquarium.
Outside of the City, the iVenture Card also covers places such as the Healesville Sanctuary, Ashcombe Maze & Lavender Gardens, Werribee Open Range Zoo, Phillip Island Nature Park and the Moonraker Dolphin & Seal Sightseeing Tour.
It is available in Unlimited 3-day and 7-day variations and Flexi 3, 5 or 7 Attraction passes. Choose the appropriate card to cover the length of your stay and your itinerary.
For example, the Unlimited 3-day Card costs $208.45. Here is a comparison of the costs at various individual attractions (based on adult costs):
Melbourne Zoo: $37.00
Melbourne Goal: $28.00
Melbourne Aquarium: $42.00
City Sightseeing Melbourne: $35.00
Melbourne River Cruise: $25.00
Eureka SkyDeck: $21.00* – online purchase price
Werribee Open Range Zoo: $37.00
Phillip Island 3 Parks Pass: $45.10
Total: $270.10
Using the Unlimited 3-day iVenture Card, you can save up to $61. Calculate your costs based on your own Melbourne holiday itinerary to decide which package is best for you.
Book the iVenture Card through Klook here.
---
Phillip Island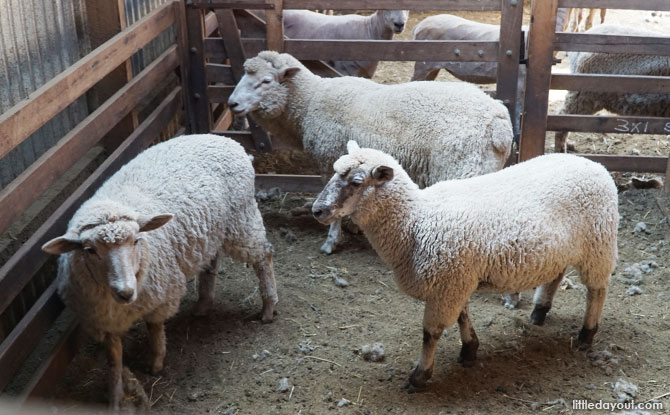 Located a 2-hour drive south of Melbourne, Phillip Island is best known for its Little Penguins which come on to shore every evening. This attracts loads of visitors in the evenings but there are plenty of other family-friendly experiences on Phillip Island that warrant a full-day visit.
The top attraction on Phillip Island is the Penguin Parade, which is run by the Phillip Island Nature Parks organisation. You can check the Penguin Information Calendar to find out the estimated times the Little Penguins are expected to return to shore when you are visiting.
Other attractions on the island run by Phillip Island Nature Parks include Churchill Island Heritage Farm, the Phillip Island Koala Reserve, Wild Ocean Ecoboat Adventures and the Nobbies Centre Ocean Discovery.
If you are planning to visit these attractions, in addition to the Penguin Parade, you can also book a multi-park pass. The Multi-Park Phillip Island Pass is available in 3-, 4- and 5-Park versions from Klook.
Other family-friendly attractions on Phillip Island include the Phillip Island Chocolate Factory, close to Churchill Island Heritage Farm, and A Maze'N Things, just opposite the Koala Conservation Area. Admission tickets to the Chocolate Factory's museum and A Maze'N Things are also available from Klook.
---
Day in the Dandenongs – Book Tickets for Puffing Billy Early!
If you are visiting the Dandenong Ranges with kids, the Puffing Billy Steam Train is a must-do experience. The ride on Victoria's favourite steam train will take you past picturesque forests and fertile farmlands in the Dandenongs.
Be warned – the Puffing Billy train ride is very popular, so book your tickets in advance and early to avoid disappointment. We booked our Puffing Billy tickets through Klook. The vintage train departs from the town of Belgrave at least four times a day. We recommend taking the morning departure, if possible, so that you can spend the afternoon exploring the rest of the Dandenong Ranges.
---
Where To See Wildlife
No visit to Australia is complete without an encounter with the country's unique wildlife. In this respect, Melbourne does not disappoint with many different options for wildlife encounters.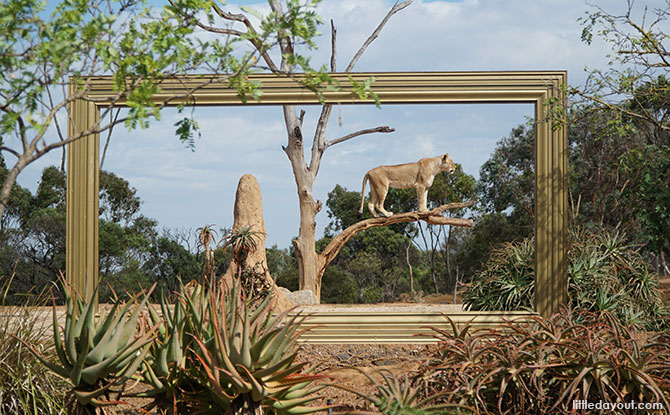 Zoos Victoria is responsible for three of Melbourne's zoos – the Melbourne Zoo, Healesville Sanctuary and Werribee Open Range Zoo.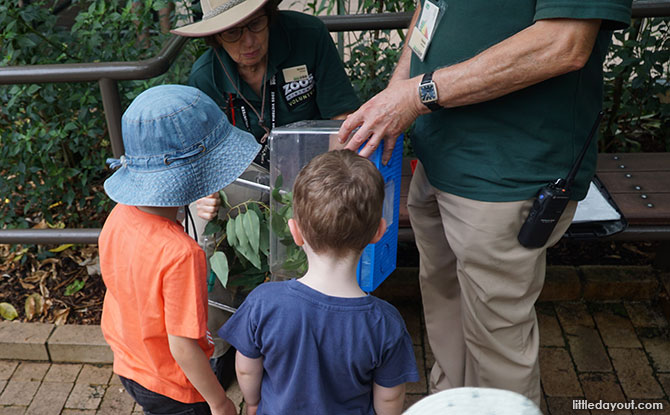 Melbourne Zoo is the most convenient park to visit for those staying in the City. Australia's oldest zoo, it has a diverse range of animal residents including gorillas, elephants and even an aquarium section, Wild Sea, which showcases the animals found along Victoria's coast. It also has section for native Australian wildlife.
Healesville Sanctuary is about an hour or so out of the City. The speciality at this zoo is native Australian animals. Besides koalas and kangaroos, some of the animals you can expect to encounter here include the Leadbeater's Possum, echidnas and dingos.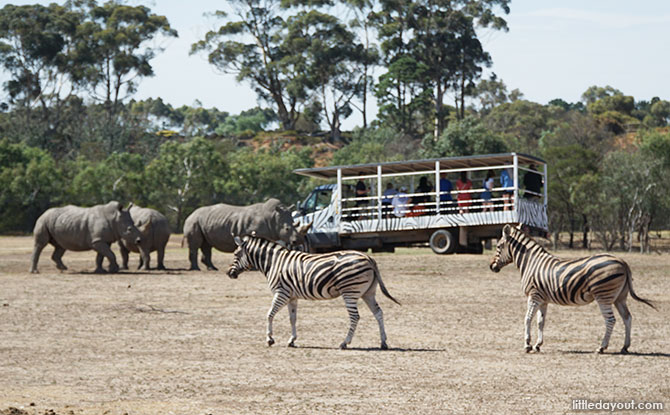 The Werribee Open Range Zoo is unique in that its focus is on African animals. We didn't realise how similar the Australian bush was to the African Savannah until we visited Werribee Open Range Zoo. There are two walking trails but the highlight of any visit has got to be Safari Tour. Take in the view of iconic grassland animals from the safety of a tour bus. Those who want to get even closer to the animals can sign up for the smaller group-size Off Road Safari.
Tickets to Melbourne Zoo, Healesville Sanctuary and Werribee Open Range Zoo are all available from Klook.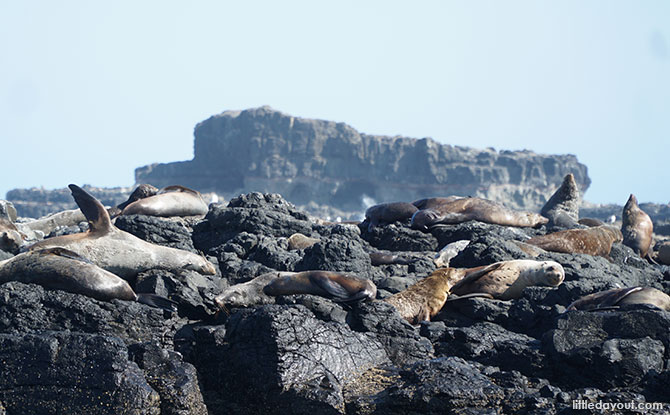 For those who wish to view animals in the wild, consider the Phillip Island EcoBoat Tour to Seal Rocks where you can get up close to fur seals in their natural habitat or the Moonraker dolphin cruise, an attraction available under the iVenture Card.
Discovering More Amazing Experiences in Melbourne
There are many other experiences awaiting in Melbourne.
How about a day tour of the famous Great Ocean Road and its "apostles". Or joining a gourmet tour to savour what the Yarra Valley has to offer or embarking on a Foodie Tour of Queen Victoria Market. Go "prospecting for gold" at Sovereign Hill, a popular outdoor museum in Ballarat.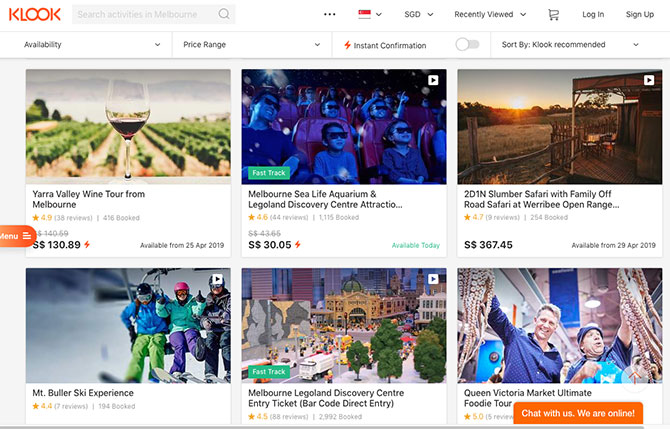 Discover more about these experiences and others that will leave you with lasting memories of your time in Melbourne on Klook. Using Klook, you can even filter down the experiences that are best suited for you.
As a final money-saving tip, many of the bookings on Klook are cheaper than if you purchase them directly with the attractions!
Here's wishing you a great time in Melbourne!
Book with Klook
This feature is brought to you in collaboration with Klook. It contains affiliate links.