Looking for heritage walks in parts of Singapore you are unfamiliar with? My Community is a non-profit organisation that organises guided tours near Queenstown. Areas include Mount Faber & Sentosa, Alexandra, Tiong Bahru, Tanglin Halt. Their mission is to preserve community stories, reconnect people to places and deepen heritage appreciation in Singapore.
We joined in the tour at Alexandra and Fort Pasir Panjang for a glimpse into the heritage of Southern Singapore. This was our second tour after an enriching time at Mount Faber, Keppel Reservoir, Seah Im and Fort Siloso. It was a two and a half hour tour on paved paths that brought us from Labrador Park MRT, Berlayer Creek, Labrador Park to Fort Pasir Panjang.
---
History of Berlayer Creek and its Surroundings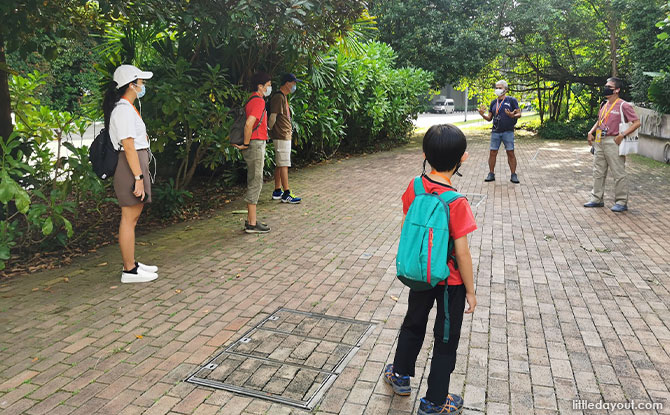 Berlayer Creek forms a remnant of the mangrove forests in Singapore and has a long history of urbanization. It sits adjacent to a reclaimed harbour and a residential area occupied since the 1820s. We were glad to see mangroves restored right next to a huge field that used to be a BP oil refinery.
---
-- Story continues below --
We could also see evidence of an old food stall that used to be there, with a water point still attached.
Amidst the birds chirping, cicadas calling, joggers passing, Berlayer Creek was a tranquil sanctuary for both wildlife and humans to co-exist.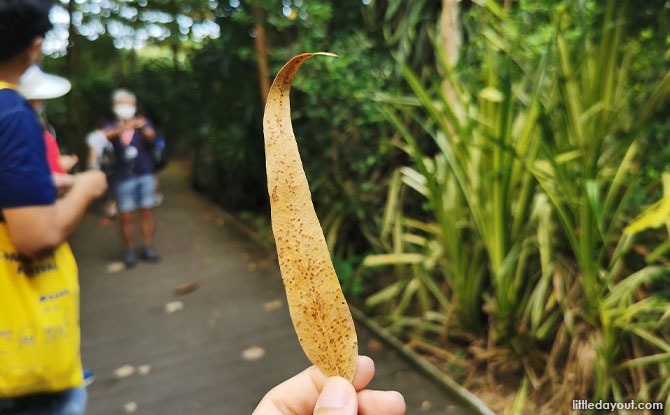 There were also rare plants found here, one was the Gelam tree which is extinct from the wild. It has a papery bark and many medicinal uses, simply crush the leaf in your hands and you can smell a pleasant medicinal smell. Its trunk is also used for boat-building.
60 species of birds have been spotted at Berlayer Creek! We definitely hear the calls of the Collared Kingfisher and Tailorbirds in the Mangroves.
---
Entering Labrador Park and Seeing the Monuments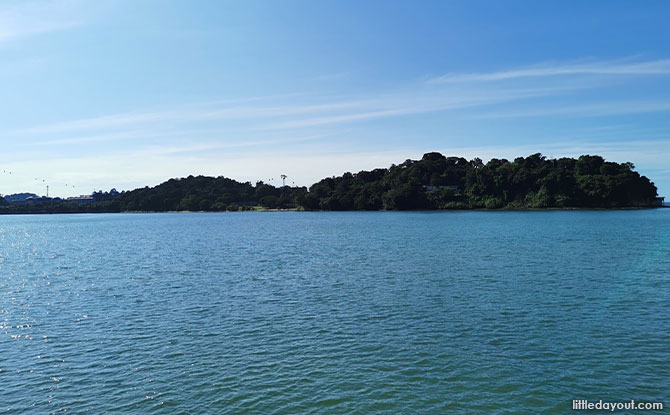 We then entered Labrador Park, with Sentosa in clear view. Centuries ago, this was touted to be a popular trading route for junk ships, later on steamships.
The guide regaled us with facts about how Sentosa was called Pulau Blakang Mati – mainly because the route between Sentosa and mainland Singapore was full of rocks and unpassable, natives and passing traders were killed by pirates lurking behind Sentosa.
Blakang means behind and Mati means dead, many perished at the hands of the loathsome pirates.
The famed Long Ya Men – Dragon Tooth Entrance to "Nanyang" was also in the narrow straits. A replica now stands at Labrador Park. The huge rock was also mapped on ancient maps by seasoned traveller Wang Da Yuan in 1339. The rock also explains the name behind Berlayer – which means Sailor Rock.
This important landmark for navigational purposes was later blown to bits by the British who wanted a more accessible harbour. This also helped cement Singapore's status further as an attractive trading port.
We can also see the red beacon and across it the green beacon at Fort Siloso. The two beacons indicate the entrance to the harbour. We were also introduced to the Obelisk which shows the end of the harbour from that point forward.
---
World War 2, Fort Pasir Panjang and Labrador Battery
One will not miss the fortifications in the area with a Machine Gun post, pillboxes and the Fort. The Southern coast was important for protection especially the commercial interests of the British. This also explained the development of the fort and how it became Labrador Battery.
The first stage was the building of the fort which was meant to guard the harbour and protect it from pirates. This began in 1878. Then it was upgraded to become Labrador Battery with underground ammunition storerooms with new guns added because of technological advancements and the threat of faster steamships.
Further development continued due to the losses during World War 1. The British were unable to keep two fleets in both the Atlantic and Pacific, hence Singapore had to be further fortified so it could defend itself in a window of 70 days before the fleet now stationed in the Mediterranean sea came to its defence.
World War 2 then expedited the development with 6-inch QF gun pounders added to the site. There was also an extensive tunnel network, plotting room at Labrador. The guns were active during World War 2 but failed to stop the Japanese from advancing. The famed battle at Pasir Panjang between Lieutenant Adnan's regiment and the Japanese happened nearby at the Pasir Panjang Ridge. His valiant attempts are commemorated at Reflections at Bukit Chandu. Fort Pasir Panjang was also where the regiment was stationed.
---
Future Plans: Greater Southern Waterfront
Our guides from My Community spoke about the past, present as well as future. The area was part of the Greater Southern Waterfront slated for development. We could see construction going on and soon more works will be in the progress to convert some areas into housing and other historic buildings to be conserved for other purposes.
We also heard the stories behind the beautiful black and white colonial-style buildings at Labrador. The building which used to be the quarters of soldiers was now a boutique hotel, while the home belonging to a shipping magnate was now a restaurant.
---
Parent Review of My Alexandra Heritage Tour
It was very enlightening to hear about the history and heritage of the area. Even though we have visited Labrador Park and its surroundings several times, we learnt much and took home a greater appreciation for the unheard stories of those who played significant roles in our history.
To find out more about the tours conducted by My Community, click here.