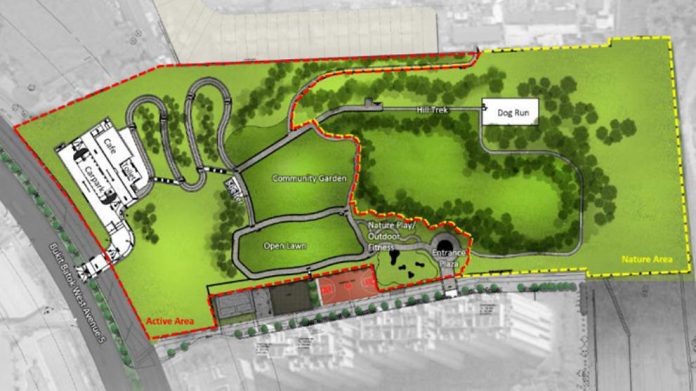 Come 2020, residents in the district of Bukit Batok will enjoy a brand new green space, Bukit Gombak Park. Comprising 4.8 hectares of nature and lush greenery, it will have amenities such as a hill trek, a nature playgarden, a dog run, and other recreational facilities designed to serve the different needs of young and old, feathered and furry!
The Bukit Gombak Park will be located at Bukit Batok Batok West Avenue 5 – opposite Bukit Batok Driving Centre.
Residents from the neighbourhood were engaged by NParks to gather feedback on features they would like to have in the park. Feedback received included having more biodiversity-attracting plants and recreational spaces for families and friends.
---
Hill Trek Loop
Bukit Gombak Park will have a Nature Area that will allow park-goers to appreciate nature up-close.
---
-- Story continues below --
The main feature of the Nature Area is an inclined 400 m hill trek loop modelled after the trails in Bukit Timah Nature Reserve.
More than 2000 trees comprising some 16 species of trees, such as the critically endangered Yellow Flame (Peltophorum pterocarpum), and others like Belinjau (Gnetum gnemon) and Pink Mempat (Cratoxylum formosum) trees, will be planted in and around the Nature Area of Bukit Gombak Park.
Bukit Gombak Park's Active Area will feature an open lawn for events, an outdoor fitness area, a community garden and an eatery.
Biophilic Playgarden at Bukit Gombak Park
In keeping with NParks' efforts to create and design more biophilic playgardens in Singapore, such as the one which recently opened at HortPark, Bukit Gombak Park will feature its very own biophilic playgarden so children can play and learn amidst nature.
Highlights of the biophilic playgarden will include a slide that is to be integrated into the naturally sloped terrain, and nature-inspired play equipment, such as balance beams set amongst the trees and shrubs of Bukit Gombak Park.
Dog owners of Bukit Batok will be happy to know that Bukit Gombak Park will be home to a 480 sqm dog run, the first dog run in the area.
The dog run will be fenced off and situated on flat terrain to allow our furry friends to run freely without leash. There will also be benches for dog owners to sit on while their fur babies get busy socialising.
A Green Space For All
The new Bukit Gombak Park will complement the existing Bukit Batok Town Park and Bukit Batok Nature Park, both of which are currently connected via the Choa Chu Kang Park Connector.
Tailored for active lifestyles while catering to the needs of nature lovers, the new Bukit Gombak Park will substantially expand the district's green space, enhance the area's iconic status as a lush and green oasis, and improve the quality of life that the residents are already enjoying.