Singapore celebrates National Day on 9 August each year. For schools and preschools, it is an opportunity for the student community to come together to remember this significant date that we share in common. If you are thinking about special ways to do just that, here are some National Day celebration ideas in schools that you can consider.
National Day Celebration Ideas in Schools
Wear Red and White
Show your Singaporean pride. Get students to wear red and white clothes to school for the National Day celebrations. Even if not completely red and white, how about a red top for the occasion. Five stars and a crescent get extra credit!
Community Singing of National Day Songs
No list of National Day celebration ideas in schools would be complete without the singing of National Day Songs. Choose from classics like 'We are Singapore' and "One People, One Nation, One Singapore" or more contemporary ones such as "Song for Singapore" and "Our Singapore". And, of course, there is everyone's favourite, "Home".
Traditional Old School Games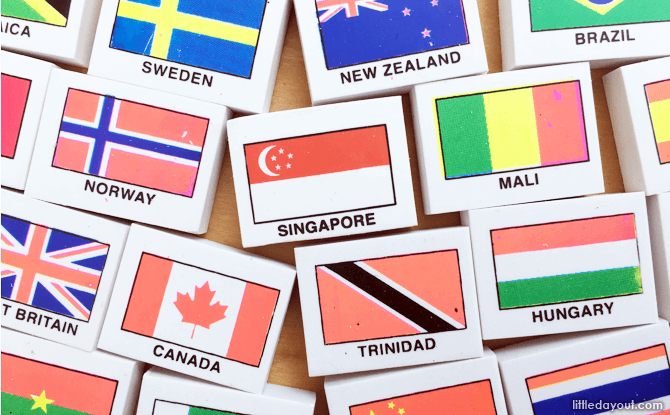 Organise old school games for students to play. It is a fun way to fire up the competitive spirit and get everyone excited about National Day. Bring back classics such as the Flag Eraser game and marbles. Need a list of traditional old school games, click here.
My Favourite Places in Singapore
Have the students draw their favourite places from around Singapore. Their completed drawings can be displayed around the classroom or school. Alternatively, the students can colour in pictures of Singapore. Downloadable colouring sheets of iconic places around Singapore are available from the Little Day Out Shop here.
Decorate the Classroom
Get the students to decorate their classroom for National Day. Set a theme for the decorations, for example, "Stars", "Dreams", or "Majulah". To make it even more exciting, have a competition between classes for the best decorated classrooms.
Write a Poem
In the weeks leading up to National Day, have students write a poem about what Singapore means to them. This can be in the form of a Haiku or limerick, or even a simple rhyme. The best poem has the honour of being read out to the school during the National Day celebrations.
Involve the Community
National Day is also a day to remember the Nation and community above self. Find a way to get the community involved in the celebrations. For example, this could mean inviting a community group from the neighbourhood or the parents of students to join in the National Day celebrations. Alternatively, head out and bring some cheer to the community by leading a sing-a-long session of National Day songs.
Interactive National Day Performances
As part of National Day celebration ideas in schools, it is common to have performances and skits that recount stories about Singapore. Get the students involved in the performances. Even the normally passive audience can be engaged by giving them a role to play in the performance. For example, if it is skit about Sang Nila Utama, get the audience to roar each time a lion appears.
School Community Art Project
How creating an art project collectively as a school? For example, make a huge paper cutout of Singapore's geographical outline and get students to paste stickers, ala Yayoi Kusama obliteration-style, to decorate the cutout and create a unique artwork.
We hope that you found these National Day Celebration ideas in schools useful. Have a Happy National Day Singapore.