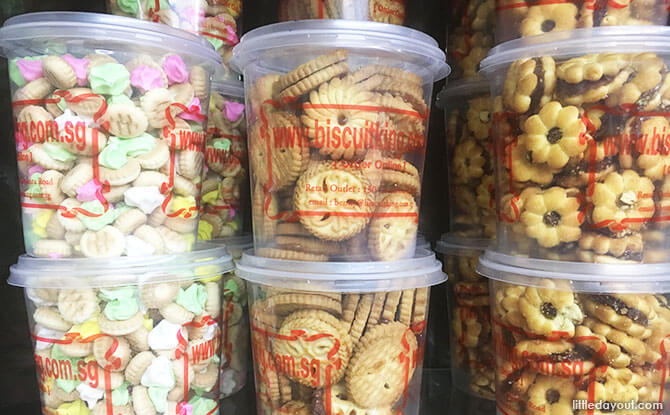 Kaka. POLO. Iced gem biscuits. Haw Flakes. Confessing our love for these old school childhood snacks reveals our age, or at least puts us in a particular "era". But there's a certain pride in knowing that we were in on the coolest sweets and munchies before they reached iconic status.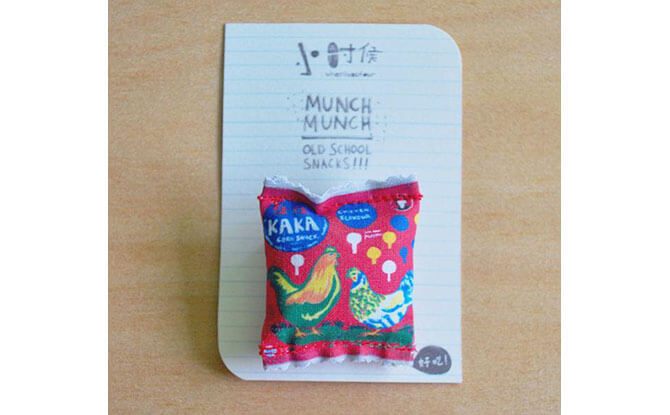 So where can we find these old school goodies, especially when nostalgic pangs hit?
Where to buy Traditional Old School Childhood Snacks in Singapore
---
1. Biscuit King
When it comes to satisfying your cravings for old school childhood snacks, Biscuit King is the place to be. True to its name, the shop offers a large variety of biscuits, many of which are yesteryear favourites such as iced gem, pineapple jam and pig ear biscuits. These are sold in old tin containers by weight, as well as in ready-packaged bags and plastic containers.
The shop, however, is much more than a biscuit retailer. Bee Bee Snack, POLO – the mint with the hole, Hiro Choc Cake, Mommom Eyeglass Candy… these blast-from-the-past snacks can all be found at Biscuit King!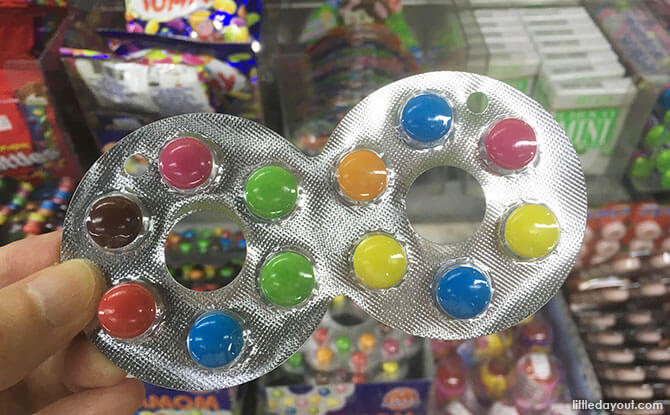 Besides tidbits, Biscuit King also carries old school toys and games. With country erasers, Bestman blowing plastic balloons, Happy Family and many other retro playthings in the store, children rarely leave empty-handed!
130 Casuarina Road, Singapore 579518
Opening hours: Tuesday to Sunday, 11 am – 10 pm (Closed on Mondays)
Website
---
2. Munch Munch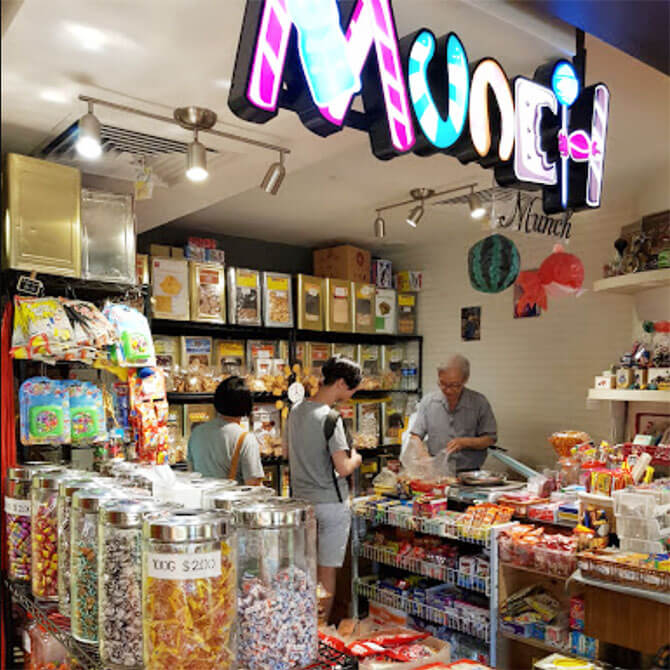 From authentic local tidbits like satay fish sticks and biscuit piring wafers, to nostalgic sweets like White Rabbit Candy and Hacks, and chocolates with toys like Tora and Ding Dang, there's a wide variety of old school treasures to hunt down at Munch Munch.
Like Biscuit King, Munch Munch also offers the full package – you can find old school toys and games here as well. And to make reliving the good old days even more convenient, the brand has two outlets, one at Chinatown Point and the other at Guillemard Road.
Outlet 1:#B2-03, Chinatown Point, 133 New Bridge Road, 059413
Opening hours: Open daily, 11 am – 9.30 pm
Outlet 2: 371 Guillemard Road, Singapore 399779
Opening hours: Monday to Saturday, 12.30 – 7.30 pm (Closed on Sundays)
Website
---
3. Nineties Candy Society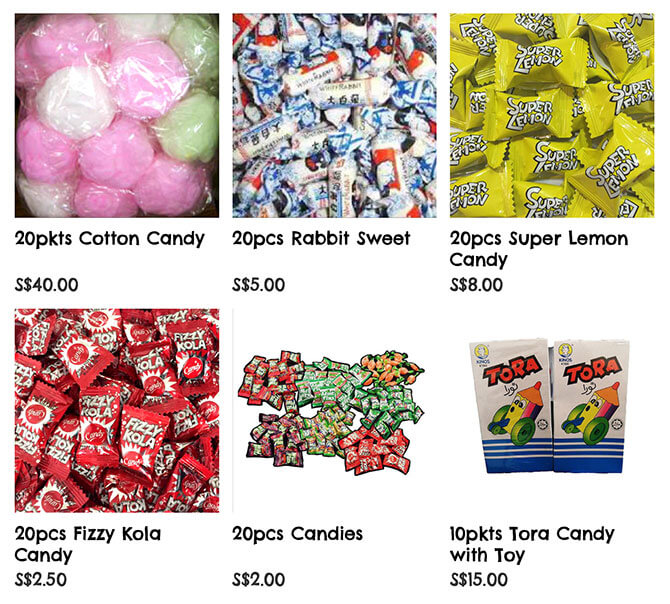 Nineties Candy Society is where you can expect a major throwback to… where else but the 90s! Positioned as a one-stop party store, Nineties Candy Society is located online and offers a wide range of nostalgic childhood snacks and toys that would make for interesting party favours.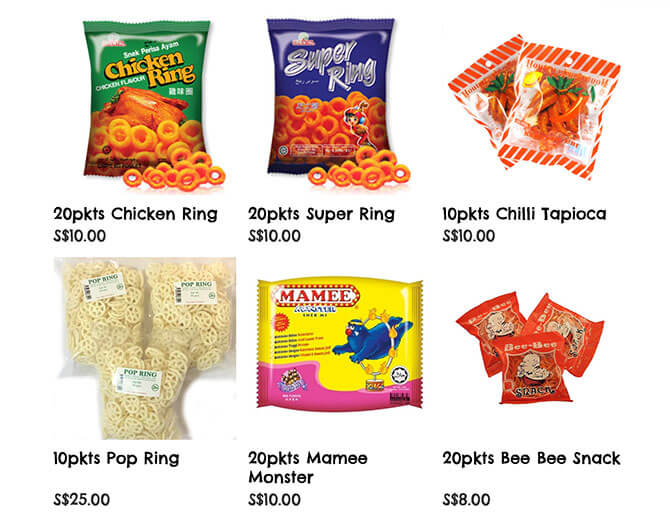 Your purchases are delivered via mail, both normal and registered, to your door. There's a self-collection option at Serangoon Gardens too, for those who want to save on delivery charges.
To complete the party, Nineties Candy Society also provides decoration services and fringe activities such as balloon arches, face painting and photo booths. Everything can be booked online. Nice and easy!
---
4. Shopee Singapore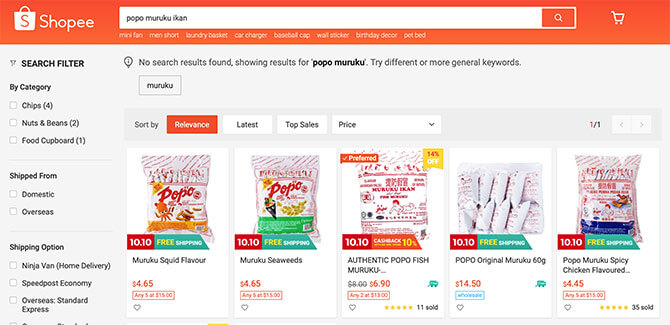 Another good place online to source for old school childhood snacks is Shopee. A quick search yielded classic favourites like the PoPo Muruku Ikan, Mamee Monster Noodle Snack and even the difficult-to-find Wu Hua Guo (dried fig). A bonus: most sellers offer free shipping for their products!
While you're at it, why not order some wall-climbing sticky men or a few sets of five stones as well?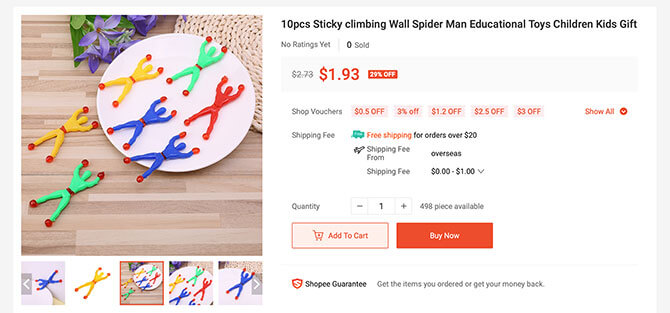 Aren't we glad that the internet, the tool of the future, has brought us back in time – all the way to our childhood days?
---
5. Teck Leong Lee Kee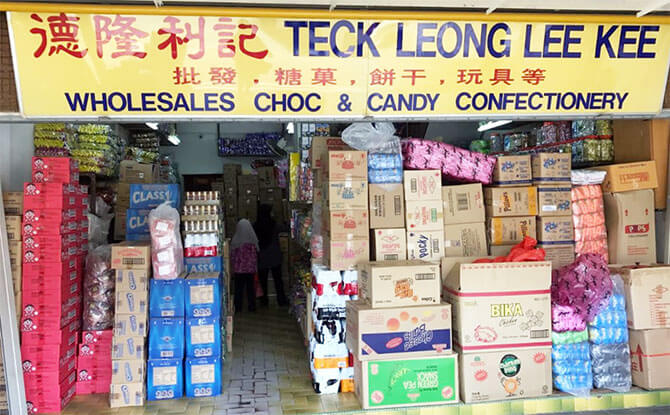 Whatever childhood snacks you're looking for, chances are you'll find them at this unpretentious shop in Bedok. After all, Teck Leong Lee Kee is a wholesaler of sweets and snacks, and has been in the business since 1968.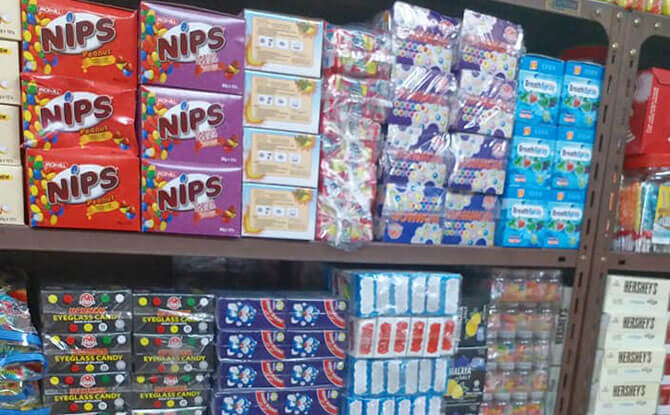 Even as our childhood memories fade, we're thankful for shops like Teck Leong Lee Kee that enable us to hold on to the last vestiges of our happy past. And hopefully share them with future generations.
122 Bedok North Street 2, #01-112, Singapore 460122
Opening hours: Monday to Friday, 10 am – 4.30 pm; Saturday to Sunday, 10 am – 2 pm
Website
This story contains affiliate links. This means we earn a small fee if you purchase something through a link from our website. There is no additional cost to you. This helps to support Little Day Out and keeps us going.