Calling fans of all things sparkly and magical! Singapore's first-ever My Little Pony Pop-Up Café has finally landed from Equestria for a visit from 27 September till 3 December 2018! Brought in by Kumoya, who brings different themes to their café, the café has a menu curated by the very talented Little Miss Bento (Shirley Wong) and it's worth going for!
Welcome to Equestria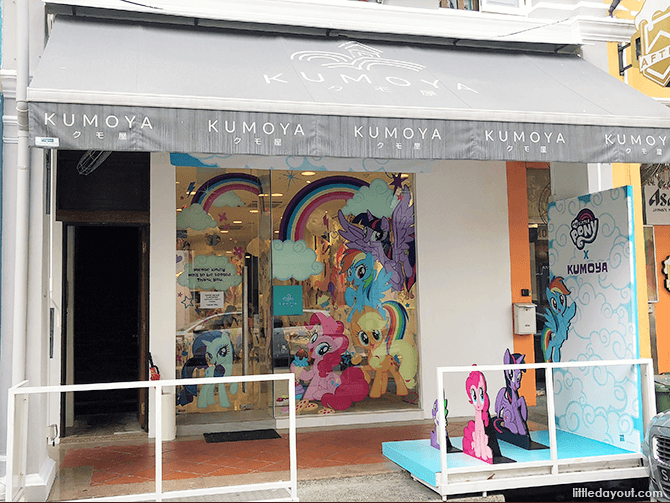 Even before stepping into the café, you'll hear the "Friendship is Magic" song welcoming you from afar. If you're as excited about unicorns as we (mostly me) are, be sure to take a deep breath before you step in because the fluffy clouds, rainbows, stars and ponies filling the room are sure to take your breath away!
The My Little Pony café is filled with beautifully designed tables and many unicorn toys and pillows that can be used for that perfect Instagram picture.
We sat down excitedly in anticipation of the food to come.
---
-- Story continues below --
The café's menu has everything that you could possibly want in a My Little Pony themed café. There is rainbow toast, fluffy pink rice, heart shaped potatoes, galaxy drinks and so much more!
There were also dishes that come with limited edition My Little Pony Merchandise – move aside Happy Meals!
Here are what we tried.
Snacks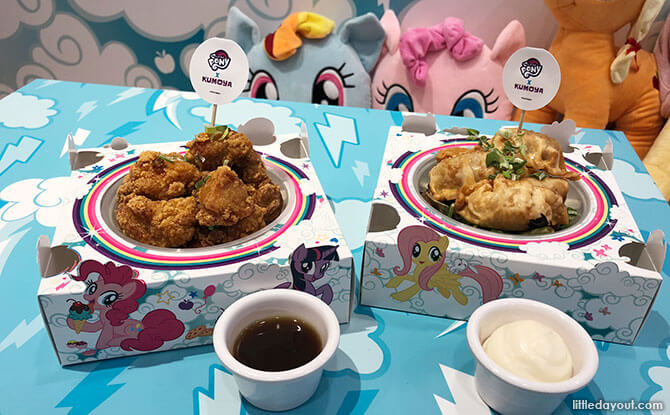 The café has a good variety of finger foods including different types of fries, cheese nachos, gyoza, fish fingers and Karaage chicken. Among the regular items we tried were the popular Karaage Chicken with Shoyu Glaze and Shrimp Gyoza with Mayo.
We really enjoyed the crispy Karaage Chicken tossed with the house-made sweet shoyu glaze. It's a great starter to get your appetite going! The Japanese Shrimp Gyoza with Mayo also had generous amount of shrimp – we're glad that it wasn't the case of more flour than meat.
Picture-perfect Mains
There are a total of five different mains to choose from. All of them have definitely been styled to look good for pictures.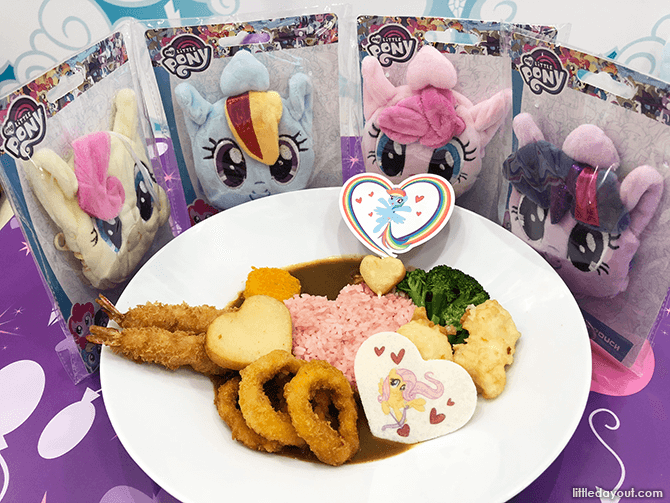 The dish that caught our eyes first was the "Friendship Meets Love Seafood Curry Rice"! This Fluttershy-and-Rainbow-Dash-inspired dish consists of heart-shaped beetroot infused fluffy Japanese rice with breaded ebi, calamari and scallop. There is also tempura salmon, steamed broccoli, cherry tomatoes, heart-shaped potato cakes, and of course, a Rainbow Dash food pick and Fluttershy wafer print.
Along with this dish, you get a super adorable My Little Pony Key and Coin pouch! There are four exclusive designs to choose from. We vote this dish as the one that offers the best value for money.
Taste-wise, the tempura, vegetables and curry was quite ordinary and the potato cakes were a tad bit too mushy. Nonetheless, it's hard to hate on food that looks this cute and so we'd still recommend ordering this anyway.
Another main that we tried was the Twilight Sparkle Soaring Skies Chicken Katsu Burger. It's a mouthful to say, but thankfully the size of the portion matched up to the length of its name!
The chicken katsu was really juicy and delivered a very satisfying bite. This purple burger with wings and Twilight Sparkle's cutie mark on the bun also came with a side of curly fries, salad. A Twilight Sparkle mantou, fishcakes cut into clouds and cheese in the shape of stars complete the plate.
Drinks
With a total of 10 different drinks to choose from, we hardly knew where to start. Each drink comes with a free coaster and there are five different designs to collect.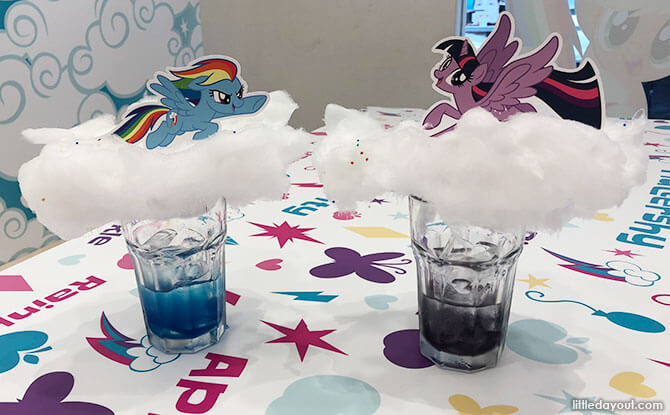 There are Fluffy Cloud Sodas, a colourful soda with cotton candy on top, frappes, chocolate and lattes loaded with whipped cream along with an assortment of cakes.
With Rarity being a personal favourite, we ordered the Rarity Yuzu Butterfly Pea Tea with Fresh Orange. We probably could have chosen a different flavour, but felt that this drink would probably pairs best with the rich and filling mains.
Another beverage we tried was the Besties Hot Chocolate. We quite liked this drink as it had a strong taste of coco powder and, when the foam dissolved after a while, it tasted a little like a marshmallow topping.
Dessert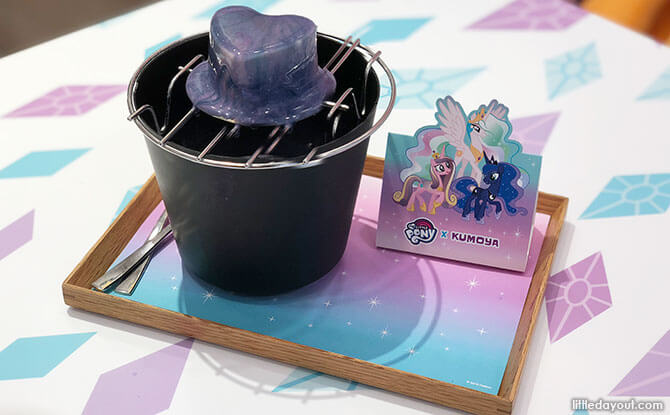 Would it really be a magical menu if there was no desserts? We don't think so.
In this respect, the My Little Pony Pop-Up Café met our expectations and have five different insta-worthy desserts to choose from.
These include cakes, shibuya toasts, pancakes and a DIY galaxy cake. If you're wondering which is the most worthwhile, we ordered ALL the desserts and reviewed them separately HERE.
To complete our collection of "freebies", we got an exclusive Twilight Sparkle keyring plush with the "Magical Princesses with Magic Potion Galaxy Cake"! This dessert was the most sparkly on the menu and even came with dry ice for the dramatic effect for Instagram.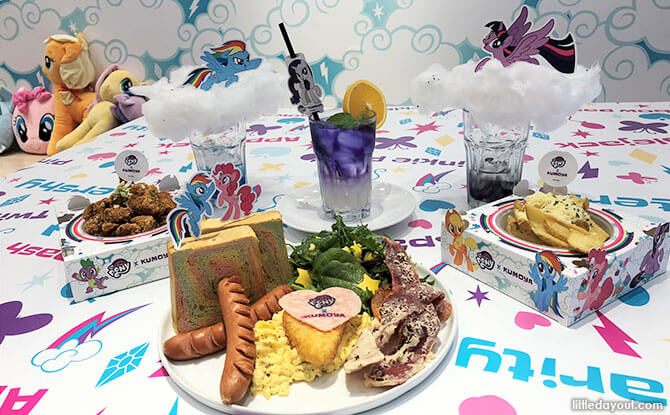 Having said that, make sure to get your cameras ready when visiting this super cute pop-up café. We really enjoyed the environment, which evidently had a lot of thought and effort put into it, and the food which not only looked cute but was acceptably yummy too!
Do note that there is a minimum $10 spend, although it wouldn't be too much of a problem as most of the items on the menu are above that anyways.
My Little Pony Café x Kumoya Pop-Up
Where: 27 September 2018 (Thursday) to 30 December 2018 (Sunday)
Where: Kumoya @8 Jalan Klapa, Singapore 199320
Website