Planning a visit to the My Little Pony Pop-Up Café? We decided to give the most important food group a thorough testing and ordered EVERY SINGLE MAGICAL DESSERT on the menu to bring you a comprehensive review of desserts at the My Little Pony Café.
We know – it is a tough job but somebody had to do it. Here's all you need to know about the dessert at the My Little Pony Café.
Desserts At The My Little Pony Café
Magical Princesses with Magic Potion Galaxy Cake ($21.90)
This cake is described to be a "magical cake powered by friendship, rainbows and love!" We guess that's pretty much what Instagram likes are made of too. If you're able to get the right pour on this DIY galaxy cake, it is sure to do its magic as promised.
The multi-coloured glaze was really pretty and sparkly. It was coupled with dry ice for dramatic effect, making the final product a work of art worth admiring.
---
-- Story continues below --
Surprisingly, the cake did not taste too sweet. The texture of the mousse was also soft and fluffy. The mango puree centre was a little hard, but it could have been because it was fresh out of the refrigerator.
Candylicious Rainbow Fruity Shibuya Toast ($24.90)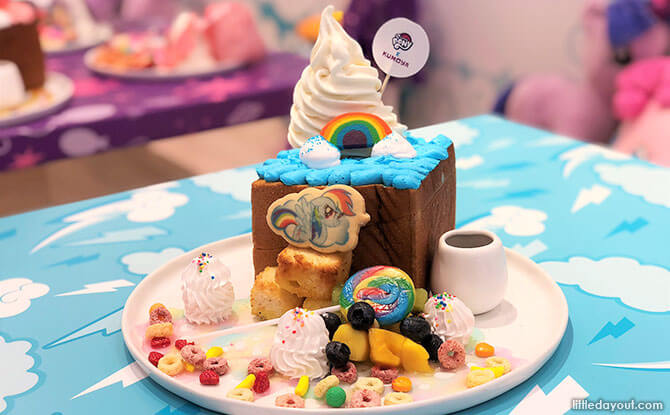 A Rainbow Dash-inspired dessert, this Shibuya toast is bursting with colour. The dessert consists of a toasted buttery bread tower, vanilla Hokkaido soft serve, a Rainbow Dash cookie, along with fresh berries and fruits, rainbow lollipop, fruity candy drops, and a small jar of warm dark chocolate sauce. A pretty rainbow syrup at the base of the dessert added to the whole aesthetic.
The toast was truly enjoyable and we could taste hints of honey with each mouthful. The vanilla soft serve complemented the bread nicely.  If you were to put a bit of everything on one heaping spoonful, you'd be able to enjoy a rainbow of textures along with sweet and sour flavours.
Pinkie Pie Pack-a-Punch Strawberry Cake ($17.90)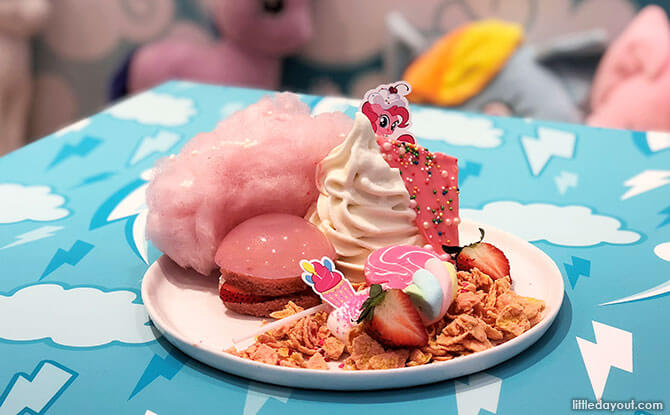 We were the most hesitant about this dessert because we imagined it to be an overload of strawberry flavours which can sometimes taste artificial when consumed in large quantities.
But, surprise, surprise! This dessert at the My Little Pony Café turned out to be our favourite!
The main component of this punch of pink is a Strawberry sponge cake with kanten jelly and vanilla Hokkaido soft serve. Together, the different textures of jelly, cake and ice cream felt like a party in our mouths – accurate to Pinky Pie's fun and exciting personality!
The cake was also decorated with fluffy pink cotton candy, a sweet pink lollipop, marshmallows, pink chocolate slabs, strawberry cereal crunch and fresh strawberries.
Twilight Sparkle Pancakes Parfait Paradise ($19.90)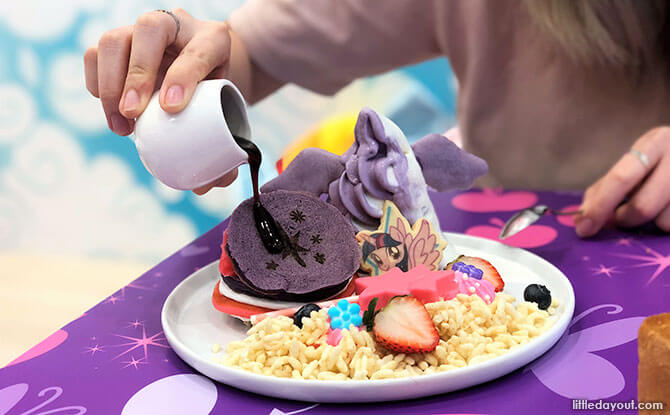 We love pancakes and were really excited to try the meringue-winged buttermilk pancakes with Hokkaido soft serve. The dessert arrived with magic stars, chocolate lollipop, fresh berries, white chocolate rice sable with a twilight sparkle cookie and a small jar of berry sauce. The little meringue wings made the dessert look super cute.
However, we found the pancakes dense and slightly dry. As we were not fans of blueberries, the berry syrup and ice cream not help much. It overpowered the rest of the dessert.
Perhaps this dessert at My Little Pony Café would appeal more to fans of blueberry flavoured things a little more.
Flying Fun Time Mango Berries Shibuya Toast ($23.90)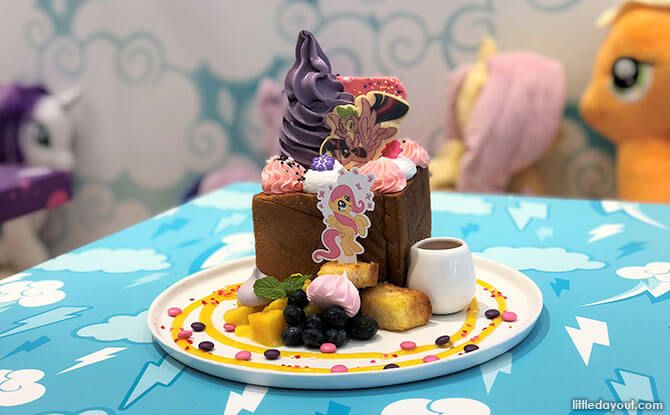 A fruity take on the Shibuya Toast, this version of the Shibuya Toast comes with a Hokkaido soft serve, fresh mixed berries, a cute Twilight Sparkle and Spike cookie. It includes mango, meringue kisses, pink chocolate slab, topped with mango sauce and fresh cream.
We weren't huge fans of the purple soft serve but, aside from that, we really enjoyed the mango syrup which complemented the buttery Shibuya Toast very well.
These Shibuya Toast desserts are best enjoyed in a large group.
Our Recommendations
We thoroughly enjoyed the Pinkie Pie Pack-a-Punch Strawberry Cake and the Magical Princesses with Magic Potion Galaxy Cake, which comes with a free Twilight Sparkle keyring plush.
We also recommend sharing the desserts. After all, friendship is magic and it also helps prevent a major sugar crash from eating too huge a portion of dessert. Enjoy!
My Little Pony Café x Kumoya Pop-Up
When: 27 September 2018 (Thursday) to 30 December 2018 (Sunday)
Where: Kumoya @ 8 Jalan Klapa, Singapore 199320
Website