Micro Monster Mayhem
Stand to Win Attractive Prizes
It is easy to get confused between bacteria and viruses because they are both microorganisms that can make us fall sick. While antibiotics are effective against bacterial infections, they are totally helpless against viruses. And, in fact, using antibiotics to combat the wrong type of microorganism can lead to unpleasant side effects and added discomfort.
Identify and Win – New Prizes Every Fortnight!
Now, the menacing Micro Monsters are threatening the healthy folks of the world and it is up to YOU to save the day! Can you correctly identify the Micro Monsters below and take the right action to squash the bug?
If the Micro Monster is a bacteria, destroy it with antibiotics. If it is a virus, check back with "The Doc".
Make your decision and submit your answer for a chance to win attractive prizes.
New Micro Monster will be popping up every two weeks and we will need your help to destroy them – plus there will be new prizes to be won too!

This week, answer the question below for a chance to win:
$110 worth of Golden Village Movie Vouchers
Double your chances of winning by liking and sharing this Facebook post.
All entries for this giveaway must be submitted by Sunday, 2 December 2018.
---
Micro Monster of the Moment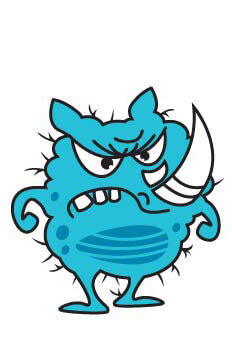 Micro Monster Name: Rhinovirus
Is Rhinovirus a bacteria or a virus? Should you use antibiotics or consult your doctor for the treatment needed to stop the Micro Monster?
Here is a chart to help you out.
| | |
| --- | --- |
| Bacterial Infections | Viral infections |
| Staph Infection (Staphylococcus) | Flu (Influenza virus) |
| Strep Throat (Streptococcus) | Common Cold (Rhinovirus) |
| Intestinal infection – resulting in diarrhoea and vomiting (E. Coli) | Gastroenteritis – inflammation of the stomach and intestines (Rotavirus) |

---
Submit Your Answer Below
The contest has closed.
---
Congratulations to the winners of the contests!
Thank you everyone for your participation!
Fortnight 1 (till 22 October 2018): Winner of $100 Swensens Vouchers – Lim Wee Bin!
Fortnight 2 (till 4 November 2018): Winner of $100 CapitaVouchers – Phyllis Tan!
Fortnight 3 (till 18 November 2018): Winner of $100 Pastamania Vouchers – Lee Kee Meng!
Fortnight 4 (till 2 December 2018): Winner of $100 Golden Village Movie Vouchers – Angelize Ng!
---