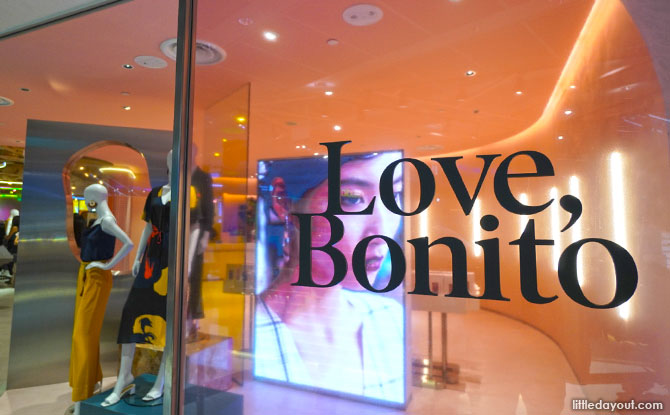 Love, Bonito has come a long way since their first physical store in 2017, and this month, they've launched their third and largest store at Funan Mall with a huge community space, an infinity mirror room, an Augmented Reality (AR) walkway, and personal stylists on demand!
There's a reason why they call it a "Retail Playground". More than just the "next great Instagrammable spot", this place is fun for not just the eyes, but it's evident that there's been lots of thought behind the user experience of each customer to the store.
---
AR Fashion Runway And Infinity Mirror Room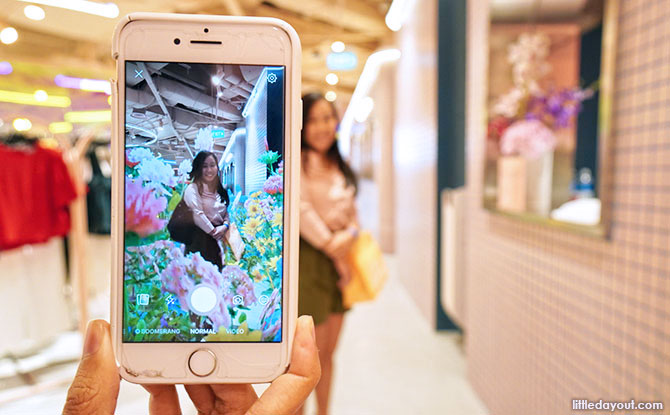 Using a Facebook filter, shoppers can sashay through a field of flowers while having animated flowers grow around them. It's a fun way for friends to connect and bond, which if we're honest with ourselves, have all done at some point in time.
There is also an Infinity Mirror Room which is a designated #OOTD spot, or even if you want to admire yourself in good lighting from all angles.
---
Making Offline Shopping Great Again
Many times we sit behind our screen to look for clothes because we are trying to avoid all the things that make shopping painful: the long queues in crowded stores, the stuffy fitting rooms and sometimes fighting for attention from the staff.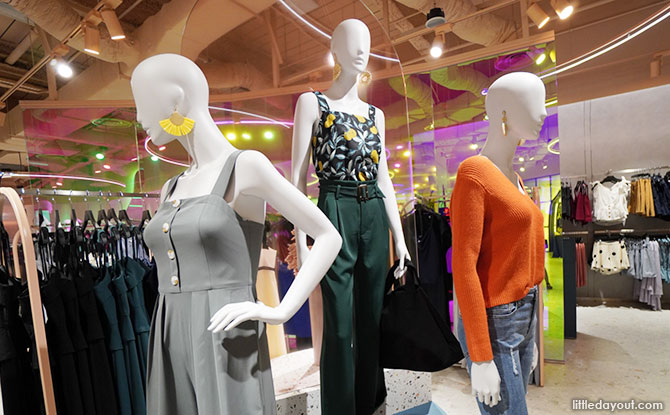 The Love, Bonito Funan Store hopes to change that with fantastic spatial design that extends from display aisles to fitting rooms. There will be delineated spaces for the various lines, accessories, shoes and digital interfaces throughout the store for you to browse the online catalogues.
We. Love. The. Fitting Rooms. Everyone's talking about how pretty they look, but let's take a moment to appreciate the details of the design.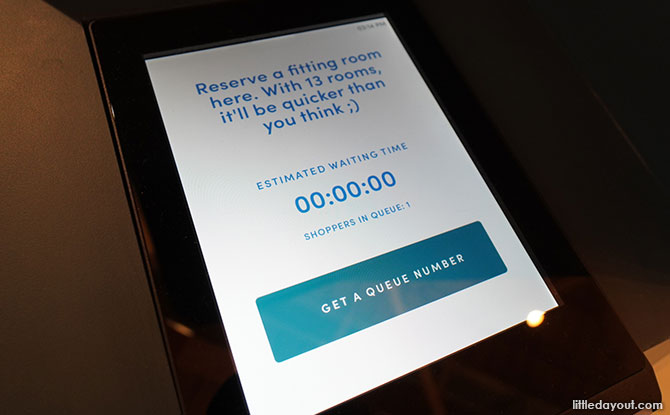 The store has 13 fitting rooms and 2 spacious VIP fitting rooms which operate through a digital queue system. This means you don't have to waste precious time standing in line and more time to shop.
The VIP fitting rooms are wheelchair and pram-priority access which makes offline shopping even more inclusive.
But that's not all! The fitting rooms have light switches that allow you to see how your outfit looks in cool and warm lightings, and some of them even have a movable partition that you can slide away if you need a second opinion from your shopping buddy. Also, the mirrors all have positive quotes like "Every Body Is Unique", which is honestly a great reminder when trying on clothes.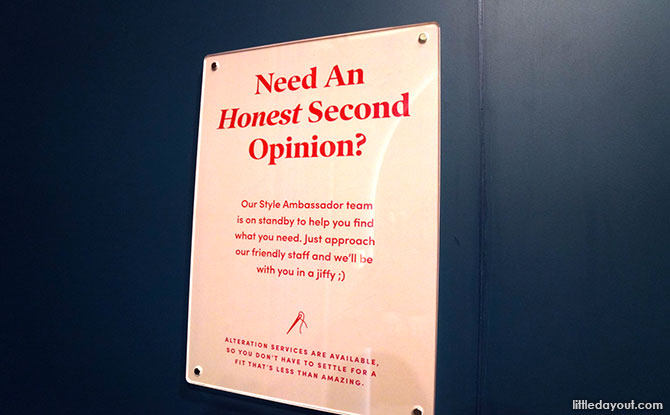 Customers can also request for a personal stylist and receive honest and personalised style recommendations.
---
Community Room at Love, Bonito, Funan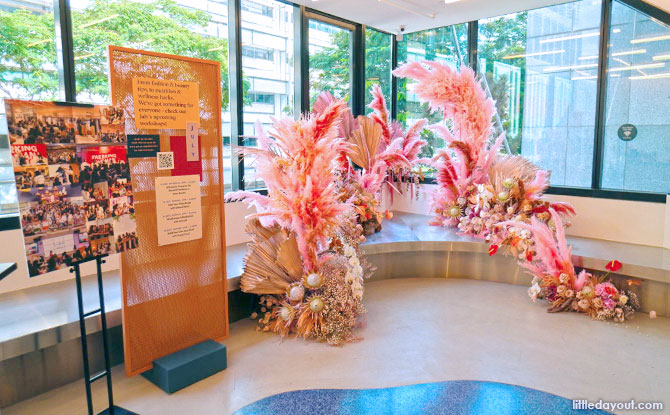 "Building a community" seems to be a catchphrase for many companies nowadays, but we respect that Love, Bonito is doing so in tangible ways. They have already reached 30 thousand women via events, workshops and live streams, and now they are taking it a step further with their Funan outlet.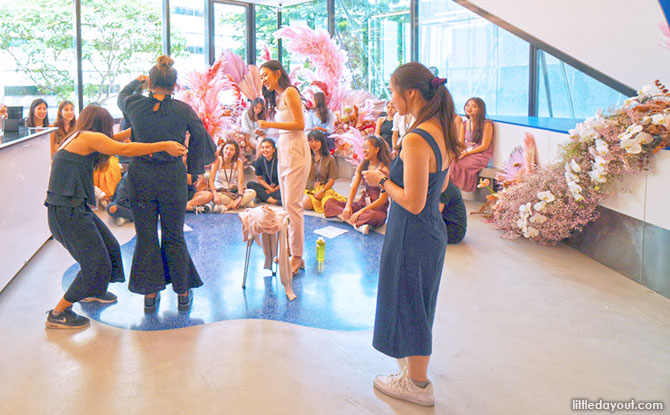 With their beautifully designed space in the community room, this space is multifunctional as a chill waiting room with charging points and free wifi as well as the place where Love, Bonito will be holding workshops, talks and courses.
Here, the #LBCommunity can mingle and grow towards better versions of themselves. Expect relevant and fun workshops that teach you how to style your clothes, your baby bump and even how to build an acai bowl! (Did we mention that almost all of them are free?)
---
Not Just #ForTheGram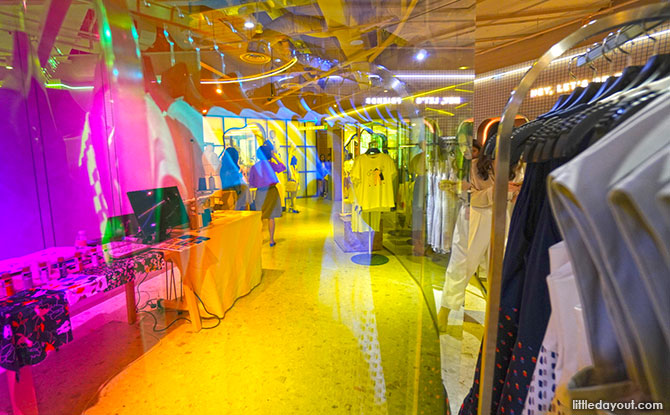 What we initially thought was yet another surficial marketing gimmick turned out to be a space which was founded on a brand understanding their customers. Co-Founder Rachel Lim accurately summed it up by saying that "Although consumers seek convenience, we crave authentic connections and a sense of community".
Beyond the muted tones of pink, blue and browns, is a wholesome shopping experience that makes a trip down to the Love, Bonito Funan outlet worth it.
Love, Bonito Funan
Where: #02-09, Funan, 107 North Bridge Rd, Singapore 179105