Parents, what are the best things you can gift your child? Wealth? Protection? Knowledge? Values?
A wise saying goes "There are only two lasting bequests we can hope to give our children. One of these is roots, the other wings".
"Roots" provides our children with a strong foundation through the values imparted and unconditional love showered, allowing them to develop their self-identity and a sense of belonging. "Wings" allow our children to be independent learners and flourish according to their strengths. Empowering our children with "roots" and "wings" help them to be confident learners for life who can bravely face whatever comes their way!
---
Authentic Learning Experiences with a distinctive Singapore flavour – Anchoring "Roots"
Knowing one's "roots" is about knowing one's identity, as well as understanding cultural norms and values. For example, understanding more about local festivals and traditions allows us to better appreciate our country and heritage.
---
-- Story continues below --
Children in MOE Kindergarten learn about the Singaporean identity and culture through food, outings, Big Books, songs, rhymes and games! Such authentic learning experiences make learning relevant, real and meaningful for the children. At MOE Kindergarten @ Springdale, the K2 children's curiosity was piqued after they watched a lion dance performance. They embarked on a project to find out more about the traditional Chinese dance. They discussed the different types of characters and musical instruments needed to put up their own lion dance performance. The young 'lion dancers' then put up an energetic performance for their parents during Parents' Day!
A lion dance troupe was invited to the MK!
Our turn to dance like lions!
It is important for children to gain a greater understanding and appreciation of the different local customs and traditions. As the world they grow up in becomes more diverse, it is vital that children are respectful of differences in perspectives and cultures. With strong "roots", children will be able to stay anchored while seeking new frontiers in their future.
---
Nurturing Children Holistically in MOE Kindergarten – Growing "Wings"
Help your child grow their "wings" to learn, explore, think and create with a curriculum that sparks their curiosity, allows them to explore and experiment, and develops their thinking and reasoning skills. There's so much to learn in so many ways.
At MOE Kindergarten, the HI-Light Programme promotes holistic development of children by nurturing in them values, social and emotional skills and positive attitudes toward learning, as well as knowledge and skills across five learning areas through an integrated approach to help make learning meaningful for the children. The five learning areas are: (i) Aesthetics and creative expression, (ii) Discovery of the World, (iii) Health, Safety and Motor Skills Development, (iv) Language and Literacy, and (v) Numeracy. Learning comes alive at MOE Kindergarten with music, dance, games, manipulatives, books, role-play and Weeks of Wonder (WoW) projects.
During the termly WoW projects, children work together with their friends to find out more about a topic of their choice. WoW projects provide children opportunities to develop skills for problem-solving, working with others and communication. Children also experience the joy of self-motivated learning, build their confidence and strengthen their learning dispositions, positive behaviours and attitudes towards learning.
Check out the WoW projects below by children from MOE Kindergarten @ Punggol View and MOE Kindergarten @ Northoaks!
"Fighting Junk Food" • MOE Kindergarten @ Punggol View
For this WoW project, children did an in-depth investigation to find out more about healthy snacks. The project stemmed from the children's concerns about their unhealthy snack choices!
Learning about 'My Healthy Plate' at the Health Promotion Board!
Making healthier choices at the Supermarket!
"Our Silat experience" • MOE Kindergarten @ Northoaks
Enthralled by the Malay Language Big Book "Silat", children embarked on a journey of discovery about the traditional Malay martial art during their Malay Language Starlight Literacy Programme.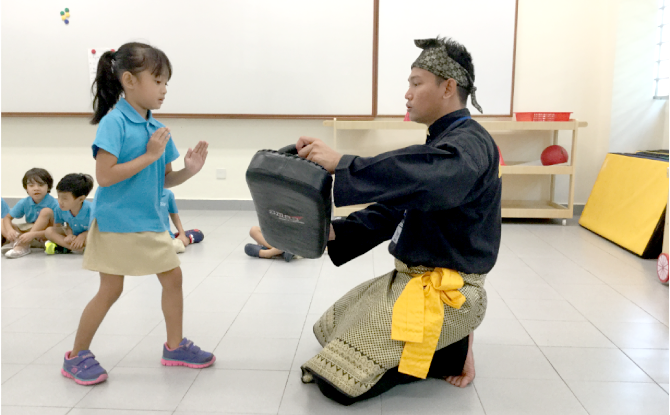 A Silat trainer was invited to the classroom to share about the language and moves adopted in the martial art.
The children ended their WoW project on a high with an exciting Silat performance which was well-received by their peers.
---
Encouraging Early Bilingualism in Mother Tongue Languages – Strengthening Cultural Ties
MOE Kindergarten offers the Starlight Literacy Programme which is conducted in English as well as in three Mother Tongue Languages: Chinese, Malay and Tamil. Competency in Mother Tongue Languages strengthens the cultural roots of the child to appreciate his or her heritage and identity and thus having a better sense of self.
Through the Starlight Literacy Programme, MOE Kindergarten children are given a positive start to communicating in two languages. They develop strong listening and speaking skills that help lay a firm foundation for language learning in the later years. A large variety of resources are used to make language learning fun!
At MOE Kindergarten @ Kranji, the K2 children from the Tamil Language class learnt more about the various traditional Indian breakfast food items such as "dosai", "puttu" and "idiyappam''. The children also learnt about the utensils traditionally used to make the dishes.
---
Caring Educators at MOE Kindergarten
The team at MOE Kindergarten comprises education professionals and support staff who are nurturing, caring and dedicated. The Centre Leaders and teachers at MOE Kindergarten are skilful in sparking curiosity and facilitating learning as well as building the confidence and supporting social and emotional development of children.
This is best reflected in the children's relationships with their teachers. Tiffany Tang, parent of Deanna, alumni of MOE Kindergarten @ Farrer Park shared, "She (Deanna) loved her kindergarten teachers. The teachers were very gentle, creative, energetic and fun."
But it also takes a village to raise a child and MOE Kindergarten believes this village includes parents and other caregivers. Families get involved in children's learning through take-home activities and attending parent-workshops conducted by MOE Kindergarten educators for a close parent-MK partnership to nurture each child's potential.
---
Spacious, Safe & Inviting Learning Spaces and Environment
All MOE Kindergartens are located in primary schools. Each MOE Kindergarten has bright and airy classrooms, a multi-purpose Music and Movement room and its outdoor playground with sand and waterplay features.
With space and opportunities to spread their "wings", children have ample opportunity to hone foundational life skills through purposeful play!
---
Smoother Transitioning to Primary School
Being located in primary schools, children at MOE Kindergarten experience a smoother time transitioning to primary one. Close collaborations between the MOE kindergarten teachers and primary school teachers, joint activities with the primary school students and a five-week experiential learning component at K2 helps to familiarise children with the environment and practices of primary schools, getting them ready for the next phase of their schooling journey.
"My child has transitioned seamlessly from MOE Kindergarten to Primary One" said Ms Tiffany Tang. "The MOE Kindergarten teachers talked to the children about what to expect in primary school, from the longer school hours to the bigger classes and how they need to manage themselves independently during recess. For the kids' pretend play, they bought and sold food to one another using tokens as coins and notes."
---
MOE Kindergarten – Give Your Child "Roots & Wings"
With MOE Kindergarten, every parent can give their child the gifts of "roots & wings". Just as it is every parent's desire to see their child succeed, MOE Kindergarten strives to give children the strong start they deserve to take flight and the confidence that comes with firm roots to keep on growing.
MOE Kindergarten also offer Kindergarten Care (KCare) for parents who require a full-day care service for their child. This provides convenience for parents who need the service.
To find out more about MOE Kindergarten, head down to one of the 55 MOE Kindergarten Open Houses across Singapore on 11 and 18 February 2023 from 9 am to 1 pm.
To enrol your child, be sure to take note that the 2023 MOE Kindergarten Registration Exercise will be held between 17 to 21 February.
Give your child a strong start in life at MOE Kindergartens!
This feature is brought to you by MOE Kindergarten.