Burger King is embarking on a fund-raiser for the Association for Persons with Special Needs (APSN) over the next three months in the form of T-shirt sales.
BK T-Shirts to Support APSN
Purchase a Burger King t-shirt from any Burger King outlet for $20 and $14 of the sales proceeds will go APSN, a social service agency that provides special education for persons with mild intellectual disability.
The proceeds will go towards the programmes for APSN's beneficiaries, providing continuous training and retraining, and support through counselling and other methods.
The Burger King T-Shirts comes in two designs. The white version comes with Burger King's logo on the front. The black version has 11 burger icons on the front. It is available in three sizes – small, medium and large.
Bigger BK Whopper, Bigger Value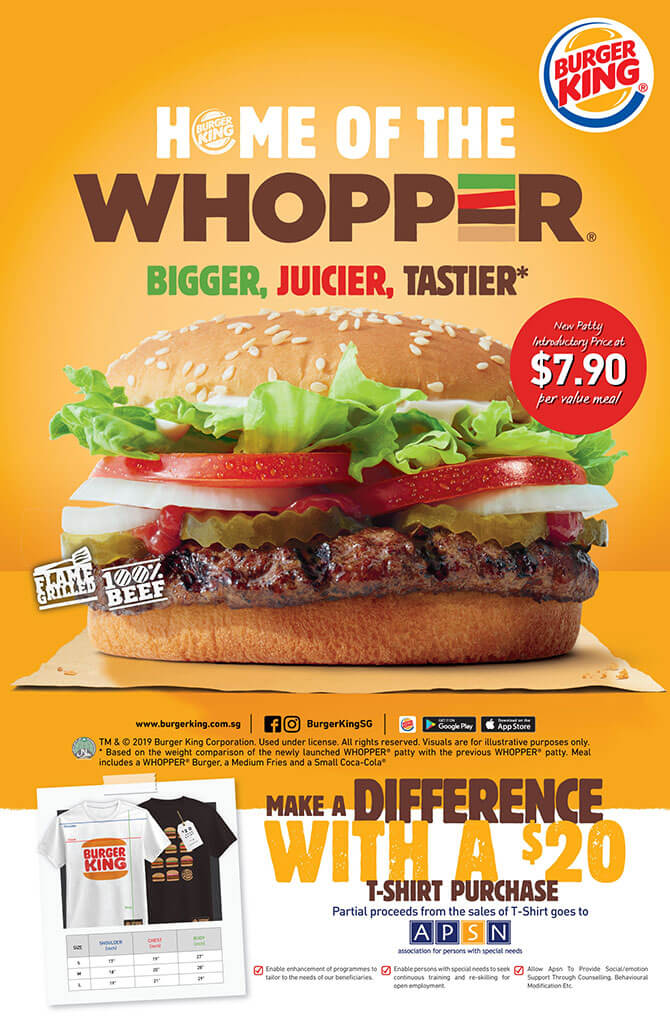 In addition, Burger King also announced that it has increased the size of its Whopper beef patty from 4 oz to 4.4 oz. It has also reduced the price of the Whopper value meal to $7.90, down from $8.70.
Return of the Kopi Siew Dai Pie at Burger King
The locally-inspired Kopi Siew Dai Pie is also making its return to all Burger King restaurants in Singapore. This Starbuys treat brings the familiar flavours of local coffee to the crunchy dessert pie.
The Kopi Siew Dai Pie at Burger King is available at $1.20 for a limited time only.