Every time our toddler sees an excavator at a construction site, he yells, "Excavator! Excavator!" like he has just made the discovery of the century. No wonder he was excited to get down to some serious play at newly-opened Diggersite in East Coast. It is sure to and satisfy your construction site-crazy (inner) child.
With real construction machinery like excavators in kid-sized 5-minute rides, it's a fun and educational experience for all ages.
Don't be surprised that the adults may enjoy this as much as the kids!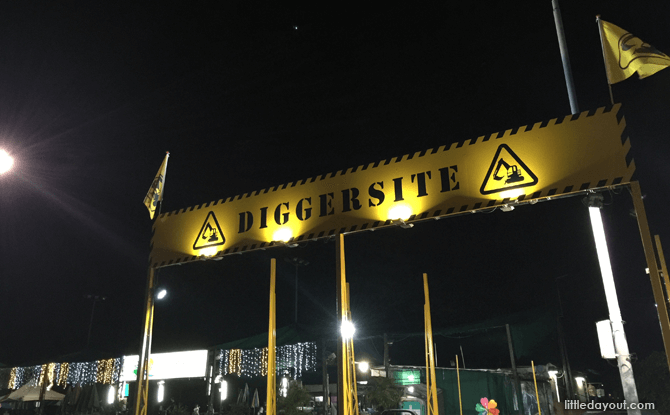 Tip: We avoided the weekend afternoon hour-long queues by visiting Diggersite after 7pm. No waiting, and cool weather! 
Get to Work at Diggersite
The mini excavators are a real hit among the kids.
There are three stations at Diggersite, with each ride priced at $7 and an option to purchase a bundle deal of $18 for three rides.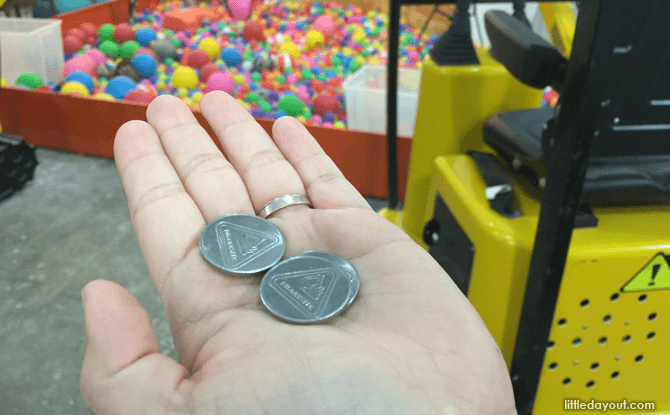 First, you pay for the tokens, which are used to activate the construction machinery, much like a kiddy ride.
Excavator (outdoor)

The excavator is clearly the main highlight at this construction theme park.
A large sandpit is surrounded by three excavators. Dunk a token in the coin slot, and your five-minute ride begins.
We were slightly surprised at the level of coordination needed for the joysticks to move the excavator limb left, right, up, down, while at the same time controlling the shovel to scoop up or dump sand.
To add to the fun, items like bricks and buckets are strewn about the large pit to add to the move-scoop-dump challenge.
Our three-year-old started was thrilled at being able to don the helmet and climb into the driver's seat.
Recommended for kids aged two and up, the ride seems more suitable for kids aged four years and above, who might appreciate learning and memorising the joystick positions as a new skill.
Still, once we let our toddler have a go at controlling the joysticks, the squeals of joy began. But of course, the excavator went amok.
Wrecking ball (outdoor)

It looks much milder than it sounds, and has nothing to do with Miley Cyrus.
The task is to control the small ball attached to the neck of this construction vehicle, and topple the yellow plastic bottles.
Yup, like wrecking balls and demolition works.
The ball is so small it's easy to keep missing the bottles!
Update: Diggersite has since put a tent over this machine to provide shade from the hot sun, a week after we visited.
Claw digger (indoor)

It's a mini construction vehicle, but it's also looks like a huge toy vending machine to us!
You know, one of those vending machines filled with stuffed toys which allow you to claw and collect the toy of your choice, depending on your skill.
This digger is somewhat like that, sitting in front a coloured ball pit. Except that the machine looks much more serious, ahem, and definitely way cooler.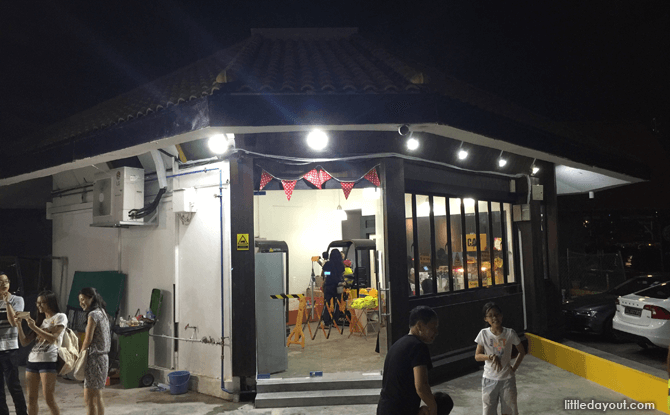 Housed in air-conditioned comfort, kids can use this claw digger to fish out coloured balls of choice, helmets and what-not.
It's a good challenge, and requires some strategising and planning.
Note that the staff at Diggersite will remind your kids not to stand too close beside or in front of the digger machines.
The rotation span of all the machines can be surprisingly agile and far-reaching, so keep your kids close by while waiting for your turn!
The helmets and safety vest are complimentary. So role-play away!
For the latest updates, follow them on Facebook.