If you are in Bangkok and tired of its endless traffic jams, EasyKart Bangkok might be just what you need to do. Get a taste of speed on an indoor go-karting track to forget about the bumper-to-bumper traffic of the city, at least for a moment.
Go Go-Karting in Bangkok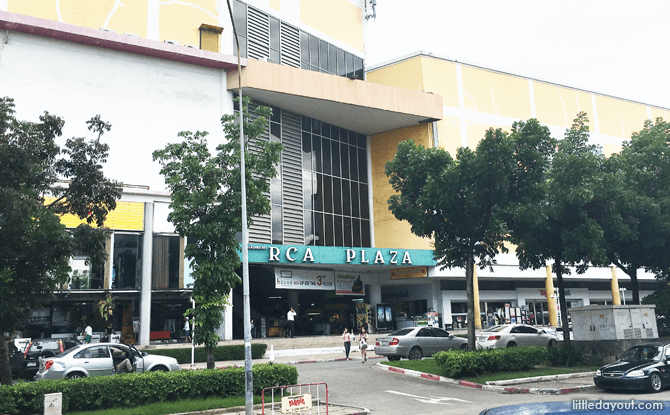 After making our way through Bangkok's traffic, we arrived at RCA Plaza, the building where EasyKart Bangkok is located. The building looked pretty deserted, especially compared to the bustle of Sukhumvit we had just came from.
Heading past a bright modern supermarket on the first floor, we made our way up an escalator and a short flight of stairs to the second floor where EasyKart Bangkok was located.
At EasyKart Bangkok's blue-lit reception area, we were greeted by the friendly counter staff. Sensing that this was our first time there, the staff patiently explained to us how it worked and the rates for go-karting.
There are various packages, all based around a race time of 8 minutes of driving.
For adults and those 12 and above and at least 135 cm, it is 600 baht for one race of 8 minutes. For kids above 7 years old and at least 125 cm, one race of 8 minutes costs 500 baht.
The adult go-karts can go up to 35 km/h while the kids' karts can reach 25 km/h.
Getting Ready to Go-Kart
After paying the fees, we stowed away our belongings in a locker and headed downstairs to the preparation area.
Girls with long hair have to wear a hairnet before putting on their yellow full-faced helmet. Closed-toe shoes are also a requirement. They can be rented from EasyKart Bangkok if need be.
After putting on the equipment, we were ready to drive the go-karts.
Instructions were given in basic English. Right foot to accelerate, left foot to brake. Don't step on both pedals at the same time. Any problems on the track, raise your hands and don't step out of the go-kart.
It could have been the language barrier, or the need for expediency because other races were queued up behind ours, or just that the go-karts are that simple to operate, but before we knew it, we were being ushered into the go-karts seat.
Speed, Speed, Speed
Once flagged off, it was 8 minutes of speed and fun around the go-kart track.
EasyKart Bangkok's indoor racetrack includes left and right turns, hairpin corners, apex corners and a straight where you can floor the pedal and accelerate.
The go-kart was easy to drive. Its two foot pedals were straightforward to operate. A bit of strength is required to steer and control the kart.
As we had arrived as a party, we had the track to ourselves. We spent the time trying to chase down each other without the worry of other racers around the track.
Post-race, we received a copy of the race results and timing. A nice touch that left us comparing lap times as we headed back out to Bangkok's notorious traffic.
EasyKart Bangkok
Address: 31/11 RCA Plaza, Rama 9 Road, Bangkapi Huaykwang, Bangkok 10320
Opening Hours: 1 pm to Midnight, Daily
Website