Judging by the crowds waiting to play with the dogs, there are plenty of Husky lovers out there and Bangkok's TrueLove at Neverland Husky Café is attracting them all. Also sometimes referred to as True Love Cafe, the little establishment hidden amongst a quiet residential neighbourhood draws throngs of people looking to interact with gorgeous Siberian Huskies. 
Meet the Dogs at Bangkok's True Love Cafe
There are more than 20 Siberian Huskies at True Love Husky Cafe.
To play with them, you will need to sign an indemnity form and purchase a ticket at the cafe's front door. For 350 Thai baht, you get admission, a drink, a slice of cake and an hour with the huskies.
There are fixed playtimes with the dogs. When we were there on a weekday, the two play times were 1pm to 2pm and 4pm to 5pm. It is best to check with the TrueLove at Neverland's Facebook page for the timings for the day. If you have your heart set on meeting the huskies, don't arrive at the wrong time or it would mean a wasted trip.
You may also wish to take note that True Love Cafe does not accept reservations. You have to queue up at the cafe.
Arrive Early
We planned to join in the 1pm playtime. To do so, we arrived at 12.15pm and, after doing the necessary paperwork and paying the fees, were admitted into TrueLove at Neverlands' cafe area.
There is a choice of indoor or outdoor seating. The outdoor seating area is just next to the dog pen where patrons get to play with the dogs during the appointed play time.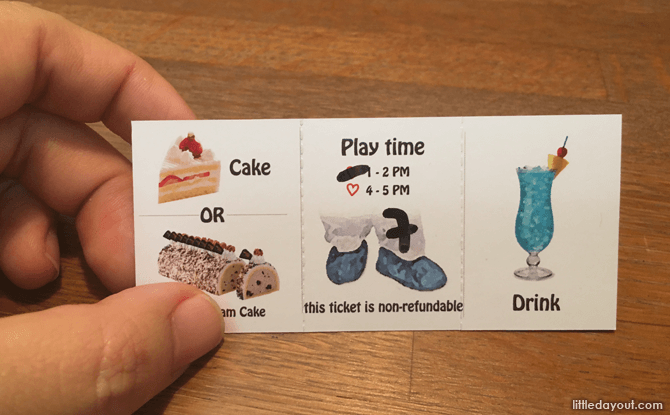 At our table, we placed our drink orders and went to the counter to choose from a selection of regular and ice cream cakes. After that, it was a matter of tucking into the food and drinks while waiting for the 1pm playtime.
Before being allowed to play with the dogs, there was a rather amusing introductory video outlining the dos and don'ts of interacting with the dogs (e.g. don't run, tease or feed the dogs).
After that, we slipped on a pair of fashionable blue plastic bags in place of shoes and joined the queue to wash our hands. Another quick rub of the hands with sanitizer and we were allowed into the dog area.
Siberian Huskies at Bangkok's TrueLove at Neverland Cafe
The Siberian Huskies were very calm and seemed well taken care of. They were given a treat of ice cubes served in metal bowls, a favourite of theirs.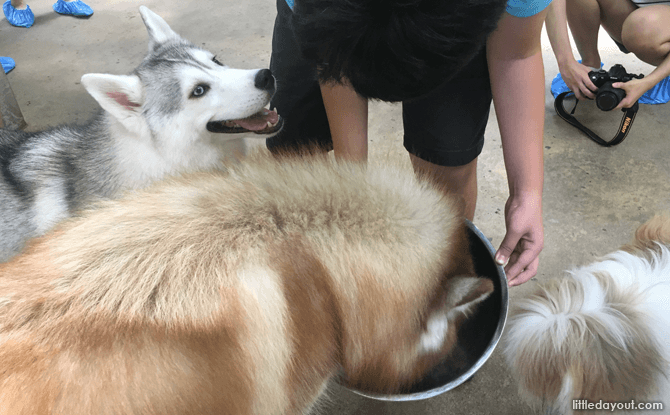 If you are lucky, you may have a chance to help feed them from the ice cube bowl.
The dogs are left to roam around freely in a large outdoor (but sheltered) pen. There are also three smaller pens where some dogs are kept.
There were tons of people at the True Love Husky Café. So much so that we had to wait patiently for our turn to interact with the dogs.
On the plus side, there were so many huskies that we didn't have to wait long and had more than ample time with them.
We could stroke them and pose for pictures with them. Staff from TrueLove at Neverland Husky Cafe were on hand to give pointers such as highlighting which dogs did not enjoy being patted.
The atmosphere in the dog interaction area was very cordial with all the visitors enjoying the experience. Clearly, the dogs had put everyone in a good mood. The huskies also seemed to enjoy the attention they were receiving.
The one-hour interaction time was plenty. So much so that we decided to leave early because we could only imagined the nightmare it would be if all the patrons decided to call a cab to the narrow lane where the cafe was located at the same time.
Visiting TrueLove at Neverland Husky Café with Kids
Take note that TrueLove at Neverland Husky Cafe requires children under 15 years old to be supervised at all times by an adult. Children below 3 are not allowed to interact with the dogs.
Getting to True Love Cafe
The closest BTS station to TrueLove @ Neverland is Ari Station. From there, it is a 1.6 km, 20 minute walk through narrow streets to get to the cafe. Alternatively, hop into a cab from Ari station (or anywhere else) to make your way there.
TrueLove at Neverland Husky Cafe
Address: 153 Soi Ari Samphan 2, Samsen Nai, Phaya Thai, 10400 Bangkok, Thailand
Phone: +66 90 101 9669
Website