There was a time when the entertainment options for kids at Changi Airport were two fish tanks and sitting on a bench next to a statue of Ronald McDonald. Things have changed quite a bit since then. While most airports are a gateway to holidays and overseas adventures, Changi Airport is quite a kid-friendly destination in itself. Here's why kids love Changi Airport.
10 Reasons Why Kids Love Changi Airport
1. Space, Space, Space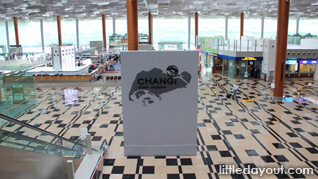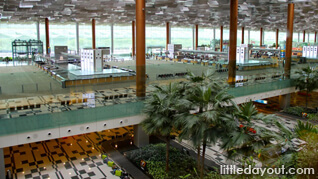 You'll be hard pressed to find another place in Singapore with so much open space for kids to wander around – and in air-conditioned comfort as well. Each terminal is well connected to the next and is plenty of things to look at throughout the airport, for example, try spotting the flower-fan and the onion-flame.
2. Activities for the Season
---
-- Story continues below --
Different activities are planned at Changi Airport throughout the year. Activities targeting kids are often organised during school holidays. In the past, T3's Check-in Row 11 has been transformed into wonderlands such as a giant bouncy castle, an adventure playground and a mini-exhibition space. Go online to find out the latest activities taking place at the airport.
3. Woodblock Rubbings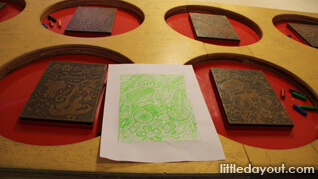 Next to the B2 fountain in Terminal 3 is a Woodblock Rubbing area. Armed with the crayons provided, kids can transfer images of sampans and trishaws onto pieces of paper to bring home. This is a free and fun activity for kids to engage in.
4. Children's Playground
Also near the B2 fountain in T3 is a Children's Playground. Conveniently located seats around the playground allow minders to watch the kids at play. Also nearby is a 4D ride and a games arcade for those who want electronically-powered fun.
5. Slide @ T3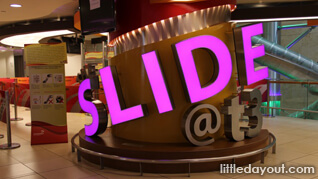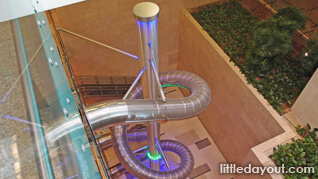 Singapore's tallest indoor Slide @ T3 is a surefire hit that provides a fun mini-adventure. Kids (and adults too) can hop into the tubular slide from either Level 1 or B2 and take a swirly ride down to B3. You will need a minimum spend at the airport shops to redeem a ride on the slide.
6. Changi Aviation Gallery
The Changi Aviation Gallery consists of two parts – one at T3 and the other at T2. The gallery recounts Singapore's aviation history in small factoids. The third floor gallery at T3 also provides a runway-side view of planes landing and taking off. While there, look up and see if your kids can count the number of red, yellow and blue paper planes suspended above the gallery. These represent the number of planes passing through the airport every day.
Over at T2 Level 2, the gallery focuses on the airport's ground operation. Try out the different hand signals used to marshal a plane on the ground and find out more about an airport fireman's job.
7. Skytrain
The simple pleasure of zipping from terminal to terminal in the Skytrain is a favourite with younger kids. From the carriage, kids can look down at the taxi queues or peering over the front of the train carriage to see what's ahead. The ride from T1 to T3 provides the longest route and a nice view of the Air Traffic Control Tower as well.
8. Kinetic Rain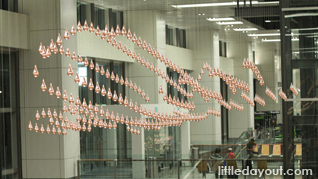 Watching Kinetic Rain is a wonder to behold. Marvel at the world's largest kinetic sculpture, made up of 1,216 bronze rain droplets, transform into multiple shapes such as a bird, a kite and an airplane in motion.
9. T1 Viewing Gallery
Once a haunt for dating couples and studying teenagers, the Viewing Gallery at T1 is now a bright, airy and open area. It still provides the best views of planes as they taxi in and berth at the T1 gates. The viewing gallery now features a glass ledge that allows visitors to step above the tarmac apron below.
A children's play area, Canopy, with two tiers of obstacles opened at T1's viewing gallery in 2012. Entry is complimentary if you spend a minimum amount in a single receipt, which brings us to the next point… shopping! [Editor's Update: As of August 2013, entry to Canopy is free]
10. GST Free Shops Galore
With the 'Flying Or Not, You Shop, We Absorb' programme now on, many retail outlets absorb the 7% GST in the public areas of T1, T2, and T3.
Shops that carry children's products or cater to children include:
Chocolates.Candy.Delicatessen (T2)
Cocoa & Co (T3)
Dwudang and Friends (T3)
Elephant and Castle (T3)
Giordano (T3)
Kawaii (T3)
Kids Painting Corner (T3)
Kidztime! (T3)
Little Joy (T3)
Mini Toons (T2 and T3)
My Kiddos (T3)
Planet Toy (T3)
Planet Traveller (T3)
SingKids PlaySystem (T3)
What are your favourite experiences at Changi Airport? Click on the "Review" at the top right side of this page to share your views!
How To Get There
Click here for more details including the address, map and the opening hours of various facilities at Singapore Changi Airport. You can also visit the Singapore Changi website.
You may also like to check out our story about the transit areas that families would love at Changi Airport.