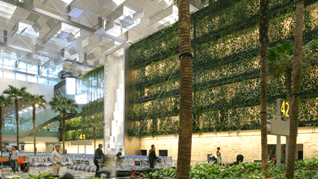 Not only did Singapore's Changi Airport claim Skytrax's award for the World's Best Airport for 2013, it also garnered the awards for Best Airport in Asia and the Best Airport for Leisure Amenities.
These accolades are the result of a resounding nod from a survey of over 12 million passengers over nine months, covering more than 395 airports worldwide.
Many families in Singapore are familiar with the fun spots around Changi Airport's public areas. See the article "Changi Airport with Kids: No Ticket Required".
However, after passing through Changi Airport, you may be left wondering what to do. Whether you are in transit or if you've checked in early, here are some other areas beyond the immigration counters that can keep you and the kids entertained.
Also, don't forget that it is also possible to take the Skytrain within the transit area from one terminal to the other, so you are not bound to the terminal your flight is leaving from. But don't have so much fun that you forget to board your flight!
Indoor Themed Gardens
It's a Garden City indeed, even within the departure transit lounges at Changi Airport's transit areas. You can relax amidst nature in air-conditioned comfort all year round:
Butterfly Garden 
(T3, Departure Transit Lounge, Level 2)
Step into the world's first Butterfly Garden within an airport at T3's transit area and discover tropical butterflies floating around a lush green garden with bursts of colourful flowers. This is a hot favourite with kids and adults alike. A 6-metre waterfall provides a relaxing backdrop for kids explore the educational corners within the Garden. They can learn about the butterfly's journey from a pupae to a beautiful fluttering flyer. See also the collection of 200 carnivorous or insectivorous pitcher plants from Southeast Asia within the two-storey enclosure.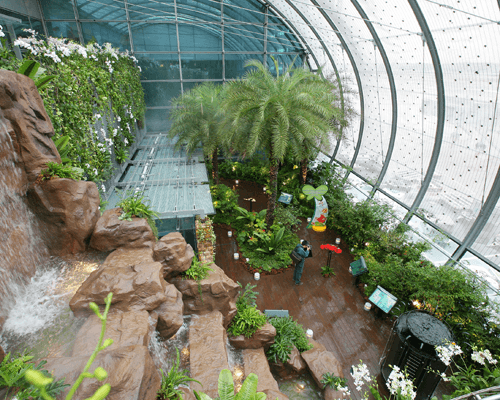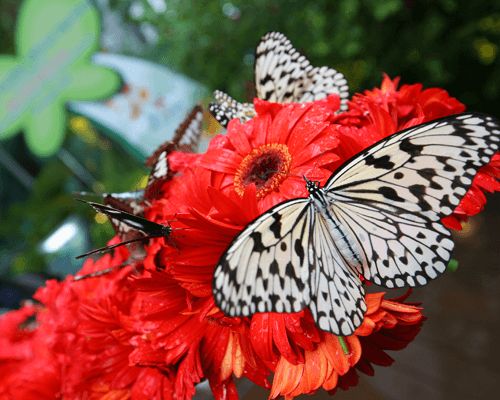 Fern Garden & Koi Pond 
(T2, Departure Transit Lounge, Level 2)
Go back to the dinosaur era and see the survivor – the giant Tasmanian tree ferns known as Dicksonia Antartica at the Fern Garden in T2! Landscaped together with tropical ferns, the garden features many unique ferns from the oldest rainforests in the world. There is also a Koi Pond and you may even be able to feed the graceful koi if you happen to be there during their feeding times.
Orchid Garden & Koi Pond 
(T2, Departure Transit Lounge, Level 2)
Here's where you can see Singapore's National Flower – Vanda Miss Joaquim, and Changi Airport's very own – the Dendrobium Changi Airport! The Orchid Garden in T2 also features a constantly changing exhibit of rare tropical and temperate orchids and their bright orange, red and yellow hues match the koi in the pond.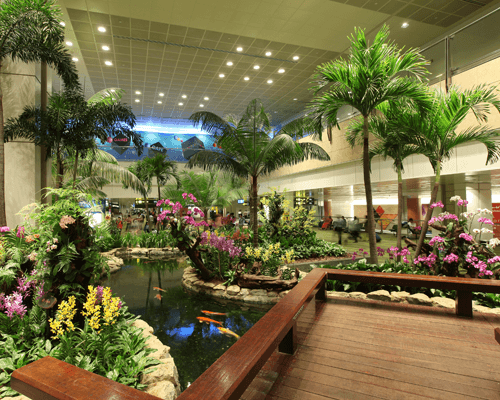 Outdoor Themed Gardens
If you need some fresh air, head to the open-air rooftop gardens accessible only through the Airport's transit areas:
Sunflower & Light Garden 
(T2, Departure Transit Lounge, Level 3)
By day, this is a sunflower garden and by night, it is magically transformed into a light-themed garden with lighting effects and illuminating fixtures from 7.00 pm to 7.00 am daily! Located in T2 near the Plaza Premium Lounge and the movie theatre, the cheerful sunflowers form a beautiful backdrop for planes pulling into or taking off from the terminal. At night, you will find yourself amongst illluminated 'fireflies'.
Cactus Garden 
(T1, Departure Transit Lounge, Level 3)
For a moment, you could forget that you are in tropical Singapore when you enter this garden with more than 40 species of cacti and succulents from Africa and the Americas. The open-air garden on the third level of T1's departure lounge contains a forest of surreal plants like the Golden Barrels, Silver Touch, Oldman Cactus, towering Prickly-Pear and giant bottle shaped Club-Foot trees. Go back into the prehistoric era when you see the collection of massive Cycads, towering Euphorbias and tree-like Dracaenas. This is also another good spot to catch or shoot aeroplanes landing or flying.
Children's Entertainment
Children's Playgrounds

(T1, T2 and T3)
Playgrounds suited for kids aged 1 to 12 can be found in each of the terminals.
T1's playground is found at Level 3 near the Departure Transit Lounge.
T2's playground is conveniently located at Level 2 of the Departure Transit Lounge North. Adjacent to this is the Family Zone where kids can watch cartoons while parents enjoy a break at the nearby food outlet.
Over at T3, two playgrounds can found within the transit areas. One is located next to the SATS Special Service Lounge and the other outside gates A16 – A20 at the Departure Transit Lounge South.
Entertainment Deck & Movie Theatres
(T2, Departure Transit Lounge, Level 3, next to Sunflower Garden)
At T2, the one-stop multi-media Entertainment Deck provides plenty of distractions to keep kids busy. Xbox 360s and Playstations are a sure-fire hit with the kids. A free, 24-hour movie theatre presents screenings for those with time to spare.
Passengers at T3 can head to Terminal 3's Movie Theatre, found close to the Ambassador Transit Lounge at Level 3. Catch these movies free-of-charge too!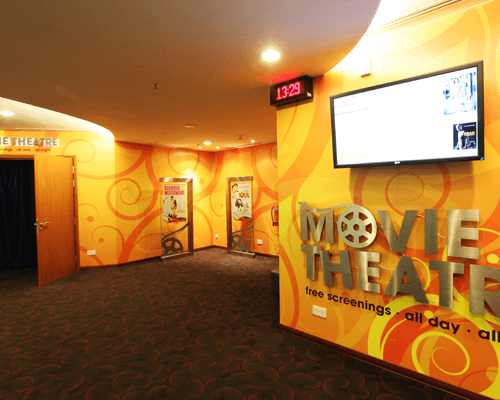 There is also a TV Lounge at the Departure Transit Lounge at Level 2 for kids to catch up with cartoons.
Toy Shops
Of course, there are also toy shops within the Airport's transit area. Which kid would not love a new toy to bring aboard the plane on that special holiday trip.