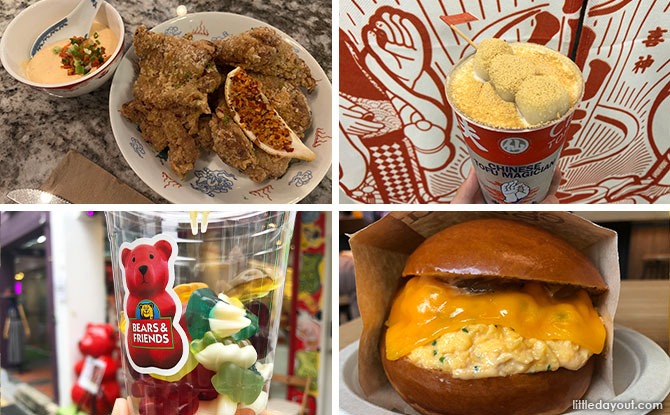 Coconut shakes, meat alternatives and colourful sweet treats – these were some of the popular foods that we saw a lot of in 2021. With new brands and new finds popping up this year and even more to come, here are some of the best new eats that we tried in 2021 that we are making points to head back for seconds.
---
Best New Eats of 2021
Drunken Farmer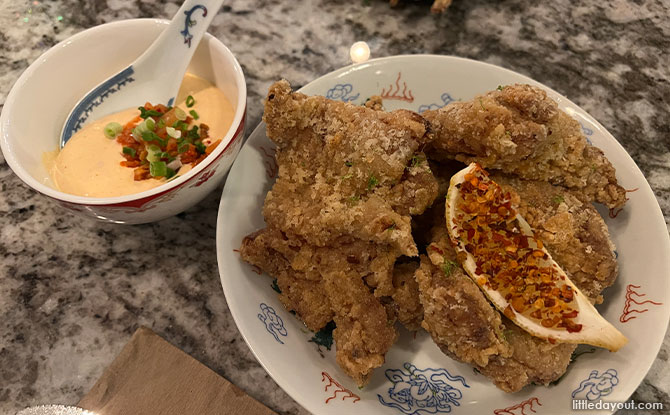 Common Man by day, Drunken Farmer by night – this unique dining concept of transformation from a neighbourhood cafe to a bar and bistro first took off at Drunken's Stanley Street outlet. It has now made its way to Joo Chiat and offers the same gut-friendly rouse of sourdough-focused sharing plates and natural wines.
We highly recommend ordering the signature dish of Sourdough Karaage. This fried chicken is one of the best one's we've tried and is made with chunks of the deep-fried chicken thigh marinated then dipped in sourdough batter. Read more about it here.
Shake Some Coco
Some Coco is a brand new coconut shake concept store. Here, customers can get a refreshing coconut drink in a series of unique flavours. Unlike other coconut shake brands, this brand brands themselves as the "Arabica" or "Starbucks" of coconut shakes. A unique drink that we were excited to try was the Coconut Lemonade.
This drink took us by surprise and ended up being our favourite drink. The sweetness and creaminess of the coconut shake was perfectly balanced with the tart lemonade. The taste reminded us of a Solero Split ice cream and we highly recommend giving it a try. Read more about this place here.
---
EatBox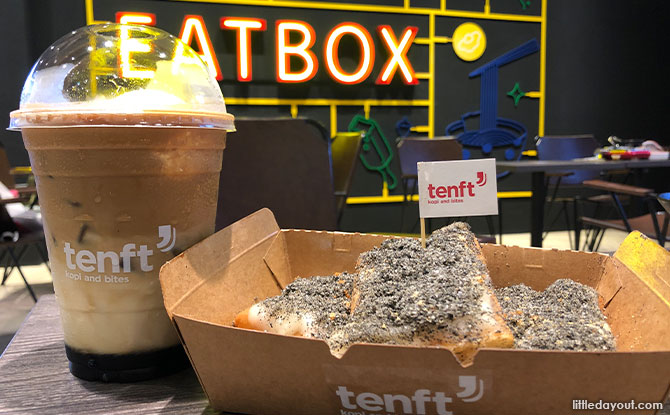 One of our favourite spots that opened in 2021, Eatbox has a total of 17 different concepts and a ton of dishes for diners to choose from at this boutique version of Artbox. A must-try is the Youtiao with Mua Chee by Tenft which is topped with a variety of toppings such as Lotus Biscoff crumbs, oreo, sesame or even peanuts. We also really liked the pan-fried satay and noodles from Thachang Shaker Bar. Read more about Eatbox here.
---
EggSlut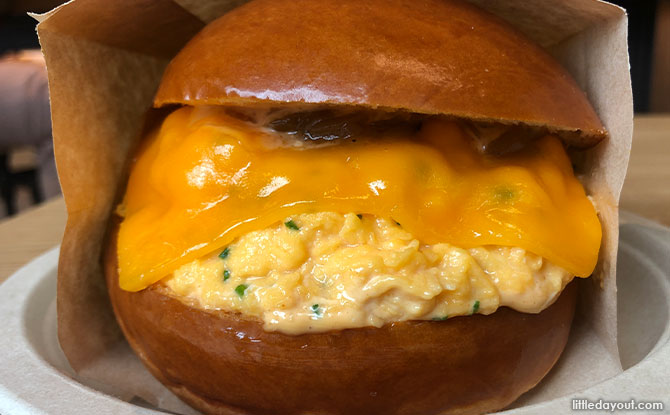 The insanely popular Los Angeles cult favourite Eggslut is finally in Singapore as its very first location in Southeast Asia. The menu has six-core signature sandwiches with the main ingredient being (as the name suggests) cage-free eggs served on warm fluffy brioche buns.
The all-time favourite and must-try sandwich at Eggslut is the Fairfax and the meal can be completed with the "Slut, a massive dollop of smooth house-made potato puree served in a glass jar, gently topped off with a sous vide egg and crispy slices of baguette toast. Read more about EggSlut here.
---
Impossible Beef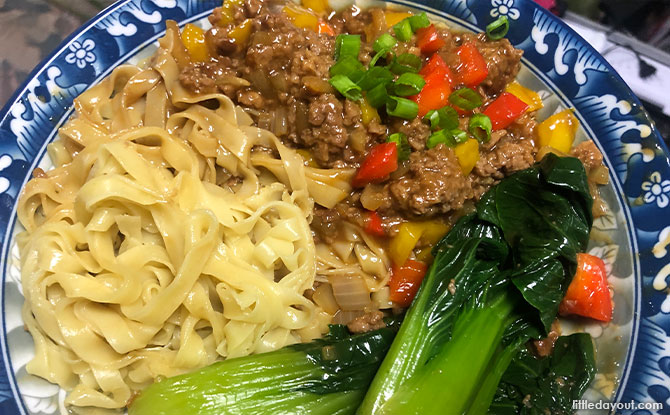 Many places now offer meatless alternatives for diners, indicating that diners are now more open to incorporating these into our various meals. We foresee this continuing on into the new year and one of the memorable meatless dishes that we tried was done following the recipe from Impossible Beef.
Home chefs can make simple and delicious dishes such as Impossible Beef Curry and Impossible Beef Noodle Soup Singaporean Style using the award-winning, plant-based Impossible Beef. Read more about the Impossible ground beef here and other places to find Imposible Beef items here.
---
WildChild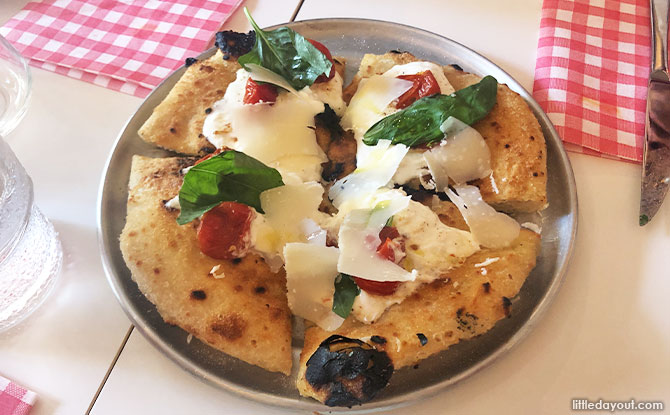 Wild Child specialises in 10-inch, Neapolitan style pizzettes that feature contemporary Italian toppings on a slow-fermented pizza dough that are baked in a traditional wood-fired oven. We highly recommend the take on the Margherita pizza with chewy yet crispy textured pizza base that is deep-fried. The Pecan Tart at Wild Child is also a must-try. Read more about it and other yummy items on the menu here.
---
Open Farm
The Farm Feast is the newly launched family-style menu by MICHELIN Plate awarded restaurant, Open Farm Community. It features communal dishes made with sustainably produced and humanely farmed produce that are predominantly sourced from a close and trusted network of local suppliers. It is also prepared with a select handful of harvests that are lovingly grown at the on-site garden. Read more about the items we loved at Open Farm here.
---
Chinese Tofu Magician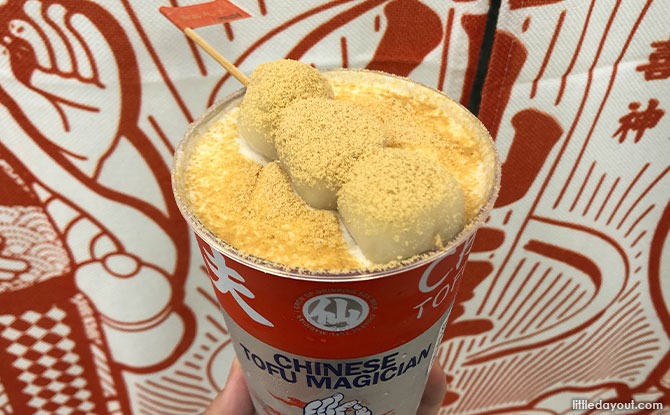 Specialising in soy-based products, Chinese Tofu Magician offers soy-based drinks, ice cream, beancurd and other desserts that have been making its appearance on Instagram with its eye-catching packaging and creative drinks. Their Signature Soy Milk Tea comes with soy foam and white jade (mochi balls). Customers can choose the base of the tea with various options such as green tea and sesame. Upon request, the staff there will dust a generous amount of soybean powder on top for those who wish to drink it on the spot. Read more about it here.
---
Bears & Friends
Selling quality fruit gummies imported from Germany, Bears & Friends is a candy shop that sells a variety of fruit gums with over 80 flavours from classic fruit gummies to unusual ones such as alcoholic flavoured gummies, spicy and even coffee gummies. Read more about it here.