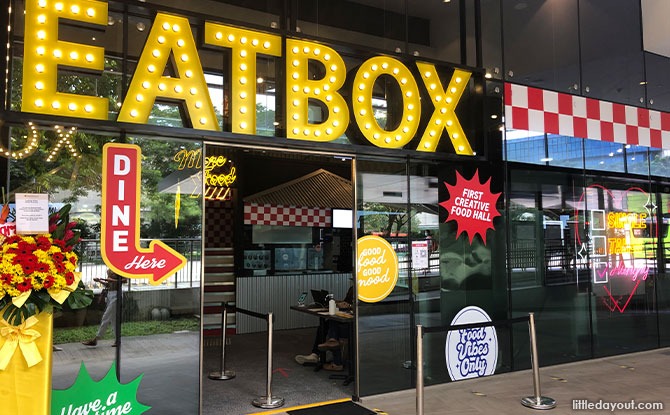 Connect with the various parts of the world in the most delicious way possible at Eatbox 2021! Hosting a total of 17 different concepts, visitors will be spoilt for choice at the number of dishes that they can choose from at this boutique version of Artbox that is open daily from 3 September onwards. Here are the various must-try dishes and drinks at Eatbox 2021
---
Must-Try Dishes And Drinks At Eatbox 2021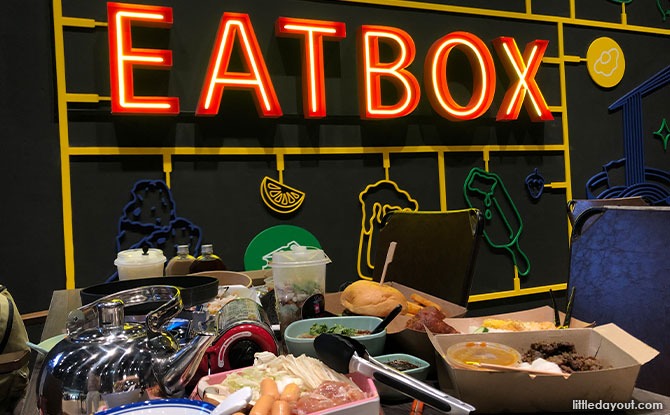 There are a total of two levels. Most of the stores are located at the first floor while the stores Happy Hops and Seoul Good Noodle Bar are located on the second floor with more seating. The exit is located on the second floor and leads to the new Instant Noodle exhibition which will be opening in late September.
Sugarush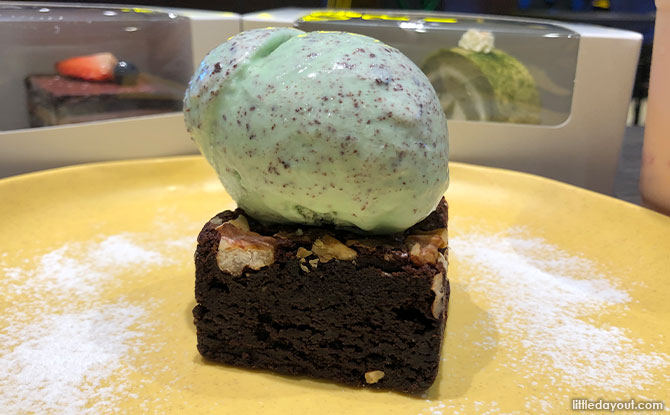 ---
-- Story continues below --
Those craving a sweet treat such as cakes, smoothies or ice creams can head over to Sugarush, as they offer customers a variety of baked goods and blended drinks. They are best known for their brookies and they also have delicious smoothies with different fruits to choose from. They are offering a brownie and ice cream combo as well as their Eatbox exclusive Durian Smoothie. Sugarush's products are Muslim friendly. Website
---
Ethos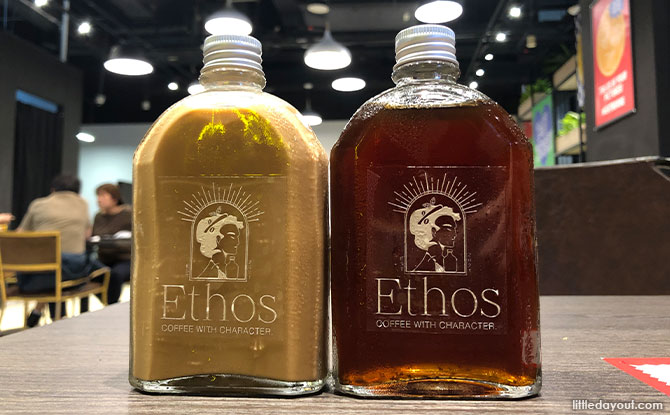 Selling "coffee with character", Ethos has a range of coffee in unique flavours such as Rose Latte and Orange Cold Brew. At Eatbox, customers will be able to see an even wider range of flavours such as Rose Milk Tea, Popcorn Milk Tea and Cookie Butter Coffee! Website
---
Wai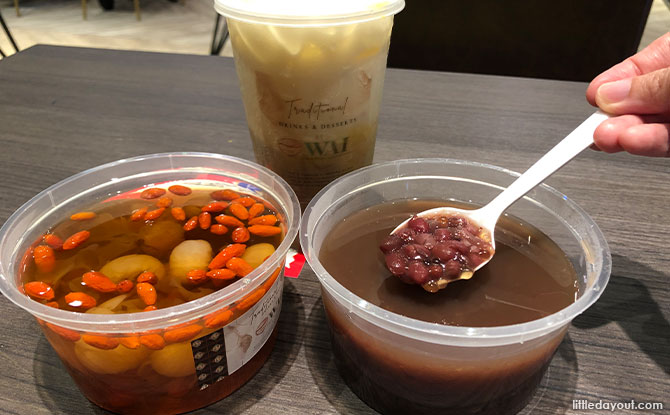 Offering a selection of traditional desserts, Wai has a Peach Gum Tong Shui with a nourishing collagen-rich base as well as a traditional classic dessert of Red Bean Soup. For an Instagrammable option, opt for the Orh Nee Fresh Milk which is a smooth and rice combination of Orh Nee Milk, Gula Melaka ice cubes and toppings. Their desserts are made without pork or lard. Website
---
Butcher The Burger Bar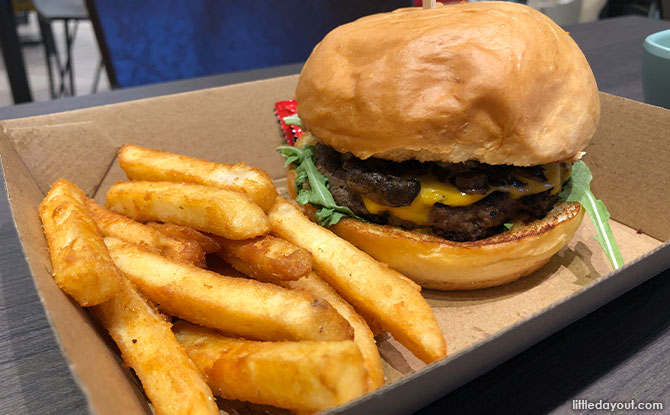 Looking for a delicious and hearty burger? Butcher The Burger Bar has burgers such as a Truffle Shuffle as well as a Crispy Stack Burger which is made with American cheese, crispy shallots and truffle aioli. They offer both beef patties as well as meatless patties and various sides. Their burgers have no pork or lard. Website
---
Hui Mama Kitchen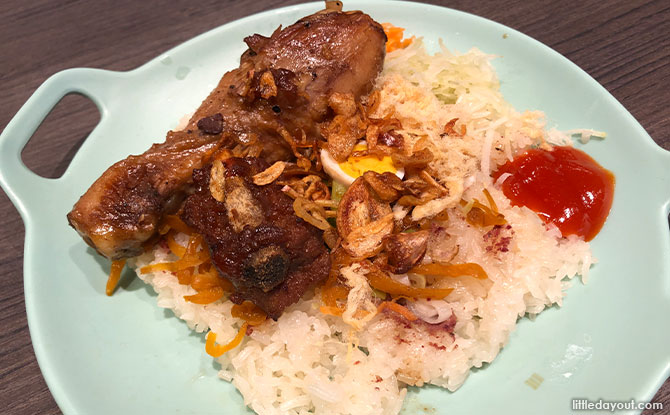 A unique form of Vietnamese cuisine, Hui Mama Kitchen serves a special mix of mixed sticky rice with chicken which has an enjoyable mouthfeel with each bite of the warm chewy rice.
They also serve a thick Crab and Prawn soup that is served with a half a century egg. This dish is best enjoyed hot and we enjoyed the taste and viscosity of the Crab and Prawn soup. Website
---
Chickata
This Muslim friendly store offers the well-loved dish of Mookata. In this single portion pan, diners can choose from mains such as chicken, duck, beef and lamb.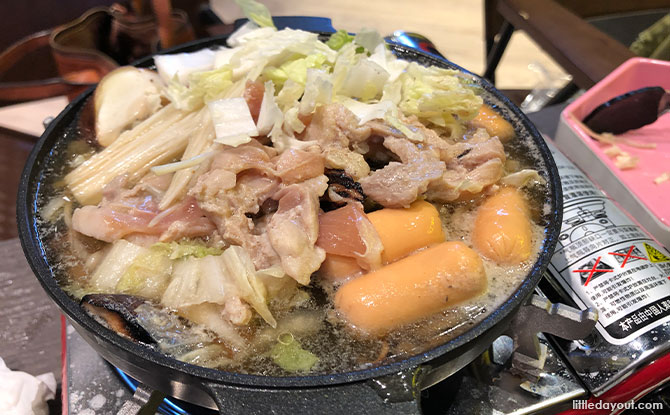 It was an interesting experience of cooking in such as small pan, but it is suggested that diners cook the meats before pouring on the broth to enjoy the elevated flavours of the different ingredients being combined. Website
---
Flash Coffee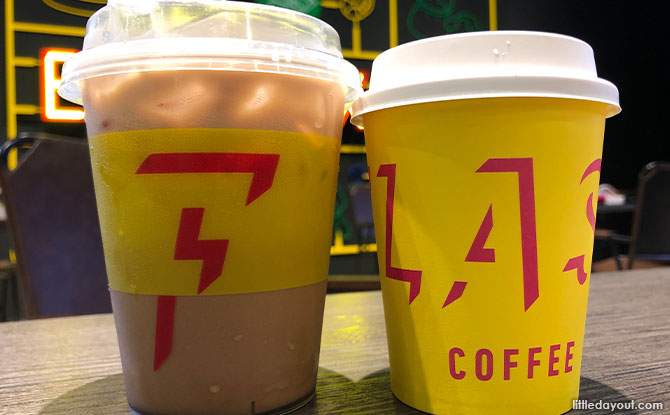 Combining two great things – Nutella and coffee, Flash Coffee's signature Nutella latte is topped with chocolate and hazelnut goodness, making it a must-try at Eatbox 2021. There are also other coffee beverages such as Melaka Latte, Macadamia Latte, Avo Latte and Lychee Espresso Soda. Website
---
Stay Ummi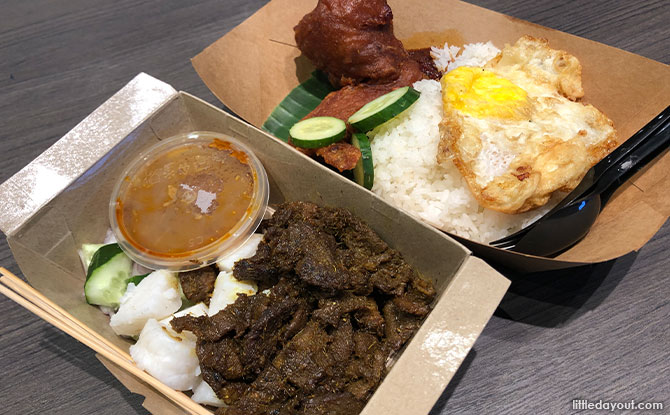 Enjoy chicken, beef or mutton pan-fried satay and a classic Nasi lemak paired with sambal and crispy fried chicken at Muslim owned store, Stay Ummi. We tried the mutton satay and loved how tender and savoury it was. It was not too gamey and paired wonderfully with the cucumber and peanut sauce.
The Nasi Lemak's rice was fragrant and the chicken had a big crunch with every bite due to the generous batter.
---
B Ly's Bahn Mi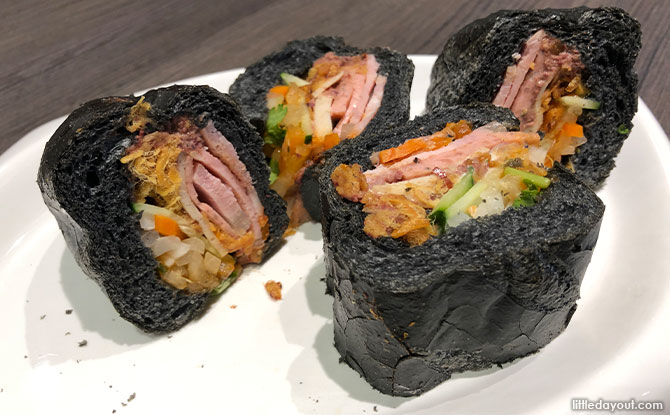 Bahn Mi is a traditional Vietnamese sandwich and snack consisting of toppings like ham, different types of marinated meat and vegetable sandwiches between slices of crispy buttered baguette. They offer a regular toasted bun or a special charcoal bun for customers to try. Website
---
Thachang Shaker Bar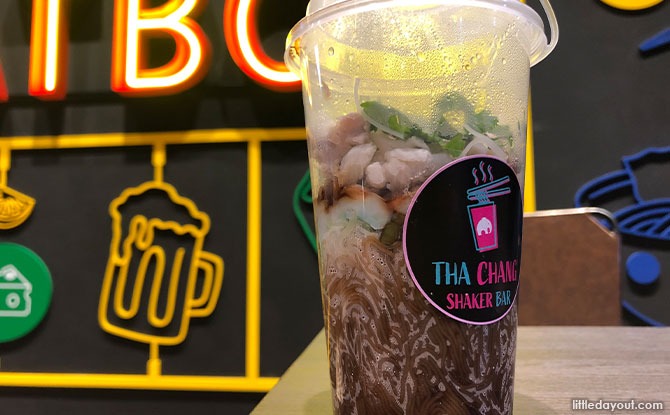 Enjoy eating shaker fries? How about some shaker noodles? This unique customizable noodle dish is sold at Thachang Shaker Bar. Diners can pick their choice of noodles, sauce base, toppings and spice level. Choose from a boat noodle base or tom yum if you wish to have something with an extra kick. There are also pork skewers at an affordable price of $1.50, Thai style crispy Hai Yai fried chicken wings and more. Website
---
Haengbok Cakeyo
This Korean dessert shop is sure to bring customers a slice of happiness with their adorable macaron lollipops and treats. The macarons come in flavours such as strawberry chocolate and Hojicha. They also have a trendy "tsunami cake" which sends a mesmerising flood of icing cascading down its sides. This store's bakes have no pork and no lard. Website
---
TOMI Yakiniku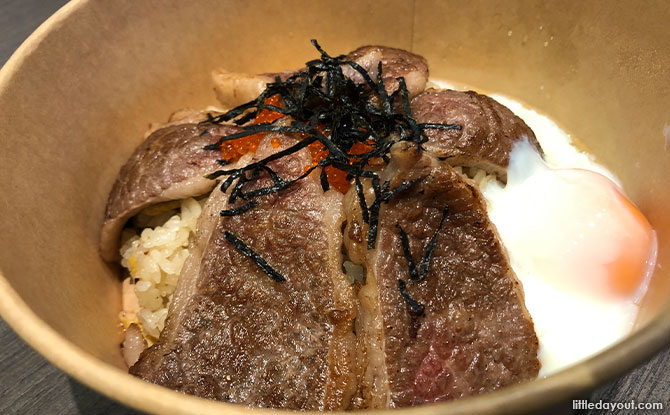 Featuring premium A5 wagyu beef on top of various rice bases such as Thai basil and garlic rice. They also serve quality pork katsus as a main dish. Other dishes that they serve include half shell scallops with mozzarella cheese as well as BBQ tiger prawns.
---
Okinawa Onigiri
Okinawa Onigiri offers a range of onigiris with toppings like spam, fried eggs, tempura, and many more! Their rolls come in filling single portions which are great for meals to go. We tried the Shrimp Onigiri and enjoyed the mix of different savoury ingredients with the Mentaiko sauce. Okinawa Onigiri does not use pork or lard in its rolls. Website
---
Tenft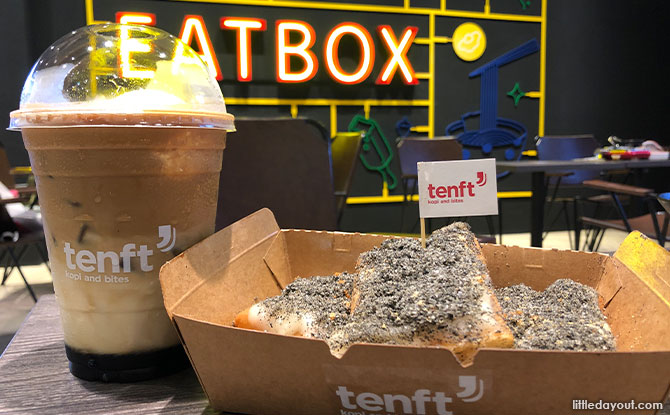 Those looking for an innovative version of traditional coffee shop drinks or snacks can pay a visit to Tenft! A signature drink to try is the signature Gula Melaka Three-Layer Ice Kopi which is made with fresh milk. For snacks, a must-try is the Youtiao with Mua Chee topped with a variety of toppings such as Lotus Biscoff crumbs, oreo, sesame or even peanuts. This delicious and unique snack is a must-try. No pork no lard is used in their food or drinks. Website
---
Seoul Good Noodle Bar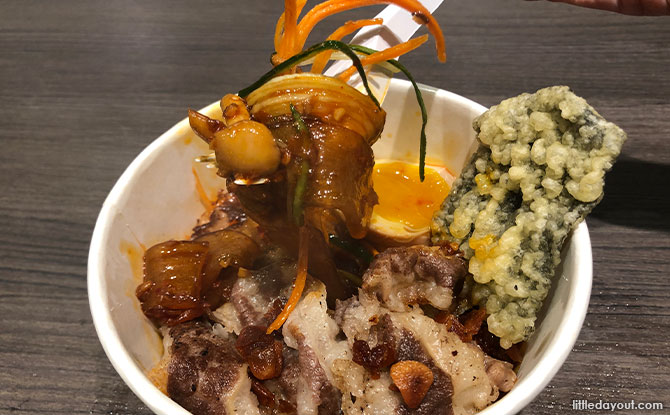 Be spoiled for choice with a whole selection of ingredients at Seoul Good Noodle Bar. Choose from their three signature noodle dishes: Miso Soup Instant Noodles with Chicken Katsu, Jjajang Ramyeon with Grilled Chicken and Spicy Shoyu Garlic Potato Noodles with charred beef slices. Diners can also choose to mix and match the different ingredients t create a combination that they will enjoy most! Website
---
Happy Hops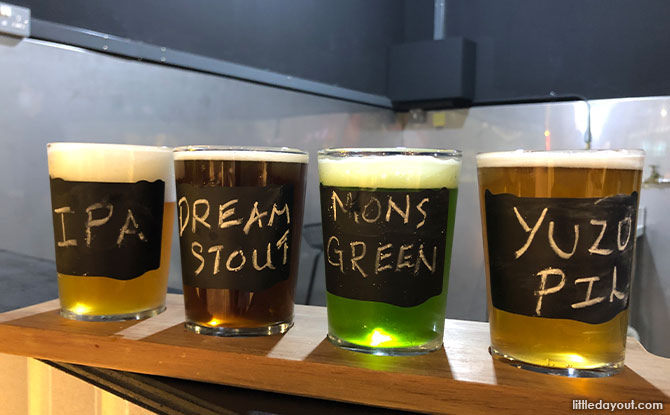 A craft beer stall nestled within the newly curated F&B concept store by Eatbox, indulge in some of Happy Hop's signature beers such as IPA, Dream Stout, Mons Green and one with Yuzu notes. The store operates Monday to Sunday 4 pm to 10.30 pm. Website
---
Ice On You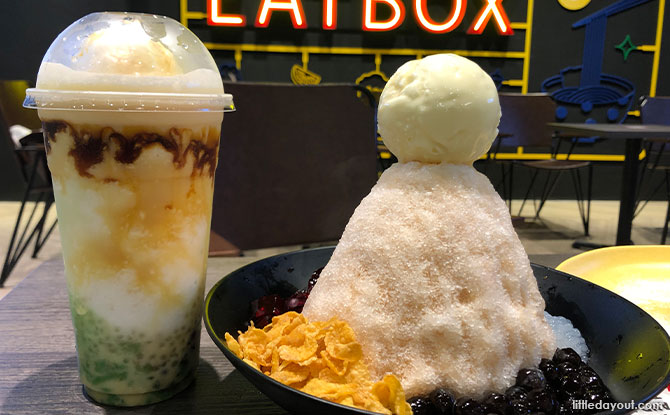 A store to end your visit to Eatbox on a sweet treat, Ice On You has two signature desserts that customers are highly recommended to give a taste of.
The first dessert is a Thai milk tea shave, a Thai shaved ice drenched with homemade milk tea and topped with a scoop of vanilla ice cream. It also comes with red tea jelly, sago, black peals and cornflakes for an extra crunch.
There is also the Power Chendol Blender which is a medley of Chendol jelly, sago and red bean. Their palm sugar is less sweet with a hint of floral notes. Website
---
Where To Visit Eatbox 2021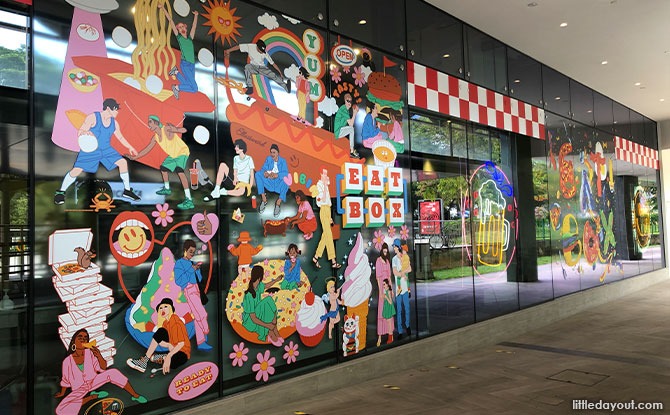 Eatbox 2021 is located at Tekka Place Annex Building. There are also multiple art murals and neon signs within and around the building that make great photo spots. Admission is free and it is open daily from 8 am to 10:30 pm. Read more details about Eatbox at our article here.