From 24 September 2021 to 30 January 202, Slurping Good!, an instant noodle-themed experience will be invading the space at Tekka Place, above Rochor MRT Station.
---
Instant Noodle-Themed Experience
Slurping Good! will feature 13 interactive and Instagrammable spaces laid out over 6,000 square feet over two levels.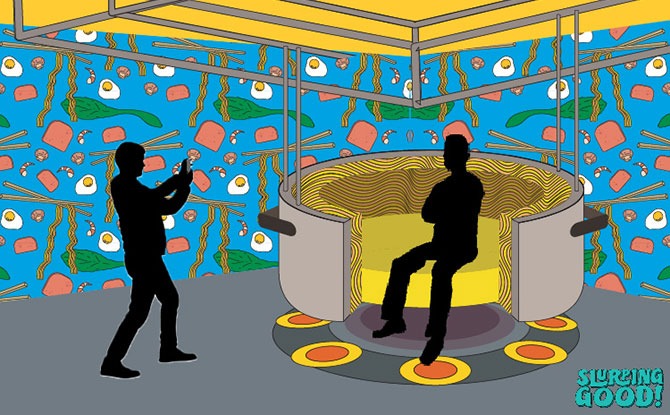 Walk through a noodle archway, enter interactive rooms with murals, installations and games which celebrate ingredients associated with instant noodles such egg, meat, greens, seafood and even cheese!
In collaboration with Nissin Foods Singapore (NISSIN), there will also be a "My Dream Cup Noodles by Nissin" at Slurping Good!. This interactive space will feature a 1.7 metre tall installation of Singapore's number one cup noodles flavour.
Visitors can also share their dream cup noodles flavour, plus have fun on the Chu Qian Yi Ding Slider!, which will have both child- and adult-sized noodle slides.
There will also be Slurping Good! instant noodles-themed merchandise for sale.
It sounds a bit like a mini Cup Noodles Museum-type experience.
---
Slurping Good! at Tekka Place, Rochor
Slurping Good! is by Invade, the same company behind ArtBox. It will complement other experiences that it is setting up at Tekka Place – the permanent EatBox location and a basement marketplace.
"One of the goals with our permanent location is to provide patrons with an all-rounded experience that is fun for everyone," says Kent Teo, CEO and founder of Invade. "Upon entering our location at Tekka Place, they will be greeted not only by great food and shopping experiences but by an experiential playground like no other. With Slurping Good!, visitors will get to enjoy a themed interactive experience that ties in perfectly with Eatbox and Marketplace and completes their Rochor experience."
---
Tickets for Slurping Good!
Slurping Good! is a ticketed experience with an early bird promotion of $19 per ticket available on Lazada, Invade's partner for Slurping Good!, from 31 July to 31 August 2021.
Each visitor will receive a complimentary tote bag containing a Slurping Good! retail voucher
that can be used at the merchandise store, an F&B voucher that can be used at the Soul Good Noodle Bar located in Eatbox, a pack of Nissin instant noodles as well as instant noodle claw machine tokens.
More details on Slurping Good! can be found here.
Separately, another food-themed experience that Singapore can also look forward to is the Museum of Ice Cream Singapore which is slated to open in August 2021.