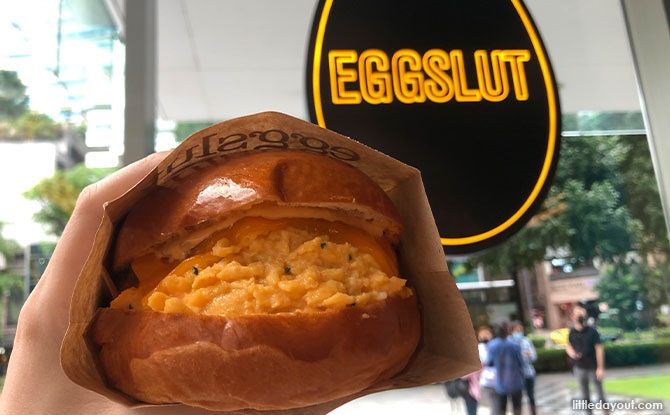 Opening on 9 September, like the insanely popular Los Angeles cult favourite Eggslut is finally in Singapore as its very first location in Southeast Asia. Eggslut Singapore's menu will feature signatures such as the Fairfax, Slut, and the wagyu-steak filled Gaucho, along with a selection of delectable sides to round off the meal. Here is what you can look forward to at Eggslut Singapore.
---
Eggslut Singapore Menu Items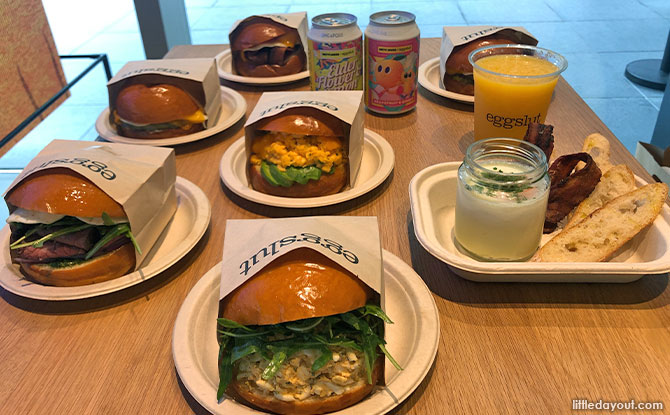 The menu will feature six-core signature sandwiches with the main ingredient being (as the name suggests) cage-free eggs served on warm fluffy brioche buns. There is also a speciality item, sides, beverages and coffee. Here are some of the dishes we tasted.
Fairfax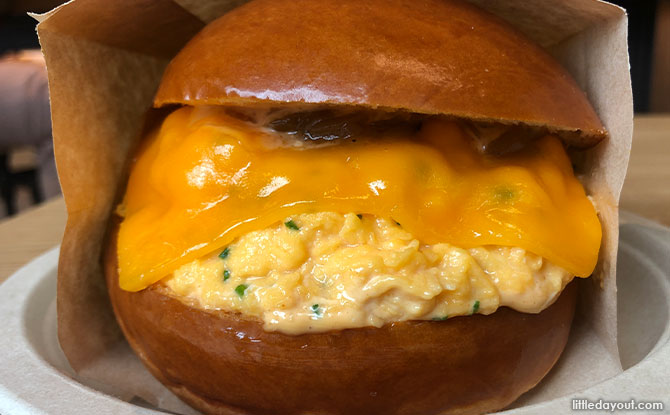 The all-time favourite and must-try sandwich at Eggslut is the Fairfax. It is a delectable combination of fluffy scrambled eggs over caramelized onions, cheddar cheese, and drizzled with sriracha mayonnaise. These eggs are cooked with a specific method by first un-whisking eggs into a cold pan, then brought up with plenty of cold butter and taken off the heat before they fully set.
We were very excited to try the sandwich that visitors to Eggslut rave about. At the first bite, we immediately noticed the fluffiness of the buttered brioche bun. When paired with the savoury and creamy scrambled eggs, we felt like we were biting into a buttery cloud with a burst of flavour. There was a lingering heat from the sriracha mayonnaise that prevented the taste of the rich buttery eggs from becoming overwhelming.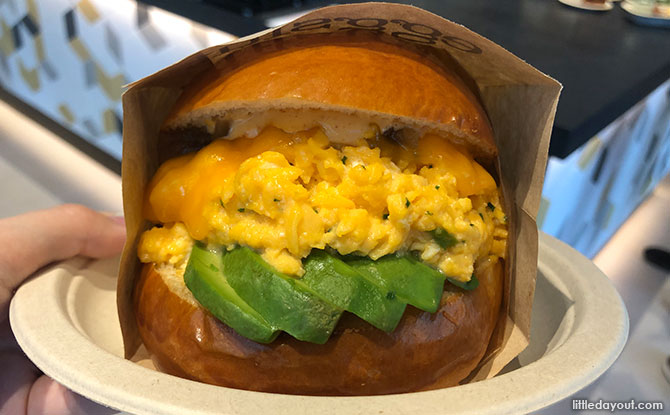 For those who are going to be having Eggslut for the first time, this is definitely the item on the menu to go for. This burger can be customised by adding avocado, bacon or a beef patty with an additional fee of $2.50 to $4. We highly recommend giving this item a try at least once!
Gaucho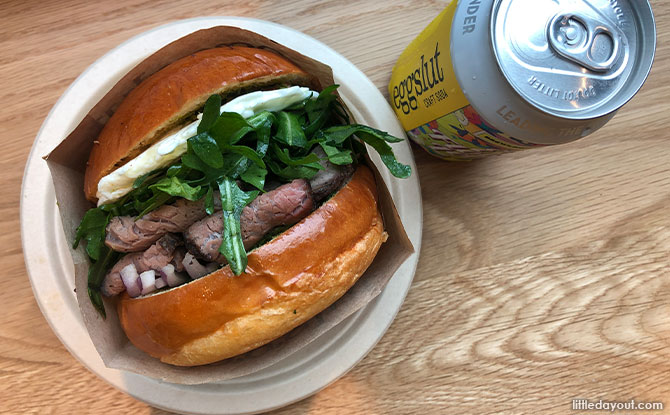 For anyone in the mood for meat, the Gaucho is a wagyu tri-tip steak sandwich that is filled with a medium egg, chimichurri, red onions, dressed with arugula. The steak is cooked in a sous vide water bath and seared to perfection.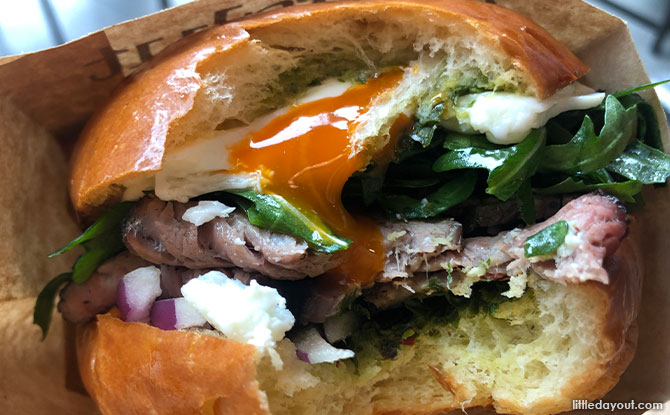 We really enjoyed the tender strips of seasoned tri-tip steak and the tender bitterness of the arugula paired with bursts of egg with every bite.
Other classic burgers at Eggslut Singapore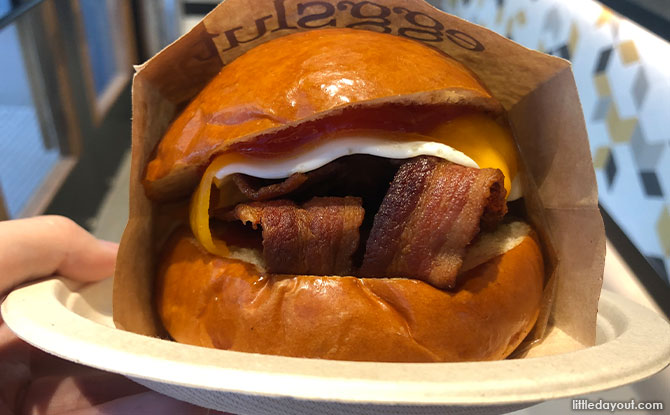 Another classic sandwich is the Bacon, Egg & Cheese which is made with Applewood smoked bacon over a medium egg, topped off with generous helpings of cheddar cheese and chipotle ketchup.
Customers can also try Sausage Egg & Cheese Sandwich, the Cheeseburger or the Egg Salad Sandwich.
If you wish to pass on the bread, salad can be substituted on any sandwich with no extra cost.
---
Eggslut Speciality and Sides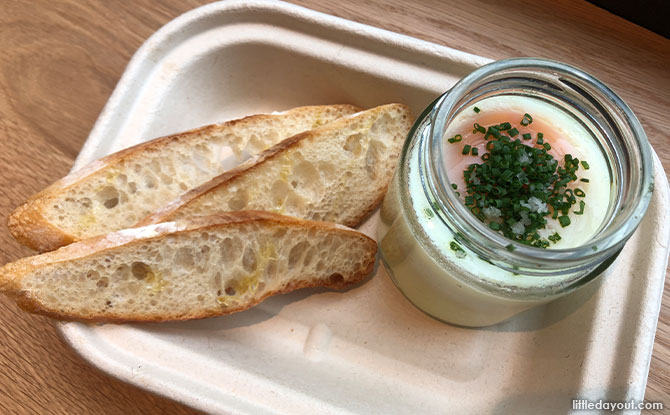 Complete your meal at Eggslut with their speciality, the Slut, which is a massive dollop of smooth house-made potato puree served in a glass jar, gently topped off with coddled egg then cooked sous vide to a precise temperature and timing. Once done, the Slut is topped with grey salt and chives and served alongside crispy slices of baguette toast.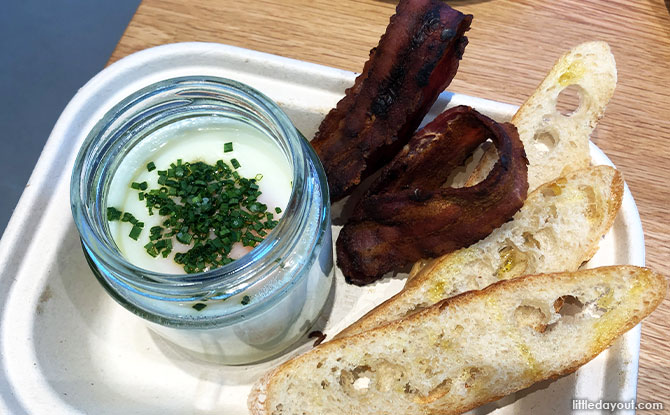 This creamy combination is another dish worth trying and enjoyed warm for the best experience. We enjoyed dipping the slices of baguette bread into the creamy mashed potato and eggs. There is also the option to add bacon for a kick of umami.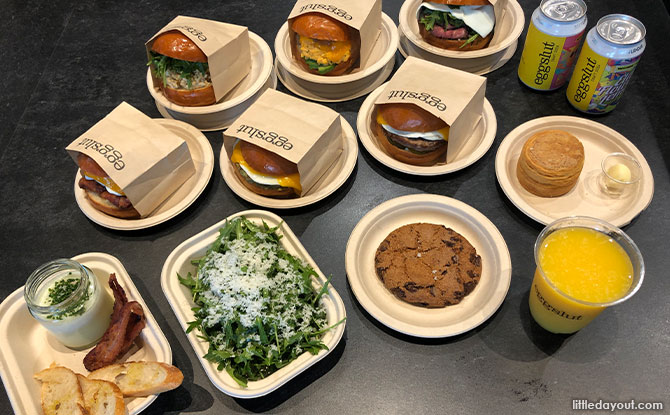 There are four sides available at Eggslut Singapore's outlet. Customers can get some super decadent Truffle Hash Browns which is potato babycakes seasoned with duck fat, truffle and truffle rosemary salt. For something lighter, opt for a fresh arugula Side Salad dressed in red wine vinaigrette and topped with manchego cheese.
End the meal on a sweet treat with a house-made Buttermilk Biscuit served with honey butter or the Salted Chocolate Chip Cookie.
---
Coffee and Drinks at Eggslut Singapore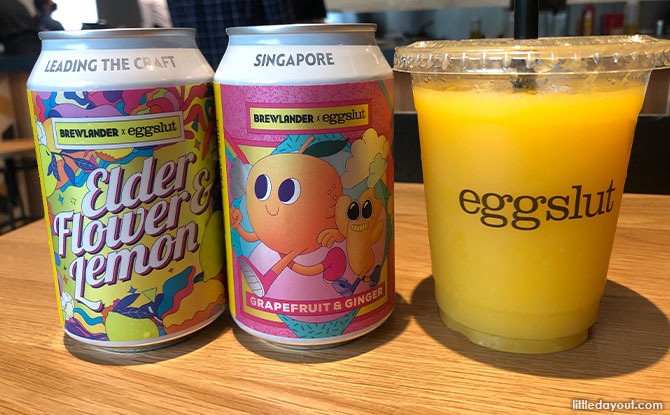 For drinks, diners can enjoy Freshly brewed coffee by Common Man Coffee Roasters or Eggslut's signature Fresh Orange Juice, which is extremely refreshing and perfect with any of the eggy dishes.
Two drinks that are exclusive to Eggslut Singapore are flavoured craft sodas brewed in collaboration with leading craft brewery, Brewlander who created two sodas exclusively for Eggslut. The sodas come in the refreshing flavours of Elderflower & Lemon and Grapefruit & Ginger.
---
Eggslut Singapore
Eggslut Singapore is located at Scotts Square, and will officially open its doors to members of the public on 9 September at 11 am. The first 100 customers will receive an exclusive Eggslut gift! Keep up to date with Eggslut's news and promotions at their website here.