Common Man by day, Drunken Farmer by night – this unique dining concept of transformation from a neighbourhood cafe to a bar and bistro first took off at Drunken's Stanley Street outlet. It has now made its way to Joo Chiat and offers the same gut-friendly rouse of sourdough-focused sharing plates and natural wines.
With an eclectic mix of elements such as Viking helmets and vintage cartoon projections decorating the space, here are some of the must-try dishes at the Drunken Farmer.
---
Dishes not to miss at Drunken Farmer
Snacks
Sourdough Karaage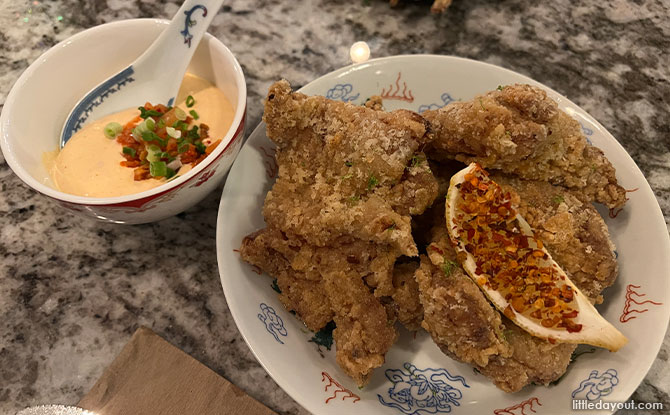 One of the signature dishes at the Drunken Farmer, the Sourdough Karaage is made with chunks of the deep-fried chicken thigh that are first marinated then dipped in sourdough batter. Served with homemade kimchi mayo, this chicken cutlet is crispy on the outside and juicy on the inside. We would come back just for this dish and highly recommend giving it a try.
---
-- Story continues below --
Black Tiger Prawns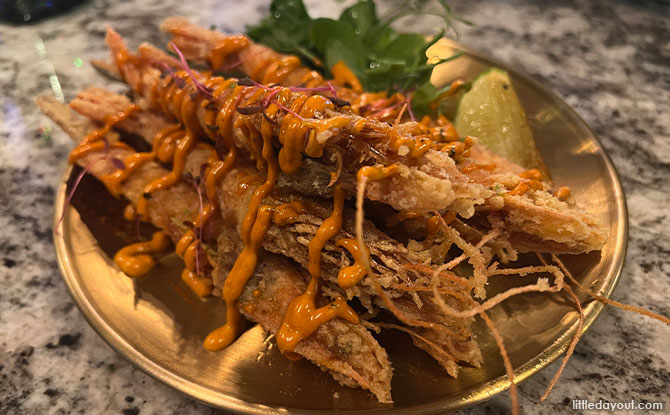 A new addition to the menu, enjoy skewered black tiger prawns coated in a light and crispy batter. For extra flavour, enjoy it with smoked paprika aioli and lime wedges on the side for a fresh squeeze of citrus.
Sharing Spread Platter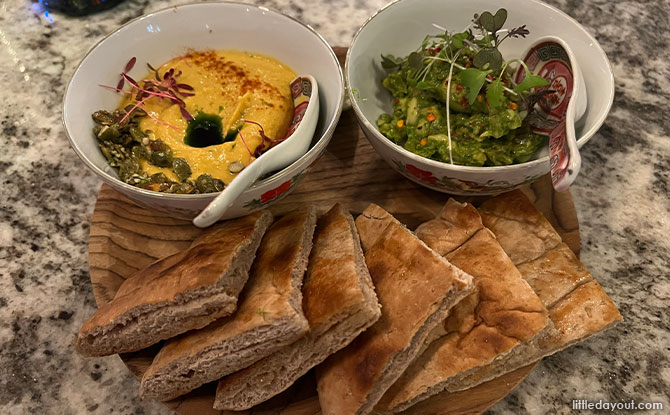 Share the love and flavour with the Sharing Spread Platter consisting of toasty pita bread and two dips: avocado cream with chilli bits and dill, and pumpkin hummus with praline seeds that add a nutty texture.
---
Mains
Chorizo Sourdough Pizza
Enjoy this classic favourite with layers of smoky pork chorizo coins savoury red onions over mozzarella and tomato slathered sourdough base. This savoury pizza was very flavourful and we enjoyed the taste of the onions that cut through the hearty base of meat and cheese.
Four Cheese Sourdough Pizza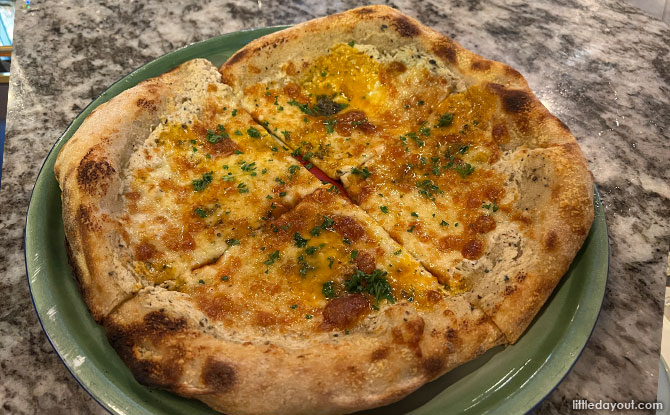 As the name suggests, this pizza lets diners enjoy cheesy slices of sourdough pizza with creamy ricotta and mozzarella, as well as more unique cheeses such as a nutty ossau iraty and sharp blue cheese. It is finished simply with sprinkles of fresh parsley.
---
Dessert
Sourdough Waffles
For an interesting dessert, end it off with some Sourdough Waffles served with a side of classic vanilla ice cream, a fistful of crunchy almonds and decadent drizzles of coffee-laced toffee caramel.
---
Natural Wines to enjoy
For anyone looking for a spot to find natural wines, the Drunken Farmer is one of the best places to be. They have a diverse and ever-growing collection of natural wines that span across the spectrum of red, white, rosé, orange and sparkling. Wine lovers in search of a convivial watering hole in the east can look forward to a rotation of 14 labels available by the glass or have their pick from a bottle selection of over 80 labels
For the uninitiated or adventurous, the Farmer's Selection (S$50) offers three glasses curated by their natural wine experts to help begin one's natural wine journey or simply pair with your meal.
The Drunken Farmer Joo Chiat is now open daily at 185 Joo Chiat Rd, Singapore 427456, from 6.00 pm till 10.30 pm. For more information, visit the site here.