Chinese Tofu Magician or Ban Xian Dou Fu has been making its appearance on Instagram with its eye-catching packaging and creative drinks. Specialising in soy-based products, Chinese Tofu Magician offers soy-based drinks, ice cream, beancurd and other desserts. Their first and newest outlet is located at Paya Lebar Square. Here's our review of some items on the menu.
---
Chinese Tofu Magician's main ingredient is soybeans. They use high-quality soybeans and a traditional method of stone grinding to make the soy milk. Their menu consists of multiple items such as Beancurd with Golden Sugar, ice creams and fruit soymilks. Unfortunately, many of the items on the menu were sold out when we arrived, thus we were only able to try the Soymilk Tea with White Jade Balls and the Soymilk Cone.
Other interesting items we would want to try if we were to return would be the Mango Pomelo Sago with Soymilk, Refreshing Watermelon Soymilk, and the "Bobo Series" which comes in fruits such as grape, lychee and peach.
Soymilk Tea with White Jade Balls from Chinese Tofu Magician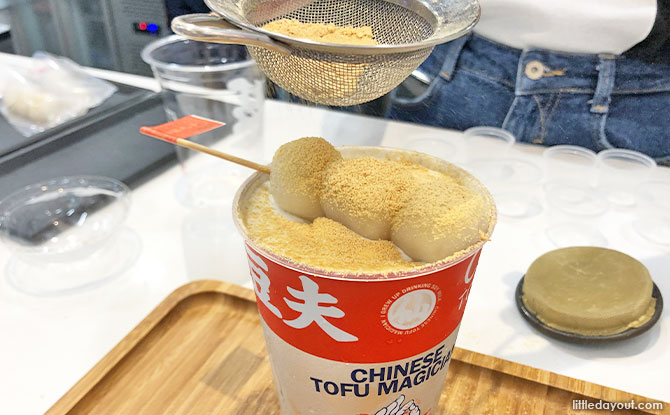 Their Signature Soy Milk Tea comes with soy foam and white jade (mochi balls). Customers can choose the base of the tea with various options such as green tea and sesame. Upon request, the staff there will dust a generous amount of soybean powder on top for those who wish to drink it on the spot. When doing a takeaway, the ingredients will be packed separately for self-assembly when ready.
We weren't given the option to choose our sugar level or toppings although it is stated that customers can choose the sugar level to range from 50%-120 as well as choose a variety of toppings.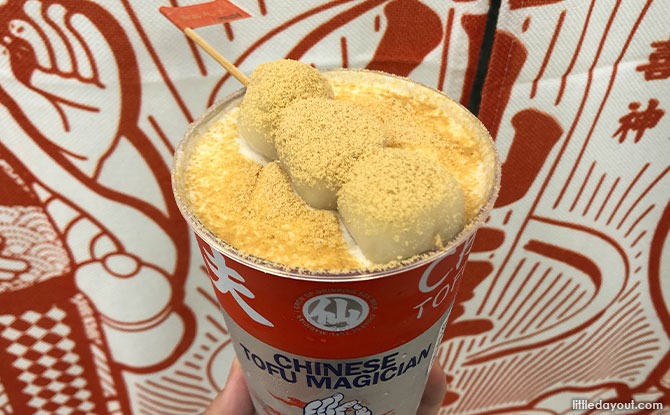 When we tried the Soymilk Tea with White Jade Balls, we were pleasantly surprised by the light and refreshing taste of the soy milk. The milk tea was a tad sweet for some of us but for others, it was just right.
All of us enjoyed the cloud foam on top and felt it was a great addition to the milk tea base. Sadly, the supposedly soft mochi did not meet our expectations, although it is chewy, it might have become a little harder due to it being refrigerated to be ready for take away. We were also surprised by the aiyu jelly that was mixed in with the milk tea which gave an extra texture to the drink.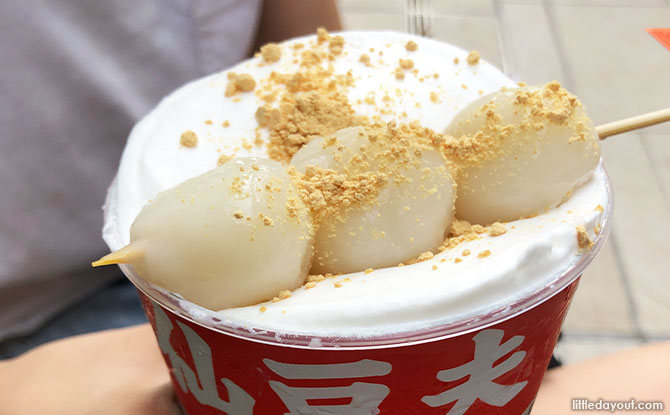 We recommend dipping the mochi balls into the fluffy cloud foam for maximum enjoyment. In the future, we hope to be able to try variations such as the Fortune Chestnut Cloud Top
and the black sesame mochi.
---
Soymilk Ice Cream from Chinese Tofu Magician
We also managed to try the soymilk ice cream from the Chinese Tofu Magician which is served in a waffle cone. The taste was delicious and the sweetness was just right, however, the texture was a little icy and was not as creamy as we expected. This is one ice cream that comes with no-frills, although the menu states that customers can choose to customise certain desserts options if they wish.
---
Chinese Tofu Magician
Address: 60 Paya Lebar Road, #01-51, Paya Lebar Square, Singapore 409051
Opening hours: Daily from 11 am to 8:30 pm
Website