Wild Child Pizzette is a pizzeria and bar by homegrown Italian restaurant and bar operators The Cicheti Group. Located along Circular Road on the ground floor, Wild Child specialises in 10-inch, Neapolitan style pizzettes that feature contemporary Italian toppings on a slow-fermented pizza dough that are baked in a traditional wood-fired oven.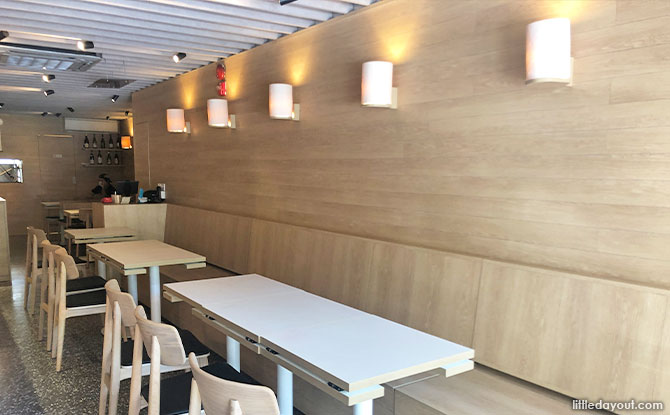 As one steps into this clean and minimalist interiors, you will notice the cast of Keith Haring-inspired doodles at various touchpoints and even a custom series of raw porcelain sconces with the designs etched on them. These energetic and carefree icons are commissioned pieces by Ripple Root. The creative designs surrounding diners set the tone for the exciting menu that is available for all to enjoy.
Wild Child also has a beverage programme that is characterised by a natural-slanted wine list that zeroes in on styles of wines rather than specific labels, alongside a list of well-curated ancient ninhonshu and funky craft beers.
Here are some of the dishes we tried on the Wild Child menu.
---
Starters at Wild Child Pizzette
In preparation for a carb-heavy meal ahead, we whet our appetites with two delicious starters. The first was Cauliflower, which is a roasted cauliflower dish with a Mediterranean twist.
Fans of other Cicheti concepts would be familiar with the Middle Eastern flavours that have been on the menu as a tribute to the Arab influences on Italian cuisine, by way of the Mediterranean. The cauliflower was charred perfectly and served with coriander, mint and a fistful of chopped pistachios on a bed of creamy labneh, or yoghurt cheese.
The tang of the labneh was balanced out with the earthy and slightly salty pistachios, and it was a delicious way to get some vegetables in the meal.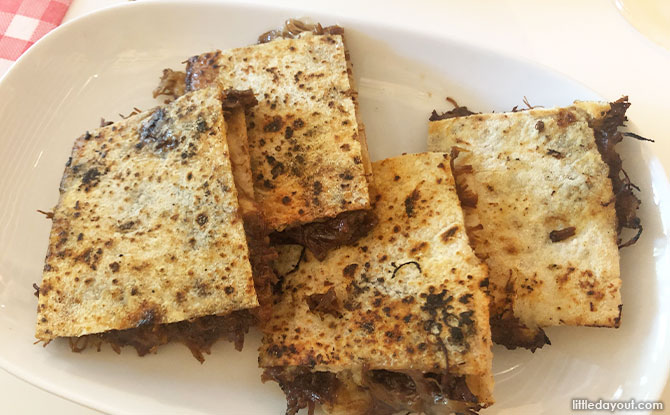 The second starter was Bikini, inspired by a tapas-style ham and cheese sandwich. Instead of bread, enjoy Wild Child's slow-fermented pizza dough filled with a slow-braised grass-fed beef cheek marmalade along with layers of taleggio and provolone that melts upon toasted. It's a challenge to enjoy it slowly as the flavours are a wild party in the mouth.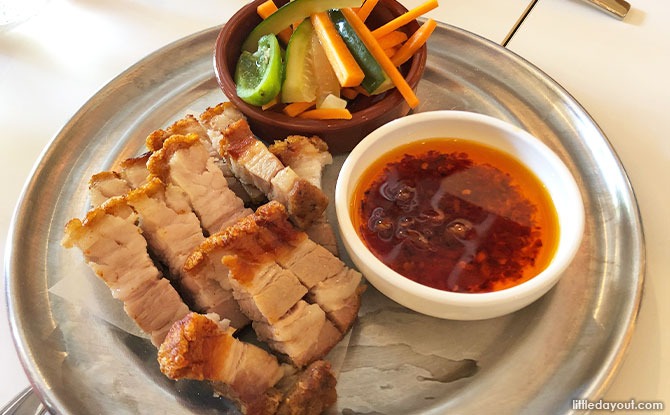 Another starter we tried was the Kurobuta, which is a crispy pork belly that locals also refer to as siew yoke. Kurotuba pork is used for its prized clean and fatty meat and the skin is rubbed with a secret blend of spices. It is served with a side of giardiniera or pickled vegetables which cuts through the rich and fatty mouthfeel.
This dish is also best paired with Crack Oil, chef Aun's house-made chilli oil which goes with practically everything on the menu.
---
Pizzas At Wild Child
Many might understand that a carb-heavy dish like pizza usually means limiting one's self to a flavour or two. At Wild Child, each pizzetta measures right up to a snug 10 inches, which is the ideal size for a single diner, and the perfect reason to order a variety to share across the table. Here are some of the flavours we highly recommend trying.
Crispy Fried Margherita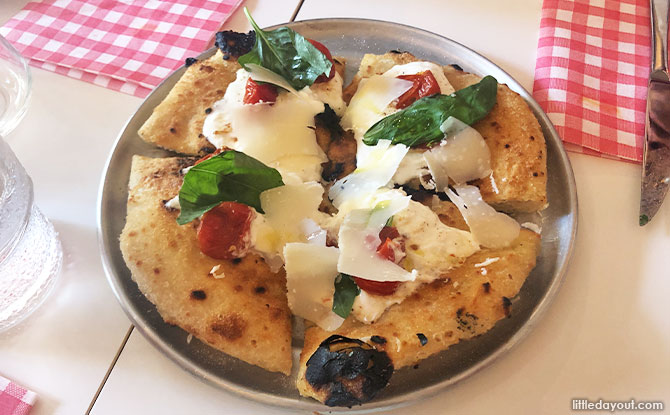 The Margherita pizza is a classic topping, but here at Wild Child, diners can enjoy a playful but elevated take on this traditional pizza. It comes with the components such as creamy clouds of stracciatella, sweet bursts of semi-dried San Marzano tomatoes, fresh basil and thick shavings of aged parmigiana on top of a chewy, crispy textured pizza base that was deep-fried. We highly recommend this dish, not just for the novel pizza base, but also the incredibly fresh ingredients that made every bite a burst of flavour.
Those who wish to enjoy the traditional version can opt for a Margherita D.O.P which offers the holy grail of tomato sauce, buffalo mozzarella, fresh basil, grana padano, and extra virgin olive oil.
---
Cavolo Nero
Remember when kale was the trending superfood in every dish? The Cavolo Nero pushes the boundaries of pizza topping and features tuscan kale with bright bursts of lemon, pickled onions as well as the sharp, intense flavours of bagna cauda and garlic confit. Eating greens has never been easier.
---
Trio Formaggio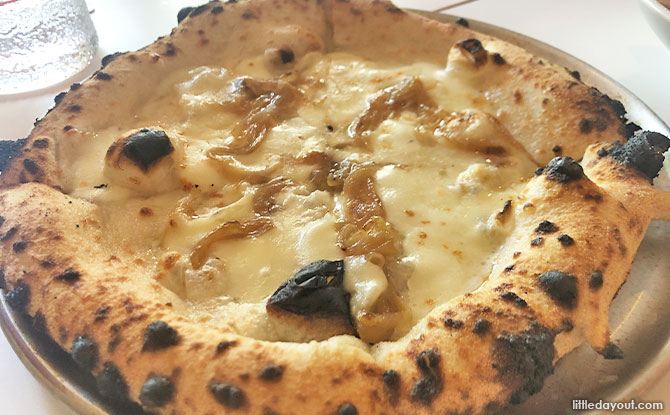 Many might be used to a "traditional four-cheese classic" pizza, but Wild Child does a Trio Formaggio instead which is sure to still delight cheese lovers. We enjoyed the caramelised onions that topped the dish and lent a sweetness to every bite. We wished that there were a little more onions but still enjoyed this cheesy and savoury pizza.
---
Spiniata Calabrese
A feisty number that is named after a spicy salame from Calabria, this pizza reminded us immediately of mala. The salami is blasted in the wood-fired oven till crisped at the edges and topped with fennel seeds on a bed of fior di latte and drizzled with Sichuan chilli honey.
As someone who has a very low spice tolerance, I was initially quite hesitant to try this pizza, especially since the "typical mala smell" was something that stood out immediately. However, the pizza was surprisingly fragrant and there was only a hint of heat. Spice lovers who wish to have some extra heat in their pizza can enhance the flavours with some Crack Oil.
---
Wild Desserts And Wild Child
Freshly baked every morning, the Pecan Tart at Wild Child is a must-try. Indulge in a brown sugar-bourbon pecan filling that is rich with complex praline flavours without being overly sweet.
The delicious filling is firmly encased into a perfectly flaky and buttery shortcrust pastry shell, sliced to order, and topped with a boozy whisky gelato and drizzles of caramel and bourbon sauce. We couldn't help but let out a gasp of delight when we first bit into this tart and it was a perfect high to end our meal on.
For those who prefer something a little tamer but still loaded with flavour, try the unbelievably creamy Pistachio Gelato which is the wonderful balance of sweetness while allowing the nutty savouriness of chopped pistachios and sea salt to come through.
---
Wild Child Pizzette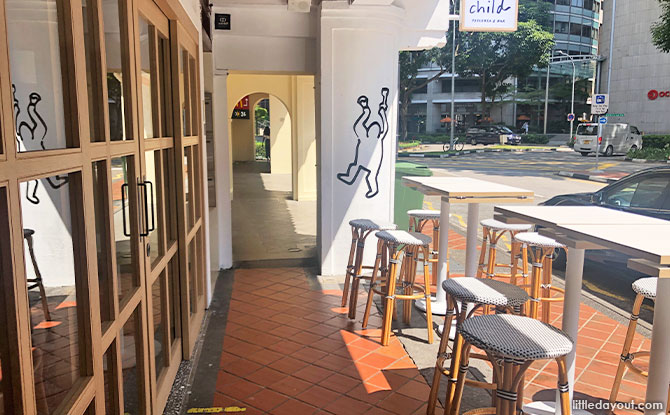 We thoroughly enjoyed our meal at Wild Child and will definitely be back for the delicious food and fun vibes. Wild Child also offers Islandwide delivery at a $10 flat fee (excluding surcharge) and no minimum spend from Monday to Saturday from 12 pm to 2.30 pm and 5.30 pm to 10.30 pm (dinner), making it more accessible to all.
50 Circular Road, Singapore 049405