Love pizza?
Love pasta?
Love truffle?
Then you might love Pizza Express's new menu which features truffle. We tried the new truffle series and give our take on it.
---
-- Story continues below --
Mushroom Lovers will Love the Truffle series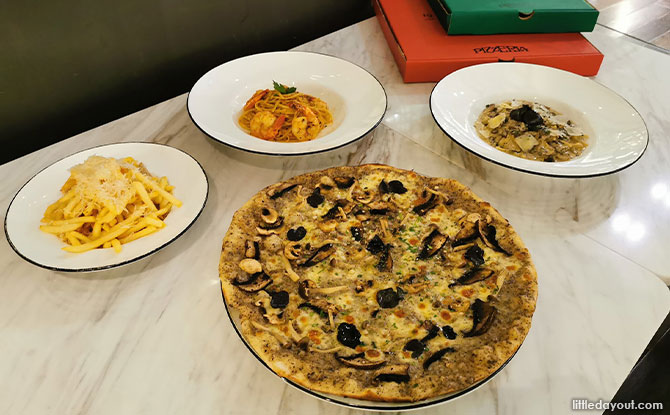 The truffle series includes Truffle & Mushrooms Farfelle in Truffle Cream Sauce, Truffle Pizza with Trio of Mushrooms and Truffle fries.
Our favourite was the Truffle Pizza with the trio of mushrooms. Layered with Bechamel, truffle paste, white truffle oil, mozzarella, button mushrooms showered with shaved black truffles and grated parmesan. It was fragrant and befitting of the crustiness of the pizza.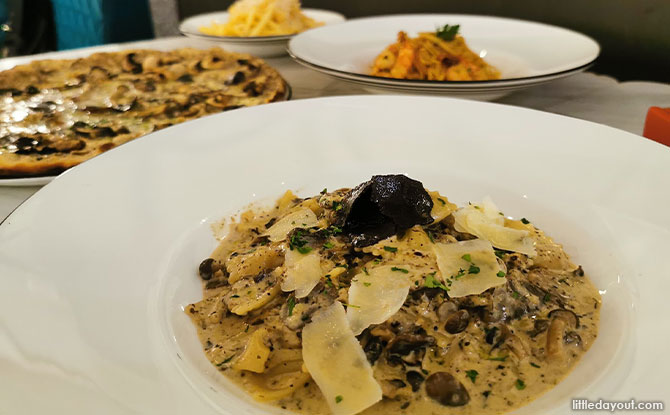 The crusty pizzas are made fresh by the pizzaiolos, diners can also see the live action with the kneading of dough, flattening, hand-tossing, flipping and the "dressing of the pizza" and loading.
The Truffle & Mushrooms Farfelle in Truffle Cream Sauce was also deliciously savoury. It had three different kinds of mushrooms: button, shimeiji and creamy truffle sauce.
Truffle fries are the crowd-pleaser and kids would definitely love the golden shoestring fries infused with truffle oil showered with tons of grated cheese.
After three dishes full of mushrooms, we were quite overwhelmed or should we say mushroomed out. Hence, it would be wise to pair the truffle dishes with other selections on the menu.
---
All Things Italian on the Pizza Express Menu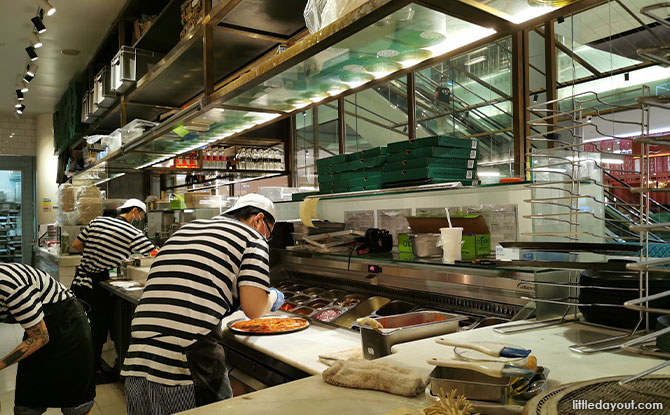 Pizza Express is known for its hand-made pizzas, dough balls and pastas, apart from the new Truffle series. Trained Pizziaolos craft the toss the pizzas in the open concept kitchen at all three outlets. Apart from pizzas and pastas, Pizza Express also serves Italian desserts, salads and appetisers.
---
Kids-friendly Activities & Pizza Express Hats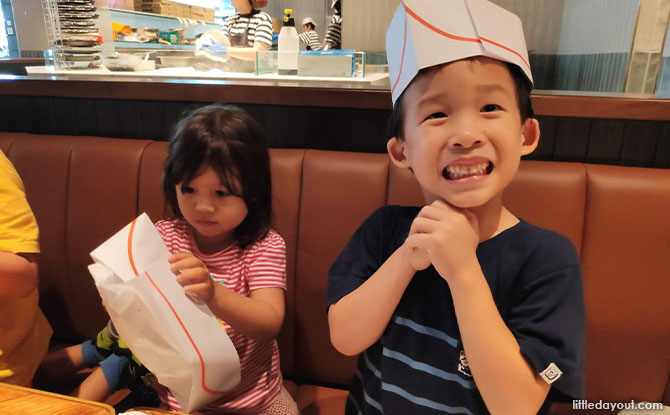 Apart from the kid-pleasing menu, Pizza Express also gives the little diners hats. These are a favourite of my kids, who usually don them for a pretty long time thinking they are little chefs.
Children can also choose Make Your Own Pizza menu at just $21 per head. This way they choose exactly what they want – toppings like mozzarella cheese, cheddar cheese, pineapple cubes, cherry tomatoes, pepponi, shredded chicken. No more nitpicking of toppings! The set also comes with gelato and juice.
For diners choosing to stay home, the Make Your Own Pizza kit is also available for self-collection or delivery.
---
50% off deal at Pizza Express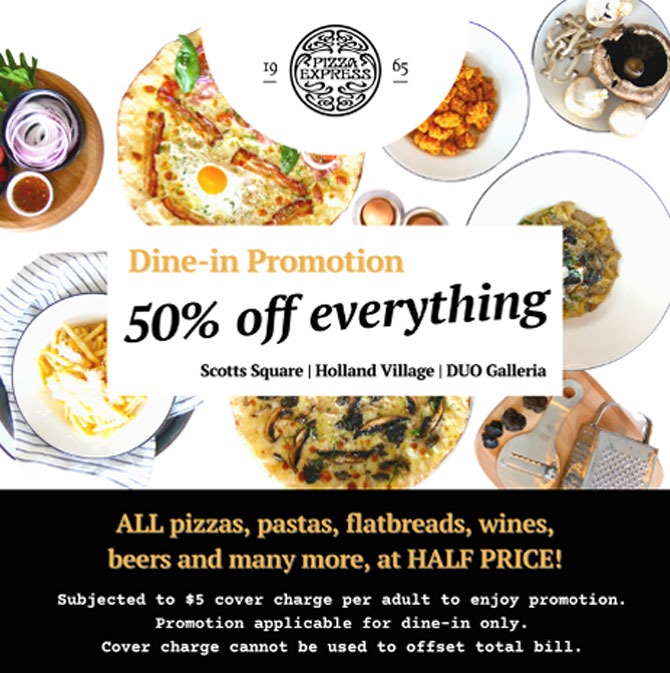 You can now enjoy Italian cuisine with an ongoing dine-in promotion at Pizza Express! Take a whopping 50% off the entire menu, with adults paying just a $5 cover charge.
For more details on Pizza Express, pizzeria locations and delivery options, click here.