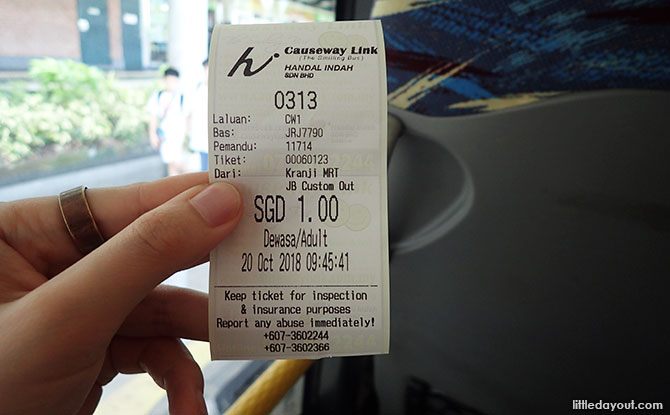 There are lots of guides on how to get from Singapore to Johor Bahru but we felt that some of them were still a little too complicated for a first-timer to understand. If you have felt the same way, this short and fuss-free guide is for you. We'll briefly walk you through the different options of transport, and a tried and tested route that any first timer can follow.
There are 3 main modes of transport you can choose from: Car, Train and Bus. You will want to get from Woodlands Checkpoint in Singapore (or Woodlands CIQ, if you are going by train) to JB Sentral in Johor Bahru, clearing immigration at both locations.
Train Travel
A personal favourite would be by train as it is the least reliant on the road conditions. It's easily the fastest mode of transportation, and tickets can be bought via the websites www.ktmtrain.com/train/booking/woodland-to-jbsentral or https://www.easybook.com/en-sg/train/route/johor
The advantage to this is that you get to clear Singapore Customs and Malaysian Customs faster as they are located in the same area. This means that you can board the train, arrive in five minutes, and upon alighting, begin your day in JB immediately. However, tickets get sold out pretty fast, so this option isn't the best for trips on the whim.
---
-- Story continues below --
If you can't drive or do not wish to hire a private driver, heading over by bus is a rather straightforward option.
Bus from Singapore to Johor Bahru
The two most common types of buses are public and Causeway Link buses.
We recommended the Causeway Link bus as it is pretty much a public shuttle bus. It is significantly less crowded, more direct, and the buses are supposed to come every 10 minutes. Do note that if you are travelling on weekends, like we were, you may have to wait about an hour for the bus to arrive at the bus interchange.
Bus pick up locations and bus timings can be found at this website: https://www.causewaylink.com.my/singapore-bus
The website lists the route as "JB < — > Singapore"
Tickets are bought upon boarding for the bus.
Step by Step Walkthrough: Singapore to JB
With all that being said, here's the route we used on our visit to JB.
An overview of this route is as follows: Bus from Kranji MRT to ICA Woodlands Checkpoint> Walk from Woodlands Checkpoint to Singapore Immigration > Clear Singapore Immigration > Take CW Bus From Singapore Immigration to Malaysian Customs > Clear Malaysian Customs > Start Our Trip in JB!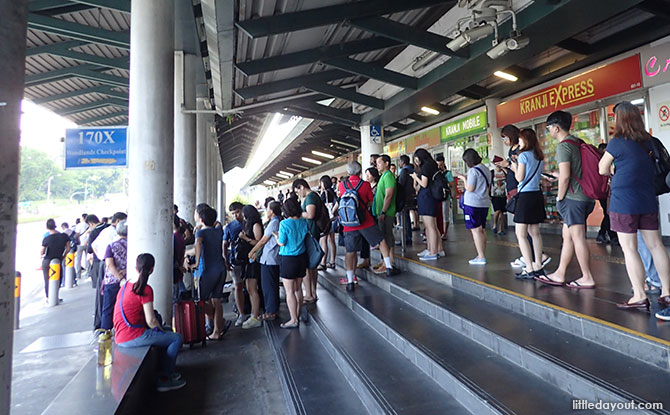 1. From the Kranji MRT station, walk towards the bus stop on the same side as the kopitiam. There are also shops such as Bake History and Kranji Express. There should be a long queue at the bus stop. Look for the sign that says "CW".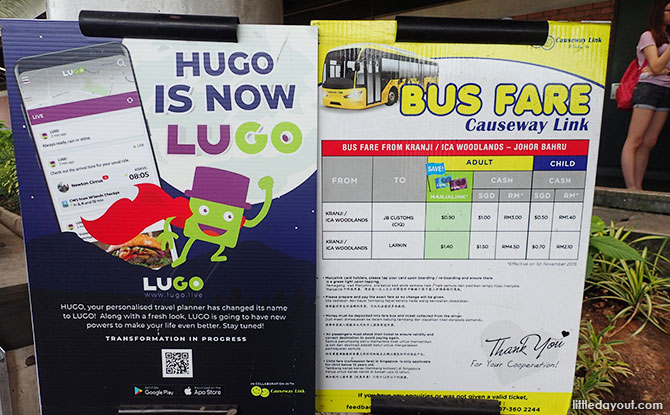 2. The bus fare is SGD1 or RM3. Prepare the money in advance and remember to hold on to the ticket, so that you can get on the bus again after clearing Singapore Customs as you head over to Malaysian Customs.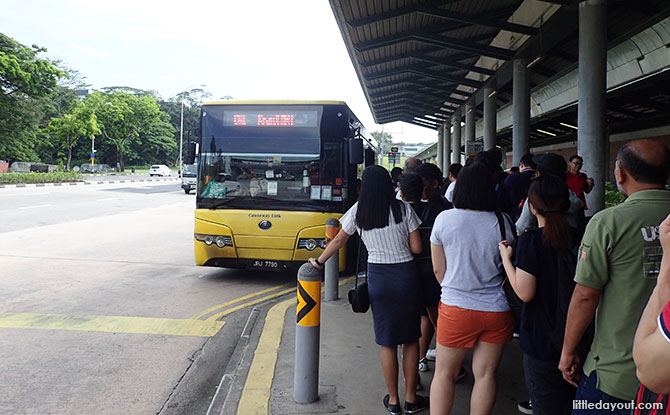 3. Look out for the yellow bus. Board the bus and sit tight.
4. As you approach the Customs, in the situation of congestion on the road, the bus may open the door near the destination and allow passengers to walk to the Customs building on foot instead. At Singapore Customs, head up the escalator and prepare your passports to clear customs.
5. After clearing immigration, take the escalator down and look for a yellow CW sign. There are also markings on the floor that you can look out for. Once you're through customs, it does not matter even if the sign on the Bus says "to Queens Street", because they are now all on the route to Malaysian Customs and, you can just get on a bus that says CW.
6. In Malaysia, once you've alighted the bus, follow the crowd. There will be multiple signs which lead you to the Immigration Customs in Malaysia where you can get your passport and stamp.
7. After you've cleared Customs, you're all ready to start your day! You have the option to continue taking the CW bus to Bus terminals in Johor Bahru, or book a Grab to the next destination.
That wasn't too hard was it? At the end of it, the general rule of thumb is to follow the crowd.
On reaching JB, There are lots of things that you can do, and on our trip there, we visited the Angry Bird Theme Park as well as the newly-opened MCM Theme Park, so be sure to check those out!
Have a fun and safe trip!