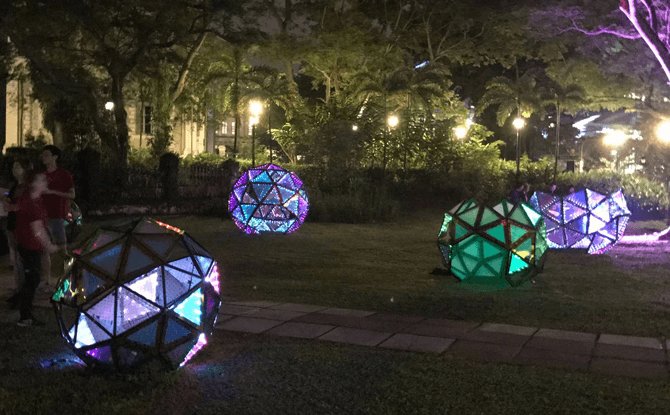 In front of National Museum of Singapore, 10 colourful pods of different sizes will provide a spectacle of shifting colours and patterns as part of an interactive work, Tessellations of Time, created specially for Singapore Night Festival 2017.
Tessellations of Time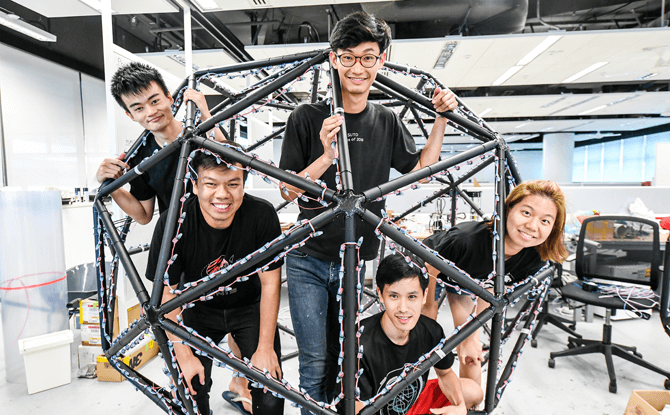 Conceived by LiteWerkz, an independent group of 10 students from Singapore University of Technology and Design, together with global science company, 3M, the Tessellations of Time light art installation aims to spark off conversations as people enter and interact with their own interpretations of the past, present and future.
Explaining Muhammad Syahid bin Mustapa, project leader of LiteWerkz, shared, "Tessellations of Time is inspired by the precious bridges of memory built between people and time. We looked towards visualising the nature of our memories and how we could celebrate and reminisce the 10 illustrious and "magical years" of the Singapore Night Festival. As each pod represents a juncture between the past and future, we hope every person who enters a pod will remember the brilliance of their former years and exit it with the conviction to make the next year a better one."
Interactive Pods
The prismatic pods that make up Tessellations of Time are constructed from 3M architectural design solutions. They will come to life based on visitor's movements.
Every pod is coded to display different variations of light as visitors interact with them. There are four phases of changing light displays that each pod can go through.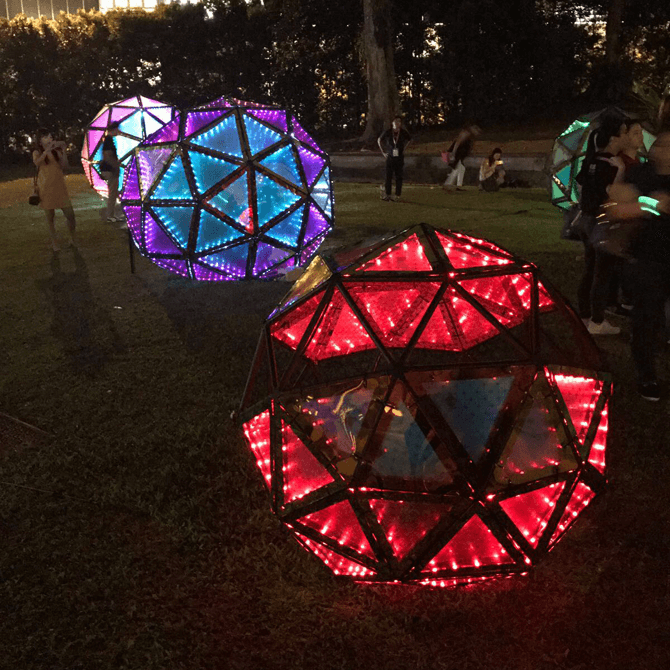 In the Passive phase, a pod will emit low intensity pulsating light. When a pod senses a person's presence, it will come alive with dancing lights. When two or more pods are activated, the pods will enter a Connected phase with pathways lit up. The Finale phase occurs once all 10 pods have been activated and will turn the installation into a kaleidoscopic showcase of lights.
The collaboration between 3M and LiteWerkz is part of 3M Singapore's Outreach Program.
Ms Yuko Nakahira, Managing Director, 3M Singapore said, "As part of our continued efforts to engage with communities through science, we decided to expand into the realm of design to inspire interest in science through creative collaborations like this one with the students from SUTD for Singapore Night Festival 2017."
Assistant Professor Alston Jakubiec from SUTD, who mentored the LiteWerkz team, said: "The SUTD architecture and engineering product development students behind Litewerkz experienced the full breadth of a conceptualisation-to-realisation design and build process. We are heartened by this collaboration as rarely do students have the opportunity to learn about design and engineering through such a complete process with real stakeholders."
View Tessellations of Time from 18 to 26 August from 7.30 pm and 12.00 am at the National Museum of Singapore, Main Ground, outside the SMU School of Accountancy.