Singapore wouldn't be the same without our love for food. With our myriad of cultures and pallets, the food scene in Singapore is one of a kind. With dishes for every meal and every occasion, in honour of National Day, here are our picks of 20 local dishes in Singapore.
20 Die-Die-Must-Try Local Dishes In Singapore
---
1. Kaya Toast and Half Boiled Eggs
One of the best kinds of local breakfast is biting into some thin-sliced, soft white bread cooked over an open flame before being spread with sweet coconut jam. Complete the dish with some half-boiled eggs with some soy sauce and a dash of pepper. Delicious!
Popular Places To Try This Dish:
Ya Kun Singapore
Heap Seng Leong
Ah Seng Hai Nam Coffee
---
2. Chilli Crab
Commonly made with Mud crabs, this dish is a semi-thick, sweet and savoury tomato and chilli based sauce. It's such an iconic dish that it was one of the dishes that Celebrity Chef Gordon Ramsey had to make when he came to Singapore to compete in local competition SingTel Hawker Heroes Challenge. It is usually served with a side of fried mantou so that you can enjoy every last drop of the delicious sauce.
Places To Try This Dish:
Jumbo Seafood
Uncle Leong Seafood
No Sign Board Seafood Restaurant
---
3. Chicken Rice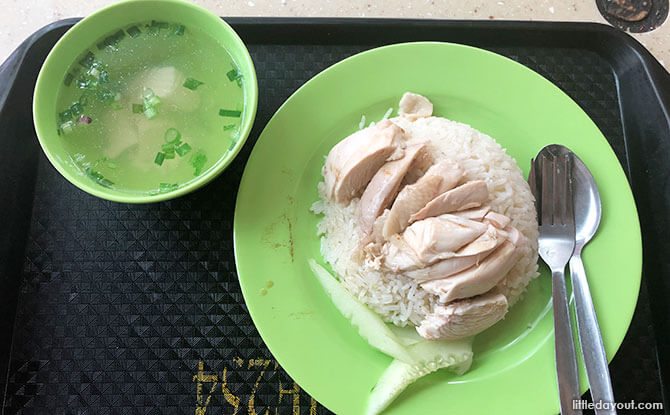 If you're unsure of what to eat, chicken rice is probably one of your safest bets. This local dish in Singapore is sure to be found in most hawker centres and is usually relatively affordable and satisfying till the last bite.
The fragrant chicken rice and chicken meat are best enjoyed with some dark soy sauce, chilli and sometimes with a ginger paste. One can also order a roasted version where the chicken is braised in soya sauce for a different taste.
Places To Try This Dish:
Nam Kee Chicken Rice
Tian Tian Hainanese Chicken Rice
Boon Tong Kee
Check out our article where we tried three chicken rice stalls to see which one we liked most.
---
4. Hokkien Mee
This dish has both "wet" and "dry" versions and is made with a mix of yellow and white noodles cooked in flavourful prawn stock and served with prawns, squid and pork belly. It is then served with a lime on the side for those who want that extra zing in their noodles
Places To Try This Dish:
Swee Guan Hokkien Mee
Ah Hock Fried Hokkien Noodles
Geylang Lor 29 Fried Hokkien Mee
---
5. Laksa
There are a few variations of this dish but the most local version is curry laksa, and also the most commonly found one. Curry laksa is cooked with shrimp paste, coconut milk and cockles. Those who want a bowl of chewy noodles with a thick, savoury and firey broth need to get their hands on some laksa.
Places To Try This Dish:
328 Katong Laksa
Janggut Laksa
Penang Kitchen Laksa
---
6. Mee Rubus
Mee Rebus is a Malay noodle dish in a sweet potato-based gravy. The thick gravy is made by reducing beef broth along with a mix of spices, aromatics and sweet potatoes. It's a simple but flavourful dish of yellow noodles and sweet-spicy gravy garnished with boiled egg, beansprouts, green chilli, and fried shallots. A squeeze of fresh calamansi is also added to brighten up the flavour of this local dish in Singapore.
Places To Try This Dish:
Rahim Muslim Food
Inspirasi Stall
Selamat Datang Warong Pak Sapari
---
7. Tau Huey
Tau Huey also translated to Soy Bean can be found in many forms in Singapore. The popular way to enjoy soybean during breakfast is a hot bowl of silky soybean pudding with sugar syrup and a stick of youtiao (dough fritter) on the side. There have also been other variations of pudding from Soy Bean franchises such as Lao Ban and Mr Bean where the pudding is firmer. It is also served in soybean milk and is a fuss-free yet delicious drink to accompany any meal.
Places To Try This Dish:
Lao Ban Singapore
Rochor Original Beancurd
Selegie Soy Bean
---
8. Economy Rice
Economy Rice or Cai Fan is the most versatile dish in our local menu. Orders are taken by the "cai fan Uncle or auntie". Start with a rice base, and you can choose any combination of available ingredients that you wish by pointing at the item you want from the other side of the glass window. Popular options include vegetables such as a spicy kang kong, sweet-sour pork or fish and steamed egg. It's one dish you can eat back to back and not feel bored!
Places To Try This Dish:
Kim San Leng Coffeeshop
Babas Peranakan
Lai Heng Economical Mixed Vegetable Rice
---
9. Satay
These grilled pieces of meat are one of the most popular local dishes in Singapore that you'll find when having a communal meal with friends or family at any open-aired hawker centre. There are many varieties such as chicken, pork, and mutton. Certain stores also serve beef. These meats are grilled over a hot flame and dipped in a peanut sauce.
Places To Try This Dish:
Lau Pa Sat
Chomp Chomp
Kwong Satay Geylang
---
10. Roti Prata
A staple part of our local Indian cuisine, Prata that is crispy on the outside and soft on the inside. This flatbread made by frying dough flavoured with ghee and can be eaten plain or filled with savoury ingredients such as cheese, eggs, sausages or mushrooms.
It is also sometimes filled with sweet ingredients such as bananas, chocolate, or condensed milk. There is also a thinner version known paper Prata, a small round version known as coin Prata and a heartier version, Murtabak. Murtabaks are usually stuffed with a variety of ingredients such as meat, veggies, eggs and onions.
Places To Try This Dish:
Srisun Express
Springleaf Prata
Al-Azhar Restaurant
---
11. Orh Lua (Oyster Omelette)
This three-ingredient dish of egg, potato starch and oysters is a favourite guilty pleasure for many Singaporeans. Freshly shucked oysters can be expensive, but these oyster omelettes can cost as low as $5 for a plate. Enjoy this fried goodness with spicy chilli sauce and lime on the side.
Places To Try This Dish:
Lim's Fried Oysters
Huat Heng Fried Oyster
Ah Orh Seafood Restaurant
---
12. Jiu Chen Gao
This colourful rainbow steamed cake is a fond memory of many Singaporean's childhoods. Many of us might remember peeling the individual bright colour layers of this coconut kueh and eating it one piece at a time. This dish is a rather time intensive one to make but can be found at traditional bakeries or as side dishes at some Malay-owned stalls.
Places To Try This Dish:
Bengawan Solo
Lek Lim Nonya Cake Confectionery
HarriAnn's Nonya Table
---
13. Bak Kwa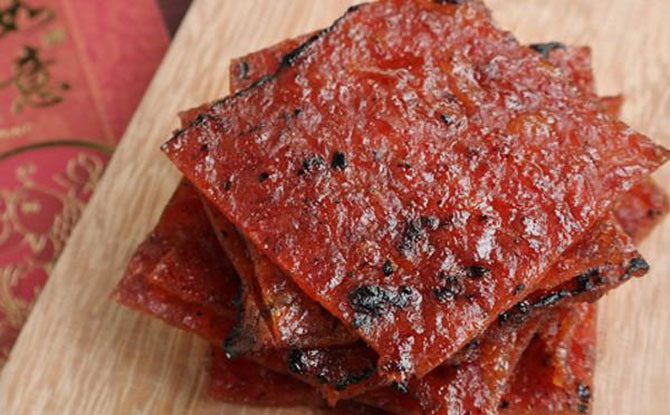 This local favourite version of a pork jerky is an especially popular snack eaten during Chinese New Year. This preserved meat is most commonly made with pork but has also been done with beef and mutton. The meat is marinated in and grilled over a charcoal fire, bringing out the sweetness and flavours of the meat. The meats are made with fatty cuts giving it a melt in the mouthfeel in every bite.
Places To Try This Dish:
Bee Cheng Hiang
Lim Chee Guan
Kim Peng Hiang
---
14. Curry Puff
You know that Curry Puff is a pretty iconic local dish when it inspires local slangs. "chop chop ka li pok" is used to describe someone in a hurry or to hasten an action. "ka li pok" is a inspired by this dish. which is what to say when you wish to hasten an action. The buttery crust is filled with (of course) curried fillings, potatoes and chicken or sardines.
Places To Try This Dish:
AMK Curry Puff
Old Chang Kee
Tip Top Singapore
---
15. Ice Kachang
Looking for something to cool you down in the hot and humid weather of Singapore? Try some ice kachang to beat the heat! This shaved ice dessert is topped with ingredients such as red beans sweet corn, attap seeds. Syrups and evaporated milk is poured over the mountain of ice and ingredients make it a sweet ending to any meal.
Places To Try This Dish:
Teck Kee Hot and Cold Dessert
Jin Jin Hot/Cold Dessert
Annie's Peanut Ice Kachang
---
16. Bak Chor Mee
Translating to minced meat noodles, this noodle dish is made with flat or thin egg noodles which are then tossed in vinegar along with minced meat, pork slices, pork liver, stewed sliced mushrooms, meatballs and bits of deep-fried lard! It's a popular lunch dish and can be found in almost every hawker centre,
Places To Try This Dish:
Kim Bak Chor Mee 金 (Balestier)
Yan Kee Noodle House
Ah Kow Mushroom Minced Pork Mee (Bukit Batok)
---
17. Milo Dinosaur
Milo is a staple and many Singaporeans when travelling overseas are likely to bring packets of milo to ensure that they can keep that part of their breakfast routine while being away from home. This chocolate malt drink is elevated when ordering a Milo Dinosaur which is milo with heaping spoonfuls of milo powder. There is also Milo Godzilla which is a Milo Dinosaur with ice cream on top. Milo has inspired many dessert creators and it is now a featured ingredient in many dishes.
Places To Try This Dish:
This dish is sure to be in every drink store's menu during your visit to the hawker centre. One noticeable mention is the Milo Tower at RK Eating Housen which is a fun experience worth the try at least once.
---
18. White Rabbit Candy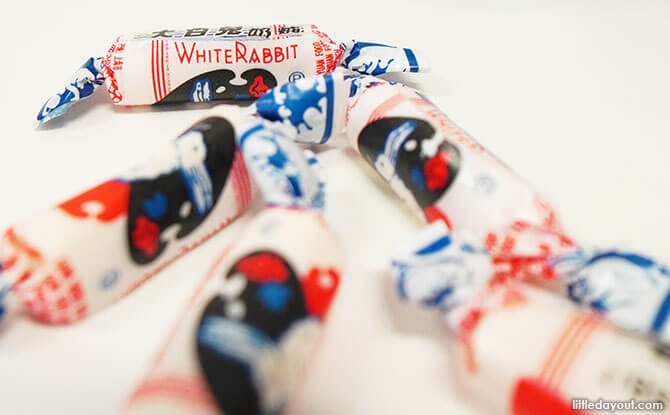 Did you know that the outer paper-like wrapping around a white a rabbit sweet is not inedible nor is it plastic, but it is a thin piece of rice paper? This white chewy milk candy is an old school candy and is sure to spark some childhood memories for many Singaporeans.
Places To Try This Dish: This candy can be found in most leading supermarkets in Singapore.
---
19. Tutu Kueh
Kueh tutu or tutu kueh is a small steamed cake made of finely pounded rice flour, typically with ground peanuts or grated coconut filling. This rice snack is said to have been created in Singapore in the 1930s by Mr Tan Eng Huat. Each piece of kueh tutu is cooked and served on a pandan leaf, to add fragrance.
Places To Try This Dish:
Traditional Haig Road Putu Piring
Queensway Lau Tan's Kueh Tutu
Eastern Rice Dumpling
---
20. Rojak
Last but certainly not least on our list, is Rojak. Rojak means an "eclectic mix" in colloquial Malay, its ingredients reflect the cultural diversity of Singapore.
This local dish in Singapore has many layers with each component having its own distinct taste. The base is a local salad of mixed vegetables, fruits, and dough fritters. It is then covered in a sticky black sauce made up of fermented prawn paste, sugar, lime and chilli paste. Lastly, they are mixed in a large bowl and garnished with chopped peanuts. The final product is a harmonious and tasty dish.
Places To Try This Dish:
Rojak Popiah & Cockles
Toa Payoh Rojak
Balestier Road Hoover Rojak
Old 60s How Jiat Balestier Road Whampoa Rojak