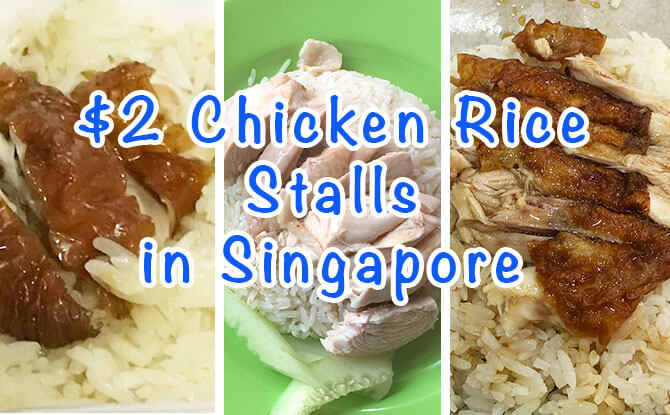 We love our local hawker food and we love a good deal too. Therefore, we "double-ly" love it when we get our local hawker food and a good deal at the same time. And we certainly think that we are getting our money's worth with $2 Chicken Rice Stalls in Singapore.
For the past few weeks, we've hunted around the island for the few remaining stores that still sell their chicken rice at this low price. In the process, we discovered that many chicken stores which we thought sold chicken rice at $2 or under have had to increase the price within the last year. Nonetheless, after much persistence and scouring about Singapore (from East to West – literally) we managed to uncover three hawker stalls which still offer $2 chicken rice meals in Singapore!
$2 Chicken Rice Stalls in Singapore
---
U Taste, Tampines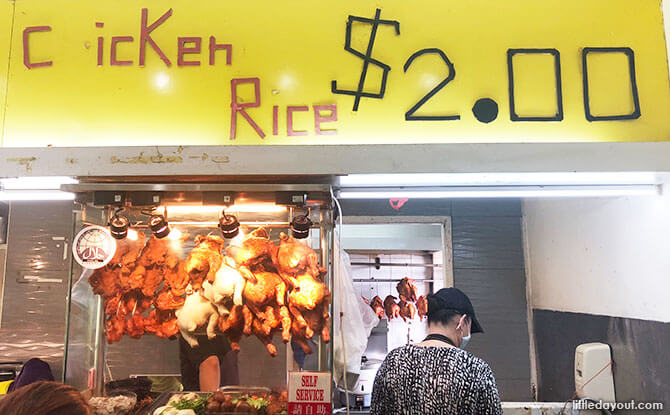 Well known to many residents around the area, U Taste coffee shop is probably one of the best places to find affordable food in Tampines. Here, there are dishes such as Bee Hoon, Lemon Chicken Cutlet and other decent-tasting foods offered at affordable prices.
We tried the roasted chicken rice at U Taste as they were out of white meat on the day of our visit. The chicken rice comes served on brown food "wrapping paper" on a tray. The portion was decent for $2 and the chicken slices were thin as expected but rather soft and considerably flavourful. The chicken pieces of brown meat which are the parts that we personally enjoy the most.
---
-- Story continues below --
Where: Tampines MRT Station
---
139 Hainan Chicken Rice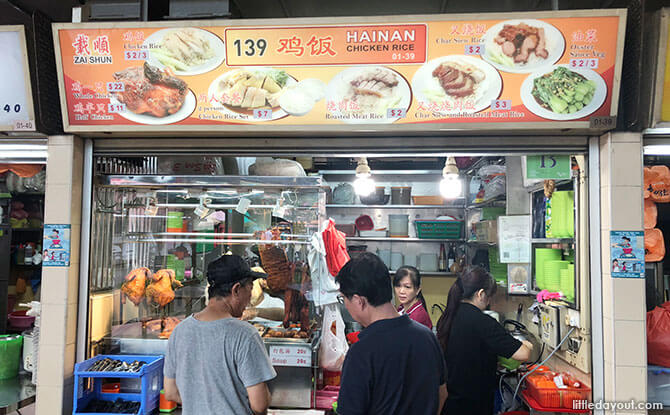 We found this store by chance after visiting two other stores that we initially wanted to review – only to find that the two stores had increased their prices. We were super excited that our visit to the area was not in vain when we came across 139 Hainan Chicken Rice in a Jurong East market.
We ordered the steamed chicken rice this time around.
The first thing that stood out to us was its generous portion! It came with a good amount of rice, chicken, cucumbers and the soup even had tofu! The rice for this was a tad dry but it made up for it with the chicken pieces which were not too thin, cooked through and did not have any blood or parts that were overly dry.
Where: 254 Jurong East Street 24, Singapore 600254
---
The Café Lobby
With multiple outlets around the island, you may well come across The Café Lobby before. The chain appears to have taken over the many Ananas outlets that used to be found at MRT stations. Those who work around the area and need a no-frills bite or even just a quick drink to quench their thirst will find The Café Lobby a convenient spot for a meal.
We ordered their $2 Chicken rice to go.
The portion was decent and relatively filling. We did find it quite oily and the chicken rice taste was rather faint. The chicken pieces tasted like salted chicken – too salty for our liking. We wonder if it was because we had ordered it to go, affecting the taste in one way or another.
Where: Multiple locations around Singapore
---
Our Conclusion
Without a doubt, the winner of our We Tried Three: $2 Chicken Rice Stalls in Singapore is 139 Hainan Chicken Rice!
We think that this plate is definitely a steal for its price and the quality of it could easily pass off as a chicken rice meal worth more than that. We hope that this business remains successful for a long time because we hope to be able to enjoy this meal at this price point for a longer period of time!