The mere mention of Japanese pancakes evokes memories of soft, fluffy pancakes. Ever since we had eaten pancakes in Tokyo, we have been seeking out Japanese pancakes in Singapore.
Compared to American pancakes, Japanese-style pancakes tend to be thicker yet lighter. Therefore, armed with a hearty appetite, we went out to three different Japanese-style pancake places in Singapore to discover which was our favourite.
Japanese Pancakes in Singapore
---
Belle-Ville Pancafe Café
Our first stop was not only the newest but also the smallest. Belle-Ville Pancake Café only opened in late June 2018 and has already been attracting long queues on the weekends.
The cozy café can be found at Bugis Junction's office tower facing the corner of Victoria Street and Rochor Road.
---
-- Story continues below --
Originally from Osaka, Belle-Ville Pancake Café specialises in meringue millefeuille pancakes.
We placed an order for a stack of four Strawberry and Mixed Berry Pancakes ($14.40), one of their most popular menu items.
The pancakes arrived stacked up high. Between each layer were generous swirls of Hokkaido cream and mixed berries. The pile of pancakes was topped off with strawberries, cream and drizzled with chocolate sauce.
Belle-Ville's meringue pancakes were light and airy. They also have a distinct meringue taste. The pancakes paired well with the tartness of the berries and smoothness of the cream.
Even though there was a jar of pancake syrup at the table, we didn't need to reach for it as the fluffy pancakes were good enough on their own.
Belle-Ville Pancake Cafe 
230 Victoria Street #01-01B, 188024
---
Kyushu Pancake Café
Our next stop for Japanese pancakes in Singapore was Kyushu Pancake Café at Novena Regency along Thomson Road.
Open since 2016, Kyushu Pancake makes use of seven grains from Kyushu, Japan in its pancake flour.
We ordered one of their most popular menu items, the Berry-Licious Pancake ($16.90).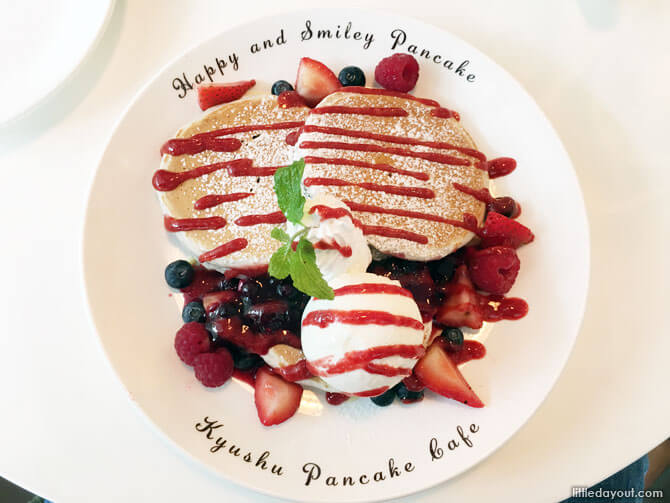 The pancakes, three per serving, came laid out on the plate rather than as a stack. The plate was beautifully presented with a burst of colour from the berries. Topping off the pancakes was a scoop of vanilla ice cream.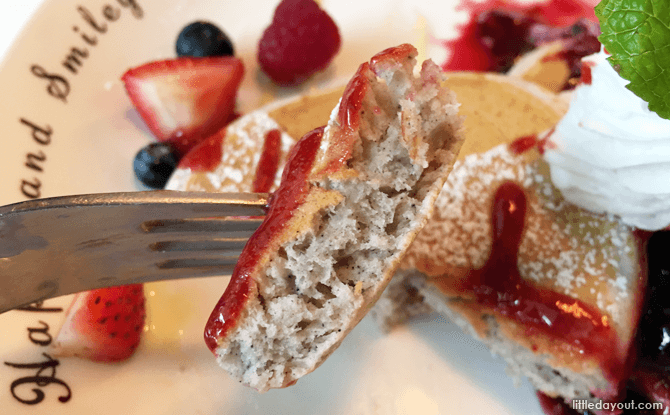 Compared to the meringue-like texture of Belle-Ville's pancakes, Kyushu's pancakes have a more "pancake-like" texture. While still soft, the grains in the flour gave the pancakes a more substantial consistency. They were quite delicious.
Kyushu Pancake Cafe
275 Thomson Road, #01-08, Novena Regency, 307645
---
Hoshino Coffee
Our third stop for Japanese pancakes in Singapore was Hoshino Coffee at Holland Village. Hoshino Coffee outlets can be found throughout Singapore.
Hoshino Coffee offers soufflé style pancakes which come with a choice of maple syrup or honey syrup and topped off with a dollop of whipped butter.
In addition to regular pancakes, Hoshino also offers seasonal pancakes which change throughout the year and matcha pancakes.
We placed an order for Hoshino Coffee's regular Double Pancake Souffle Style ($12.00).
While the menu stated that we would require an approximate waiting time of 20 minutes, ours came much sooner.
The two soufflé pancakes were stacked high like a tower. Hoshino Coffee's pancakes were much thicker than the pancakes at Belle-Ville and Kyoshu.
They were also quite dense and closer in consistency to cake.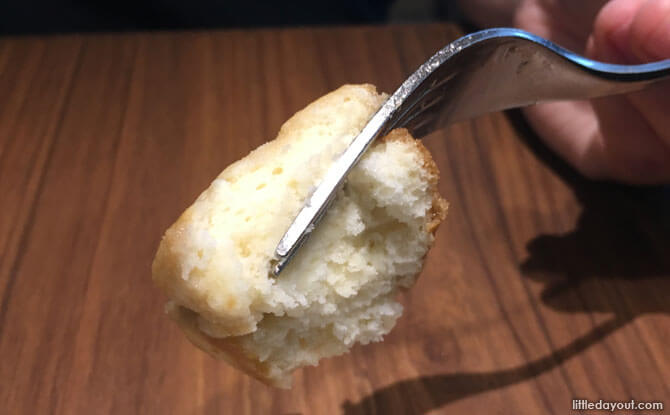 On their own, the pancakes were a bit dry. Therefore, we found ourselves reaching for the maple syrup jar quite often. Perhaps we should have ordered a scoop of ice cream with the pancakes instead.
Hoshino Coffee Holland V
118 Holland Avenue 2, #02-02, Raffles Holland V, 278997
---
Our Verdict
After trying the three different Japanese pancakes in Singapore, we concluded that our favourite was… Belle-Ville Pancake Café's pancakes.
They were light and fluffy, and paired very well with the fruits and cream. They reminded us most of the pancakes which we had had in Japan and left us wanting more.