"Any plans for the school holidays?" is probably a common question parents are asking one another these days. Many are looking for 2020 year-end school holiday camps, programmes and workshops for the November and December period, especially since we are very much Singapore-bound.
School holidays will start in two weeks and we know parents will usually plan fun-filled holidays for their children – be it learning a new skill, going outdoors, visiting an attraction, practising sports.
Since the possibility of travelling is rather slim, there is plenty of time to rediscover new sights and pick up a hobby, or hone important skills.
We give you a list of year-end 2020 school holiday camps, workshops and programmes you might wish to sign your children up for.
---
-- Story continues below --
Exciting Year-End 2020 School Holiday Camps, Workshops & Programmes
1. Coding Lab Coding and Programming Holiday Camps
Nov & Dec 2020
Parkway Parade, Bukit Timah, The Grassroots Club, Online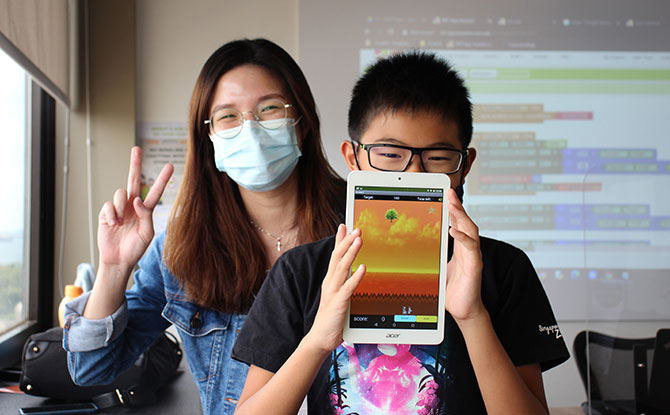 Sign your kids up for Coding Lab's award-winning coding and programming camps during the year-end 2020 school holidays! They will have hands-on fun while getting creative with activities such as creating games or making apps. Older ones, 10 to 12 and 13 to 18, can start coding with Python – one of the world's top programming languages and explore the world of Artificial Intelligence, Game Development and more!
Coding Lab's Young and Advanced Computer Scientists will be exploring the field of STEM, tinkering with bots, and taking on an exciting Math Meets Coding programme too! Camps are held online and at three physical campuses across Singapore! Find out more about Coding Lab's holiday camps and programmes.
---
2. Science & Technology Holiday Programmes at Kaesac Learning Centre
26 Nov to 22 Dec
Kaesac Learning Centre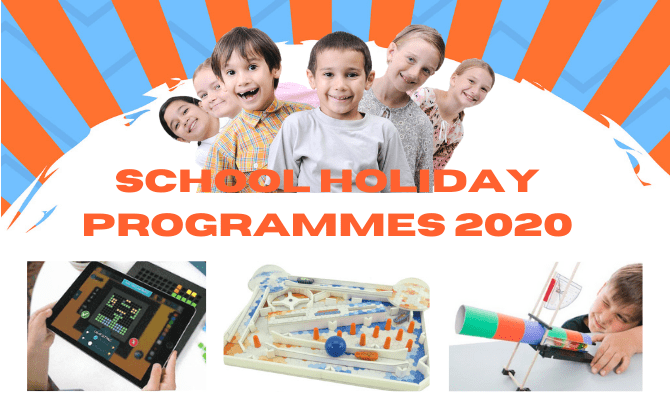 Ignite the love for learning in your child during the school holidays with science, technology, engineering, arts and mathematics programmes at Kaesac Learning Centre. Children will be taught thematic concepts through fun, creative and hands-on projects.
Choose from programmes such as building a walking dino-bot, constructing a ping-pong ball launcher, engineering a claw machine and more. Children can also learn to programme video games and be introduced to the world of sensors and robotics. Science and Art come together as they get to create a holiday "light-up" card and more.
Get all the details of these school holiday programmes.
---
3. The Music Scientist December School Holiday Workshops
8 to 29 Dec
Tampines Junction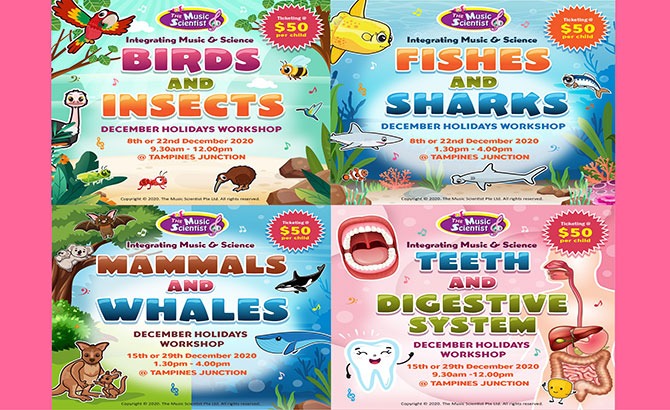 Introduce little ones to the world of Science with The Music Scientist. Making use of role-play, music & movement, crafts, games and science experiments, these holiday camps provide a fun and memorable way for 5 to 8 year olds to learn about the world around them.
Choose from four fascinating themes: Birds and Insects, Fishes and Sharks, Teeth and Digestive System, and Mammals and Whales. Each workshop lasts for just half-a-day. Discounts available for those who sign up for multiple workshops. Get more details on these December 2020 school holiday workshops.
---
4. MoneySense for Your Child Workshops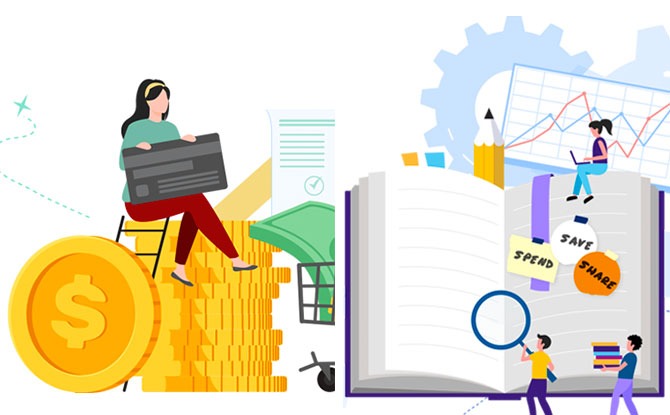 Financial literacy is an important life skill which can be inculcated from a young age. This year-end school holidays, the Institute for Financial Literacy is organising a set of free online workshops for parents on how to teach kids about money and how to manage it well. The online MoneySense for Your Child workshops covers topics such as good financial habits and budgeting. Workshops take place on Saturdays throughout the November and December 2020. Get more information and start your kids on the road to being money-wise here.
---
5. Travel Land, Air & Sea with Little Day Out
Keen to head out on Little Day Outings? Little Day Out will be bringing families with children to rediscover the lesser known spots of Singapore – Kampong Lorong Buangkok, a fish farm, an off-shore kelong and the forgotten alleys of Chinatown. Rediscover a different side of Singapore with tours conducted by Let's Go Tour for the holidays. Get the details and sign up here.
Even if we are all "grounded" for the holidays, we can still take flight in different ways. At the Fly High Air-venture Camp in December, try out a flight simulator, visit a flying school, interview a pilot, observe birds with a guide and craft your own chuck gliders after acquiring some knowledge about aerodynamics. This activity will equip and inspire children to take flight and fly high.
---
6. British Council's Holiday Study Camps
From 23 Nov
Centres at Napier Road, Tampines and Toa Payoh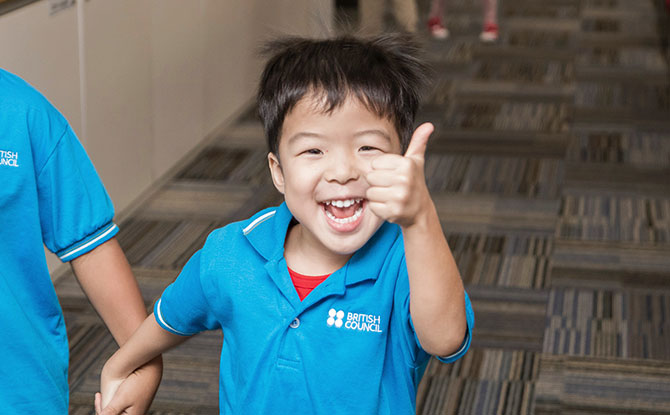 British Council's Holiday Study Camps go beyond English and focuses on developing 21st Century Competencies in children. Children between ages 4 and 17 can attend camps on literacy skills, public speaking, writing, critical thinking and collaboration. Camps starts on 23 November at three different locations: Napier Road, Tampines and Toa Payoh.
Find out more here.
---
7. The Little Executive's Jolly Jingle Camp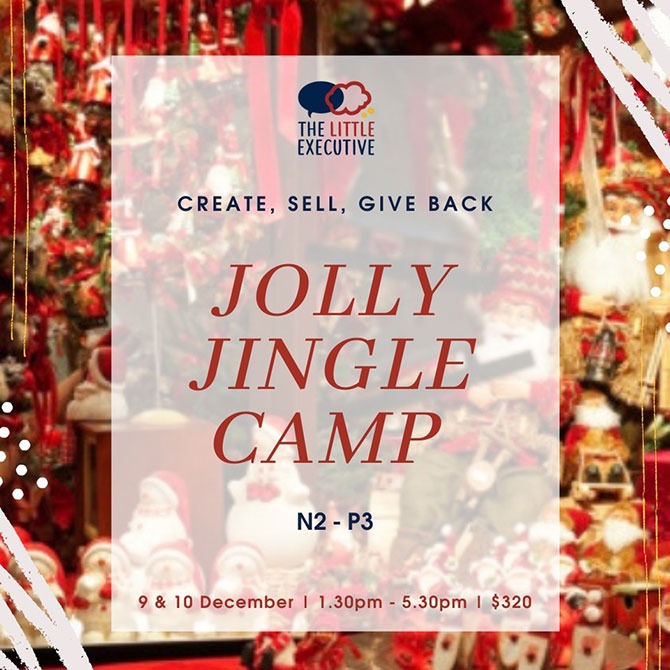 The Little Executive's Jolly Jingle Camp is all about giving back, through honing entrepreneurial skills. Suitable for N2 to P3 (4 to 9 year olds), the children will develop their executive function skills by raising funds for a charity and setting up a Jolly Jingle stall. From brainstorming, planning, creating, decorating and working as a team of little elves, your children will be empowered to do good in a fun way! Parents will get to do some Christmas shopping and support their children's efforts at the Jolly Jingle bazaar to raise funds for a good cause.
Get 5% off camp fees by using the promo code <LDO>.
More jolly details here.
---
8. ActiveSG School Holiday Programmes
Affordable sports activities at the nearest ActiveSG centre? Look no further, sign up for ActiveSG's school holiday programmes. Learn badminton, taekwando, archery and even aeromodelling. Spaces are very limited due to safety measures so do sign up quick here.
---
9. Dim Sum Warriors' Bilingual Comic Jam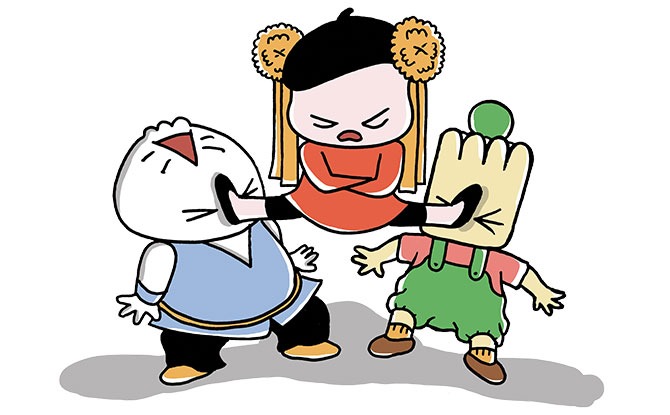 Looking for fun ways to practise mandarin? Join in Dim Sum Warriors bilingual comic jam – a free chat-and-draw session with award-winning filmmakers and creators of the Dim Sum Warriors books Colin Goh and Dr Woo Yen Yen. This session will help build vocabulary, creativity and run on Facebook on 7, 21, 28 November at 10.30am.
To sign up, click on this link.
---
10. Andsoforth Academy's Princess Camp
11 Nov to 18 Dec
200 Pandan Gardens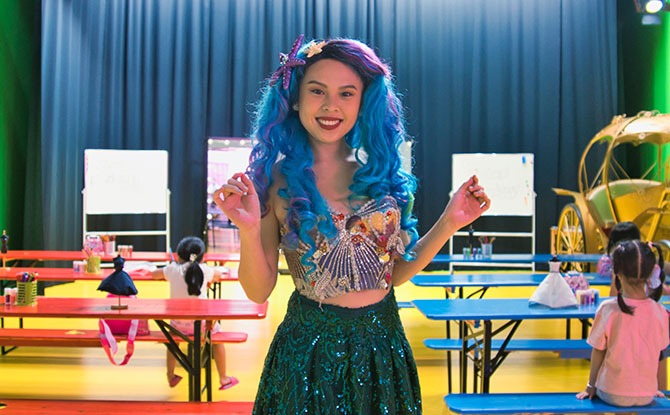 Heard of a princess bootcamp? Your little one will undergo a head to toe transformation at Andsoforth Princess Camp. Expect basic training such as etiquette, poise and craft from Cinderella, the Little Mermaid and the Fairy God mother. Royal-highnesses in training will complete royal duties like making their very own pumpkin carriage and then designing a princess gown complete with a make-up tutorial. Find out more about Andsoforth's school holiday 2020 camp here.
---
11. Intensive Chess Courses by Singapore Chess Federation
23 Nov to 18 Dec
Singapore Chess Federation
Honing chess skills or getting your child to learn chess? How about an intensive camp all about chess. Singapore Chess Federation trains top chess players and is the authority on chess in Singapore. Its intensive structured chess programme will let the children complete a chess grade in five days. More details on this year-end 2020 school holiday programme here.
---
12. Jurong Bird Park Behind-the-Scenes Tours
Take a tour behind the scenes at Jurong Bird park for a precious encounter with the birds up close. Jurong Bird Park's tours offer an exclusive, usually-off-limits entry with a personal guide. Go on Jurong Bird Park's Bird's Eye Tour to meet Sally the hornbill, a chick nanny and witness how endangered hatchlings are cared for.
More details here.
---
13. NParks' Activities and Workshops
Visit a park and go on a guided tour by NParks. Be amazed by the biodiversity of birds at Jurong Lake Garden or the Southern Ridges, visit Coney Island Park and Pulau Ubin with the knowledgeable guides to see different habitats.
Participate in a virtual workshop to learn arts and crafts using spices. From the comforts of your home, craft together as a family using fragrant dried spices perfect for your Christmas tree. See all events here.
---
14. Orienteering by OSportz
Participate in OSportz' orienteering workshops for parent and child. Orienteering is an adventure sport that is fast-paced and trains one's navigational skills. Find checkpoints and return to the end point as fast as you can – with your child! The workshops will give you a chance to be part of a mini adventure race while practising fundamental navigational skills such as map interpretation and map setting. Child has to be above 6 to participate. Sign up here.
---
15. Kayakasia's Kayaking Adventures
Get moving with Kayakasia's Kayaking adventures to St John's island from Sentosa in November. Kayakasia organises kayaking adventures and welcome families with children 6 and above to participate as well. Paddle to mangroves and other islands nearby, observe nature or take a dip in the water. Find out more here.
---
School's Out, be Up and About during the School Holidays! 
Even though travelling plans may be shelved this year, there are plenty of year-end 2020 school holiday camps and programmes to join in for an activity-packed school holidays for the children. Parents can also choose to participate in family-friendly programmes for some bonding time. Stay safe this holidays!