It's migratory season and this means it is an ideal time to birdwatch! Even though most of us cannot travel these days, we can still catch some visitors from far away in flight. Birds from colder regions tend to escape the harsh climates in countries near the equator. Singapore is one of the countries which see an estimated 2, 000 birds from over 40 species stop by.
A recent study also showed birds migrating across the Himalayas apart from the East Asian-Australasian Flyway.
---
Why do Birds Migrate to Singapore?
You may wonder why birds flock to this part of the world annually, there are three main reasons for doing so.
First, it is warmer in this part of the equator. All-round summer may not be such a bad thing, especially if we get to see wildlife we can't usually see.
---
-- Story continues below --
Second, the birds want to escape from the harsh conditions of thin air and lower oxygen in the mountainous regions.
Third, rich mudflats mean a lot more sustenance for the birds. The shorebirds love feeding on fish and small crustaceans.
---
Where to Spot Migratory Birds in Singapore
If you keep your eyes peeled, you might see some curious visitors from faraway near you. But if you hope to see more migratory birds, you can visit some of these spots listed. Sometimes, it could take some patience and a lot of luck to find the birds.
---
Sungei Buloh Wetland Reserve
Sungei Buloh Wetland Reserve is a favourite stopover for shorebirds because of its mudflats and ideal conditions for a rest-stop. However one protip is to go when the rest of the areas in Singapore experiences higher tides as the ponds in Sungei Buloh keeps the mudflats drier. Head to the ponds at the Neo Tiew entrance at the right time and you might get to see the shorebirds – Common Redshank, Common Greenshank, Whimbrel, Mongolian Plover, Common Sandpiper, Pacific Golden  Plover. A favourite – the colourful Blue-winged Pitta has also been spotted here.
The best thing about Sungei Buloh is the number of hides and viewing huts where you can just sit and watch the birds at the mudflats.
Even if you don't spot a migratory bird, Sungei Buloh has its residents – Herons, Kingfishers, Asian Glossy Starlings, White Bellied Sea eagles and more.
Sungei Buloh Wetland Reserve has also been recognised as a site of significant important for migratory birds, and in the East Asian Australasian Shorebird Site Network.
---
Hampstead Wetlands Park
Beginner birders can start at Hampstead Wetlands Park where it is easy to see various types of birds. The Water Lily pond is a fishing ground for many of the birds including Lineated Barbet, Bee-eaters and the resident Kingfishers. Raptors have also been seen in the area together with a resident Buffy Fish Owl.
---
Singapore Botanic Gardens
Aside from being a popular spot for picnics and walks, Singapore Botanic Gardens is a place to find the flycatchers and warblers. You just need to follow the bird photographers who are swarming around this season. Thus far, the Brown-chested Jungle Flycatcher and Asian Paradise Flycatcher have been spotted to the delight of avid birders.
---
Bukit Timah Nature Reserve & Dairy Farm Nature Park
Various spots in the Bukit Timah area are favourites of birders. The quarries make for ideal fishing spots. Diverse species of Cuckoos, swifts and Flycatchers have been spotted in this area.
---
Macritchie Reservoir – Jelutong Tower
Want to spot some raptors? Head to Jelutong Tower at Macritchie Reservoir! The Central Catchment area is a prime spot for birds with its lush environment. Siberian Blue Robin and Brown-chested Jungle Flycatcher have also been seen.
---
Jurong Lake Garden
Jurong Lake Garden has had "star sightings" such as the Oriental Dwarf Kingfisher and Amur Paradise Flycatcher. This sprawling park also has plenty of space to run and play if your little ones have no patience for birds.
---
Marina East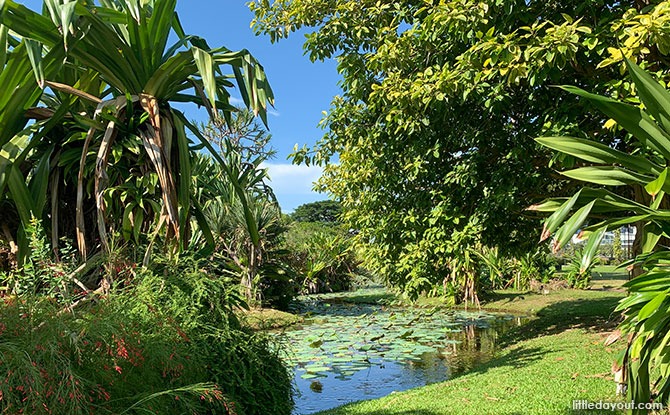 Find the Plovers and Masked Lapwing at Marina East area. This area comprises of Gardens By the Bay East and Marina Barrage, a quiet area albeit close to the heart of the commercial district.
---
Other Resources for Places with Migratory Bird Sightings
The list above is not meant to be comprehensive as bird sightings can often be unpredictable and a surprise to those looking at the right places. To get more information about recent sightings, you can join Birding groups on Facebook or check out Singapore Bird Group's monthly bird reports as well as this Ebird platform.
Have a good time birding and wishing you a fruitful season of birdwatching!