It's so easy, it's almost too good to be true.
You can throw those junk chocolate candy bars out the window, because this homemade chocolate recipe is so simple and healthy, you don't have to feed your kids the store-bought stuff full of preservatives and emulsifiers and all other sorts of ingredients we can't pronounce.
You can also make this a fun activity with your child, and involve him in the mixing and preparation of the sweet treat!

Our tot loved it, and he kept asking to lick his fingers and mixing spoon.
No messy melting of cocoa butter (which is the real, artisanal way of making chocolate), no juggling with a gazillion ingredients.
We used chocolate moulds, just for fun.
If you don't have a mould, you can use a simple flat tray lined with baking paper, and use a knife to break the chocolate into block bars later.
This recipe is dairy-free, nut-free, and wheat-free, so even children with allergies can finally enjoy some choc!
This chocolate tasted so good, it's hard to believe there are only three ingredients. But this tastes more like dark chocolate than milk chocolate.

Ingredients
¼ cup Extra Virgin coconut oil (cold-pressed)
¼ cup plain cocoa powder or Cacao powder
2 tablespoons of honey or 3 tablespoons of maple syrup to taste
That's it! Easy peasy.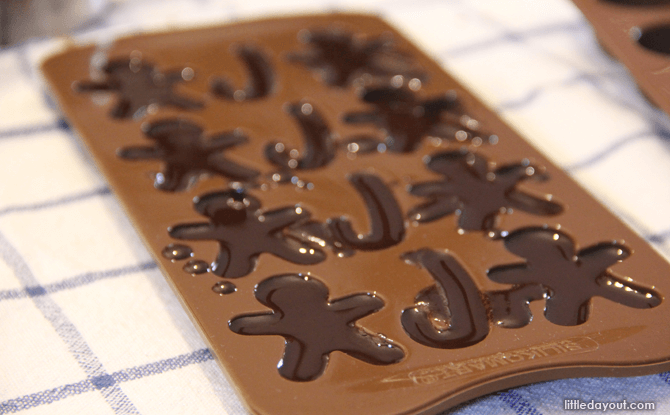 Health Benefits
These simple three ingredients are superfoods and nutritional powerhouses.
Coconut oil is full of good fat and minerals, great for the growing needs of young kids.
Cocoa is high in flavonoids, a compound which improves blood pressure and heart and oral health. Raw cocoa (NOT Dutch-processed) is even better, because more flavonoids are retained.
But not too much cocoa should be given to kids, as there is caffeine.
Honey and maple syrup each contain different minerals and/or vitamins, and have a much better nutritional profile than refined white sugar.
Let's get on with the chocolate-making!
Steps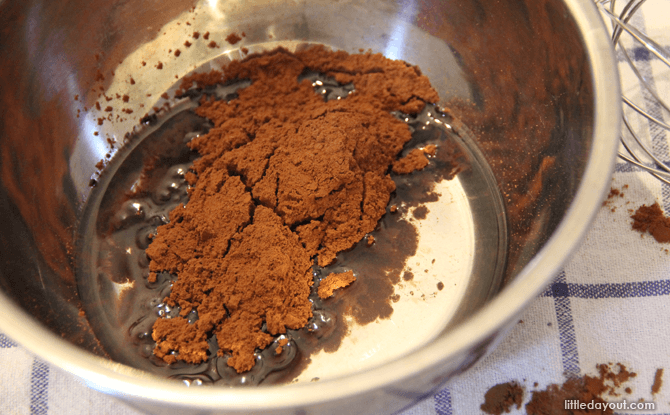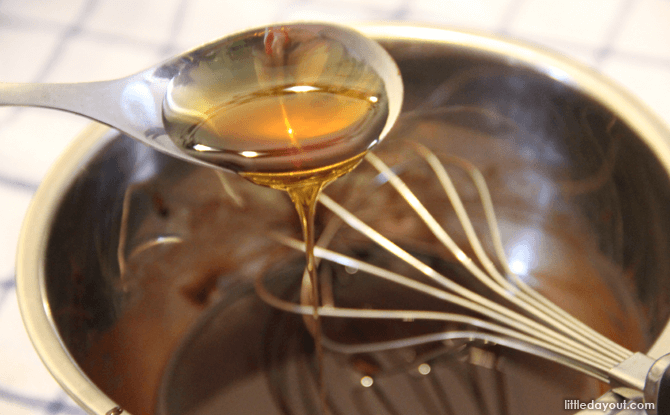 Whisk all the ingredients together in a small bowl. Mix well to ensure there are no lumps, and try not to whisk too hard – we don't want a frothy chocolate bar. This takes about a minute.

You can involve the little one in the mixing.

Pour the chocolate mixture into a mould. You can use a tablespoon to do so.
Tap the mould gently on the table to remove any air bubbles. Don't worry if you spilt some liquid chocolate on the borders of the mould. When the chocolate has somewhat set (about an hour), simply scrape the excess off.
Put the moulds into the freezer. The chocolate should be ready in about an hour.
When chocolate has set, pop them out of the moulds and serve!

To note
This chocolate is best stored in the freezer.
It melts rather quickly in room temperature, as it doesn't contain stabilizers or emulsifiers. But it's okay – it won't stay on the plate for long!

This chocolate tasted so good, it's hard to believe there are only three ingredients. But it tastes more like dark chocolate than milk chocolate.
The honey or maple syrup gives it an aromatic boost. Yes, honeyed chocolate tastes as good as it sounds!
Have fun with your kids.