Seven years after the old National Stadium officially closed in 2007, the new Singapore Sports Hub has started to welcome its first visitors.
As a brand new public space, many are sure to be eager to explore and rediscover the hallowed ground now housing Singapore's biggest playground against the backdrop of Kallang Basin. Those of us growing up in the 1980s and 1990s would remember the location for National Day Parades, Malaysia Cup matches, school sporting events and even mega concerts.
Already, the stadium has hosted its first event – World Cup 10s Rugby on 21 June 2014 – and, from 27 June 2014 onwards, some shops at the retail mall, Kallang Wave Mall, have started to open for business.
Kallang Wave Mall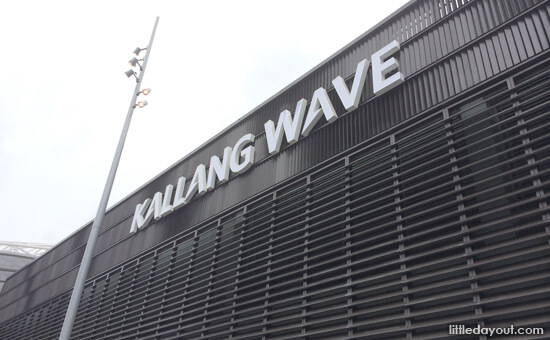 With anchor tenants such as UNIQLO and H&M, Kallang Wave isn't a mall just for sporty types alone. Many of the shops, including a FairPrice Xtra store with a sports-theme, will be progressively opening in the coming weeks.
As at 27 June, dining options are limited with outlets such as Gourmet Pizza To Go, Starbucks and Smoothie King open, but not much else. In time to come, recognisable names such as ASTONS Specialties, the Manhattan Fish Market, Old Town White Coffee, Burger King and Popeyes Louisiana Chicken will also be opening at the mall.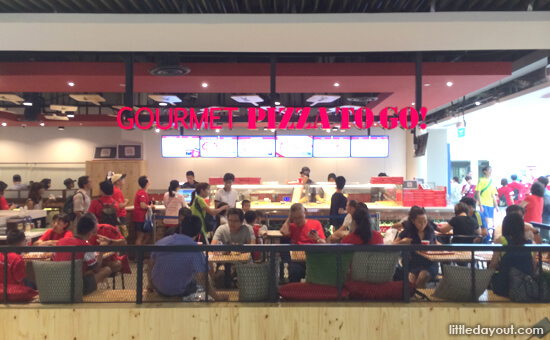 Rooftop Water Playground
One feature that parents can look forward to as well is the rooftop water playground, Splash-N-Surf. The water play area at level 3 has been designed for families with young children (yet to open as of 27 June 2014) and will also have a half-pipe surfing facility for body boarding and a lazy river.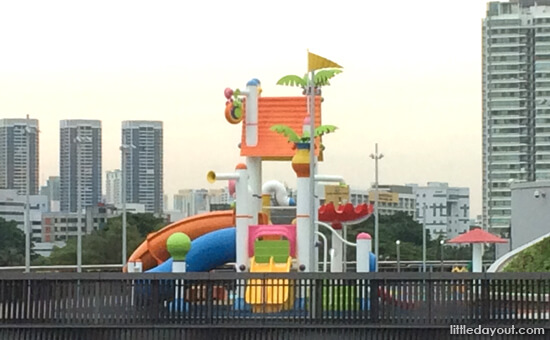 Sports Hub Library
Across from the Kallang Wave mall is the Sports Hub Library. Dedicated to sports-related topics, on the ground floor, visitors can engage in a game of strategy with an oversized chessboard, or book an Xbox Kinect to play some virtual sports. The second floor has a junior section with sports and health-related books for young readers. The Sports Hub Library is currently open to visitors. There is also a children's playground above the Sports Hub Library.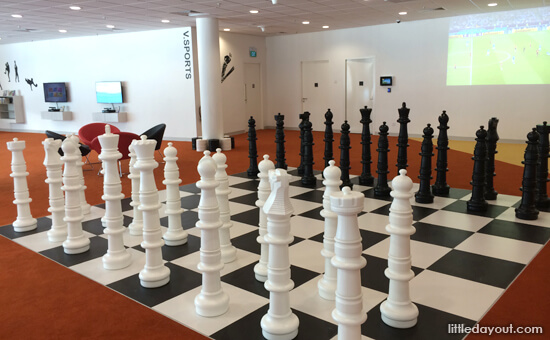 National Stadium
Of course, the superstar of the Sports Hub is the new 55,000-capacity National Stadium with its retractable roof and movable seats.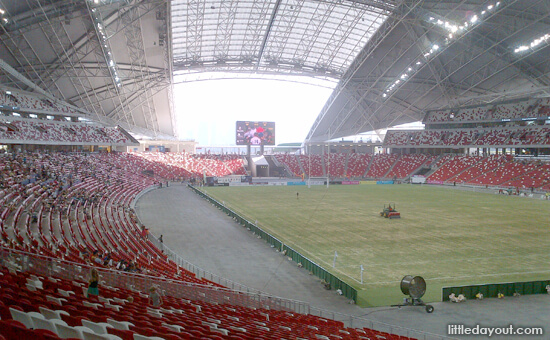 Other Facilities
Other facilities at the Singapore Sports Hub include a skate park with basic ramps, rails, fun-box and a mini-quarter pipe and a climbing wall inside the retail mall.
Preview at the Sports Hub Community Open House
A "One Year To SEA Games" Walk-a-Jog together with activities and fireworks was held on 27 June 2014 as part of the preview at the Sports Hub Community Open House.
From 9 am to 4 pm on 28 June 2014, Saturday, visitors can be amongst the first to play at the OCBC Arena – the venue for the SEA Games 2015 through Sports Tryouts of archery, boxing, basketball and more. There will also be silat and taekwondo demonstrations taking place. More information can be found at www.sportshub.com.sg/openhouse.
Sports Hub July 'Free-To-Play'
From 30 June to 31 July, one and all can enjoy a month of free facilities usage of the badminton courts, basketball courts, beach volleyball court, climbing wall, hard courts, lawn bowls, netball couts, skate park and swimming pools at the Sports Hub. Booking begins from 30 June 2014 and one can reserve a minimum of an hour and a maximum of two hour blocks per day. For more information and online booking, visit www.sportshub.com.sg/julyplayfree.
More Details
Singapore Sports Hub
National Stadium
1 Stadium Drive
Singapore 397629
(next to Stadium MRT station)
Open: 24 hours daily but check the website for opening hours of individual facilities
Admission: Free from 30 June to 31 July 2014
Tel: 6653 8900
www.sportshub.com.sg