We take a look back to the time before Singapore was a shiny metropolis, back when we were a sleepy kampong.
From pre-war kopitiams to neo-heritages cafes, nostalgic designer trinkets to vintage playgrounds and games, here is our Top 50 list of awesomeness: Nostalgic things and places to eat, play, and remember our humble beginnings.
LET'S MAKAN
Vintage Kopitiams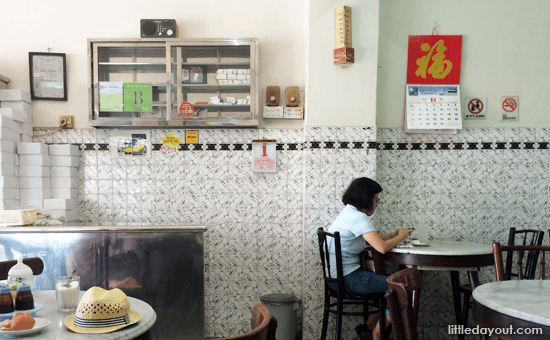 Have a cuppa with toast at the iconic Chin Mee Chin Confectionery, and sit back for the blast from the past.
Go for the real deal and head down to these pre-war kopitiams – Heap Seng Leong (10 North Bridge Road #01-5109) and Hua Bee Restaurant (78 Moh Guan Terrace #01-19) still serve up Hainanese kopi with butter. Rare, and really yum. Incidentally, Hua Bee was also the filming set for Eric Khoo's cult movie Mee Pok Man.
Other must-visit eating places which transport you to the past: Red Star Restaurant for old-school push cart dim sum, Chin Mee Chin Confectionery for kaya toast and kopi, Colbar for its historic timber building and western food, and Union Farm Eating House for paper-wrapped chicken.
Neo-Heritage Cafes
Tian Kee's rainbow cheesecake is a lot of fun for mum and dad, oh yes, the kids
Or you could go for a neo-nostalgic experience at hip cafes with their interpretation of traditional kopitiams and local food. Tian Kee & Co. Cafe, at its 54-year-old shop in Dakota Crescent, offers an iridescent rainbow cheesecake. This is their cheeky take on good ole Paddle Pop rainbow ice-cream and kueh lapis. But visit this place while you still can, as Dakota Crescent is slated for redevelopment at end-2016.
My Awesome Cafe's interior blasts you back to a 70s classroom with its metal fans, cement floor and square desks in Telok Ayer.
Old School Delights in Thomson boasts the retro interior of a vintage school canteen. What we particularly love is the small wooden toy box on each table that lets you go back in time with a game Happy Family cards, erasers bearing different national flags, snakes and ladders, five stones while waiting for your food to arrive.
Singapore Food Trail, tucked below the Singapore Flyer, recreates the roadside food stalls of olden-day Singapore, even before hawker centres became commonplace.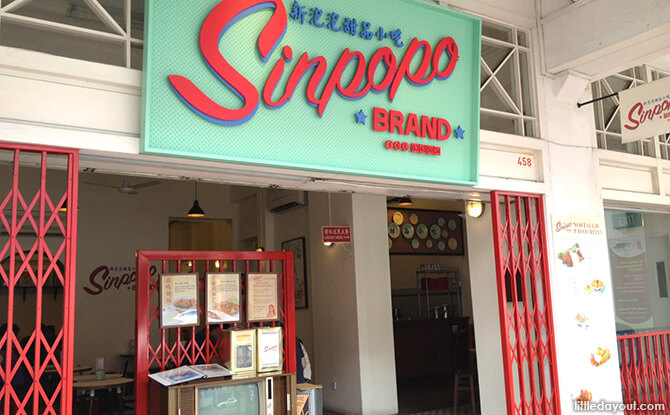 Run by the folks at Awfully Chocolate, Sinpopo Brand is a retro hip cafe with quirky local food. Try the Sinpopo Beef Shortrib Horfun, Prawn Paste Chicken and their innovative Orange Kaya Pisang Creme Brulee.
The Mama Shop is a small cafe owned by local TV artistes Sora Ma and Felicia Chin, with an array of comforting tidbits in rectangular biscuit tins. Mmmm, makes us think of the good old mama shops of our childhood under our HDB blocks.
LET'S REMEMBER
Of course, we couldn't put together this Top 50 list of awesomeness without a nod at our national pastime: Shopping! But hey, this is (online) shopping that helps us commemorate nostalgic Singapore, and you also get to support local designers.
Take this clever Kueh Tutu Eraser from Naiise, for instance. Leave meaningful messages withNonya Kueh Sticky Notes. Tell a foodie story with A-Z Local Food postcards.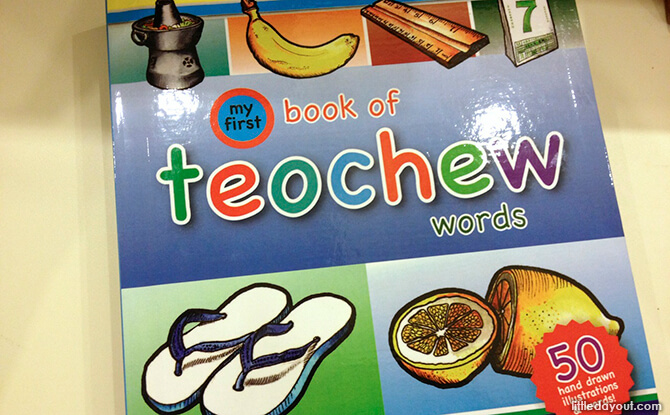 Teach your little tyke some Teochew with My First Book of Teochew Words, or choose from other dialects like Hokkien and Cantonese.
Go quirky-cute with the plush Bus Ticket Pin ("last time, the bus conductor used to clip the bus ticket strips for mummy and daddy!"), the fun Potong Ice Cream Pin, or the yummy White Rabbit Sweetpin, all by wheniwasfour. These fun cushion covers are bound to be conversation starters when you have guests over: Fancy Gem Biscuit, Hainanese Chicken Rice, and Satay.
Or carry Singapore's independence and heritage proud and tall with the Chinese Almanac-inspiredNational Day Tote Bag by Olivia Lee, or the silkscreened Chwee Kueh Tote Bag by wheniwasfour, both available at The Farm Store.
Carry the ever-ready memory of an old-school comfort snack with you, with the adorable Ang Ku Kueh Necklace.
Tell your kids the industrious perseverance of the courageous Samsui Women with the Collection Bookmark at the National Museum Singapore shop, or as part of a set of plush dolls made by elderly folks.
LET'S PLAY
Heritage Playgrounds
What's a little SG50 day out without some play? Go traditional with heritage playgrounds, which have been conserved in all their old (mostly sandy) glory.
Dragon Playgrounds were clearly all the rage in the early days. There's the famous Dragon Playground at Toa Payoh, another one at Ang Mo Kio Ave 3, and a mini version at Pipit Road.
Other choice nostalgic playgrounds include the terrazo Seal playground at Dakota Crescent (catch it before the place is redeveloped in 2016!), the unique Watermelon playground at Tampines Central Park, the quaint Mount Emily Park playgrounds, as well as the mosaic-tile Elias Mall playground.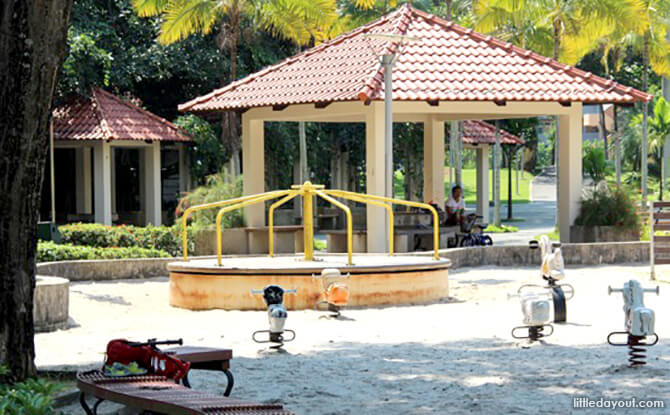 Or you could take the littlies for a spin at the rare, old-style metal merry-go-rounds at the Begonia Road Playground up in Seletar and another at Tiong Bahru Park.
Nostalgic Games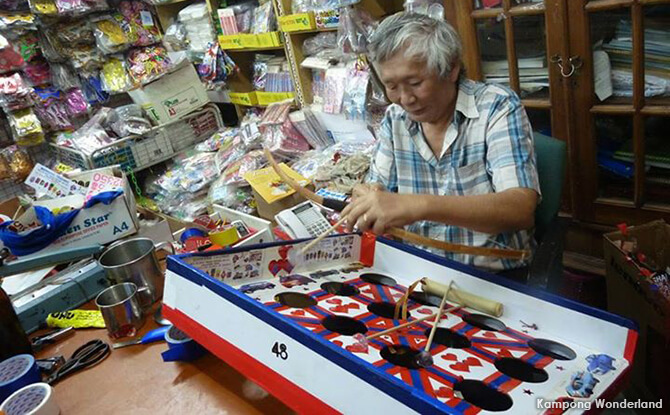 Kampong Wonderland still makes traditional fun fair game stations the good old way – by hand.
Remember those old-school "pasar malam" game stations, which made visits to the fun fair extra fun? Old uncle Seow Cheng Wee, 64, still handcrafts them from scratch. Authentic, and nostalgic fun.Kampong Wonderland offers these handmade game sets for rental from $20. Book some games for your party, and let the kiddos have a ball!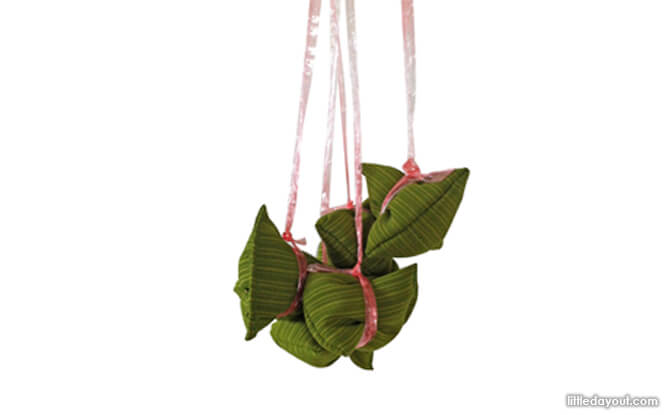 What about some portable games for two or more players? These Bak Zhang Five Stones look like fun, but it could make you feel hungry. Or Zabalang Board Games, a collection of old school board games like The Game of Chope and Dragons And Elephants, could do the trick.
LET'S GO
Heritage Trails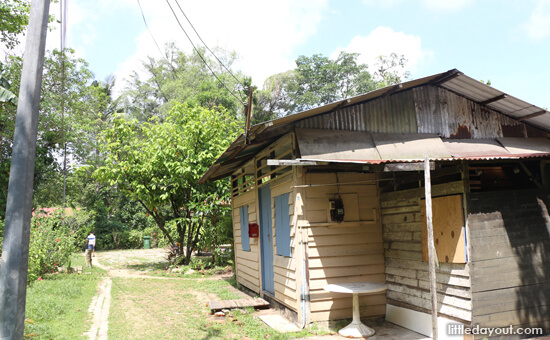 Take a stroll through the last kampong in Singapore, while it's still standing. Kampong Buangkok is a good place for the kids to appreciate how far Singapore has come since its village days.
Or go on an expedition to the sleepy town in Pulau Ubin.
Make a fun day out of the heritage trail of Tiong Bahru, after which you can explore the hip cafes and swanky boutique shops in the neo-gentrified area of Tiong Bahru with the kids.
Explore Chinatown, which includes a heritage trail and old-style shopping, as well as a new bookshop Littered with Books.
Take a historical trek through Fort Canning Park. With a history stretching as far back as 14thCentury Temasek, there are few places in Singapore where the layers of history go down as deep as on Fort Canning Hill.
Quirky Adventures
Sean Cham is both the subject and the photographer in his self-styled and self-directed series of pictures.
Go on a supersleuth hunt for the 50 near-forgotten or abandoned places featured in 20-year-old Sean Cham's series of self-portrait photos in SG50 project Yesteryears. No, he won't tell anyone where most of these places are. Sean's personal project became so popular, he's since appeared in TV shows and showcased his works at a photo exhibition called UNSEEN // UNKNOWN.
Book Trishaw Uncle for a leisurely ride down memory lane. It used to cost 50 cents to one dollar for a short ride in the three-wheelers (not so cheap any more, of course). Packages include food trails and nostalgic tours.
Get a haircut by one of the last street barbers in Singapore, Mr Tan Boon Kee, 68, at the narrow alley off Aliwal Street where his makeshift (but permanent) shop is located.
Use technology to your advantage and take the family out on trails, aided by smartphone apps. Go for walking and food trails in Kampong Glam, Balestier, and even an educational hike down World War II heritage sites.
The privately-owned Children Little Museum [Editor's update: Children Little Museum has closed] is a treasure trove of carefully preserved playthings from a bygone era.
And if you have the time, bring the tykes on a roadtrip around the little red dot. Here are 11 places that tell the story of Singapore.