With food being such an integral part of Singaporean life, makan places can often connect us back to our past and heritage. Such places that bring us back to our childhood or that connect us with our "growing up" years.
With many places around Singapore quickly disappearing, it is comforting to find some old institutions, eating places and haunts still around.
If you are looking for something slightly different from the usual restaurants serving up chicken nuggets and fries for the kids, here are five eating places around Singapore to explore and visit as a family.
Perhaps, they will become part of your family's history and the setting for new childhood memories too.
1. Red Star Restaurant
With its ornately decorated ceiling and red-motif décor, Red Star Restaurant is a throwback to the era of Chinese restaurants where glamourous dinners were accompanied by stunning stage shows. Here, a hot pot of tea arrives with cups soaked in a warm bath and dim sum is hawked by headscarf-wearing ladies with pushcarts. Opening early at 7 am daily, Red Star Restaurant is a perfect place for an early breakfast gathering before heading out for the rest of the day.
Address: Blk 54 Chin Swee Road, #07-23, Singapore 160054
Tel: 6532 5266
Opening Hours: 7 am to 3 pm, 6 pm to 10.30 pm daily
2. Lau Pa Sat
Lau Pa Sat is easily recognisable with its lavish ironwork, octagonal layout and ornamental columns that date back to as early as 1894. Up until 1973, it was used as a market before being converted into a hawker centre. Nowadays, it is packed with the office crowd on weekdays but the less-busy weekends are a great time visit with the family and dine under the tresses of this grand old building. Go on the hour to hear the chiming of Lau Pa Sat's bells.
Address: 18 Raffles Quay, Singapore 048582
Opening Hours: Open 24 hours
3. Chin Mee Chin Confectionery
Kaya gently simmers over a charcoal stove at the back while its aroma whiffs towards the mosaic-tiled seating area at the front. At Chin Mee Chin Confectionery, nostalgia is best served on a freshly toasted kaya bun with a mouthwatering slab of butter on top. Cream-filled horns, cupcakes and other pastries, all prepared on the premises, are displayed in unpretentious glass cabinets at the front. This Katong landmark is the perfect place to step back in time, even if only for a while.
Address: 204 East Coast Road, Singapore 428903
Tel: 6345 0419
Opening Hours: Tuesdays to Sundays: 8 am to 4 pm (closed on Mondays)
4. Colbar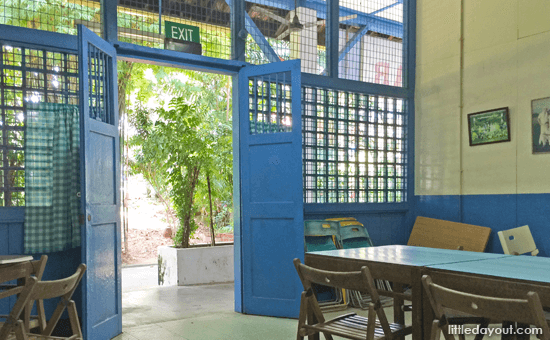 Colbar's wooden building exudes a laid-back charm perfectly befitting of the sleepy Wessex Estate neighbourhood where it resides. Tracing its roots back to 1953, it once served as a canteen for the British army. Nowadays, Colbar serves up western dishes such as sausages, steaks and local fare like hor fun and fried rice to the public. Their selection of beers isn't bad either. Choose to sit inside the quaint timber building that was painstakingly moved from nearby Jalan Hang Jebat to its present location in 2003, or head out to the patio to enjoy the breeze and surrounding greenery.
Address: 9A Whitchurch Road, Wessex Estate, Singapore 138839
Tel: 6779 4859
Opening Hours: Tuesdays to Sundays: 11 am to 10 pm (closed on Mondays)
5. Union Farm Eating House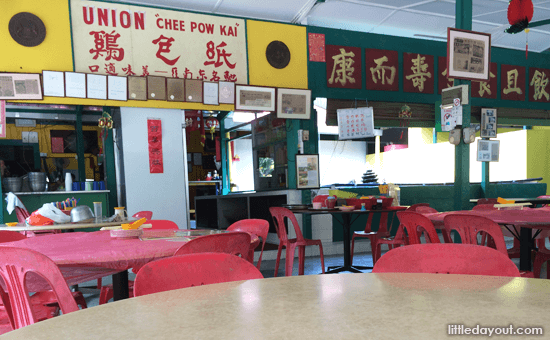 Like a bastion against modernity encroaching from every side is Union Farm Eating House along Clementi Road. Crossing into its threshold, its wooden framed building and the occasional call of chickens transports you into a kampong setting. Having popularised Chee Pow Kai or Paper-wrapped Chicken in the '60s and '70s, this is the must-have dish at the Union Farm Eating House. No rice served here. Just noodles which you can slurp down while biding your time on the rustic farmhouse's verandah.
Address: 435A Clementi Road Singapore
Tel: 6466 2776
Opening Hours: Tuesdays to Fridays: 11.45 am to 3 pm, 5 pm to 9.15 pm; Saturdays, Sundays and Public Holidays: 11.45 am to 9.15 pm; Closed on Mondays, except on Public Holidays.