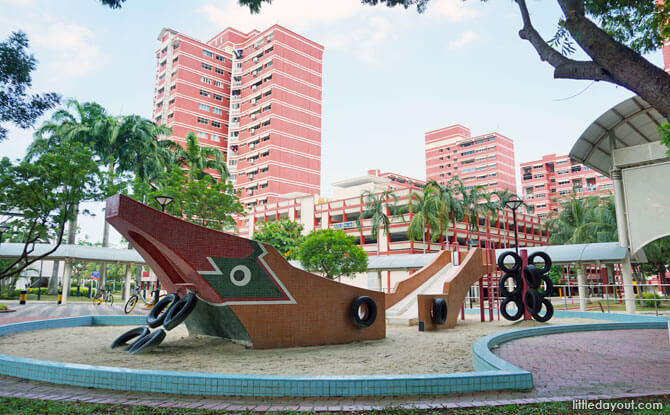 Located in a sandpit next to Elias Mall is the Pasir Ris Bumboat Playground. Sometimes referred to as the Sampan Playground, this mosaic playground was constructed in the 1980s at a time when the Housing & Development Board was building playgrounds with a local flavour.
When Bumboats Plied the Waters
The Pasir Ris Bumboat Playground is designed to look like a "lighter" or tongkang. These small open boats carried cargo from larger ships to the shore. In the past, they were a common sight along the Singapore River and Boat Quay.
Nowadays, you can still find bumboats along the Singapore River, ferrying tourists up and down the Belly of the Carp. Two of these light boats docked at Clarke Quay also serve as a unique dining location, the restaurant Tongkang.
A distinctive feature of the red-and-green livery of the bumboats is the "eye" painted on both sides of the bow. The origin of these "eyes" stems from a Chinese belief that they will help the boat to navigate their way through the water and avoid danger. These "eyes" are also found on Vietnamese boats.
---
-- Story continues below --
Iconic Design
Pasir Ris Bumboat Playground also sports a pair of eyes at its bow. A ladder on the exterior made from tires lets kids scramble into the boat's interior through a small archway.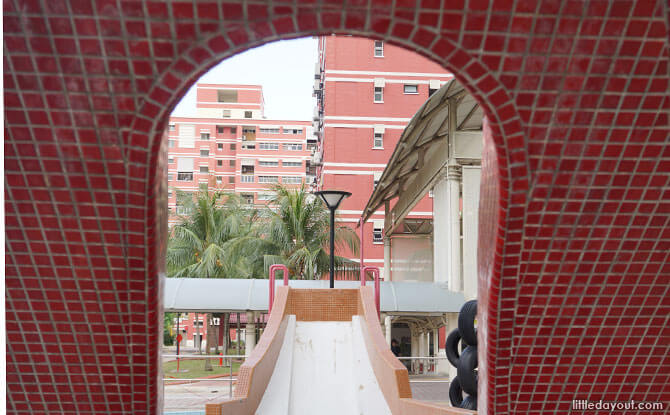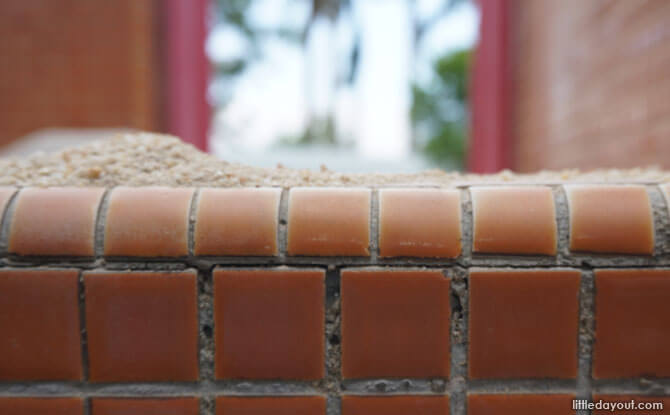 At the aft of the boat is a terrazzo slide. To get to the top of the slide, children need to use one of two ladders by the stern to climb up to a top platform.
Two cutouts in the middle of the boat provide another way for kids to enter and exit the bumboat playground (or as some know it, the sampan playground).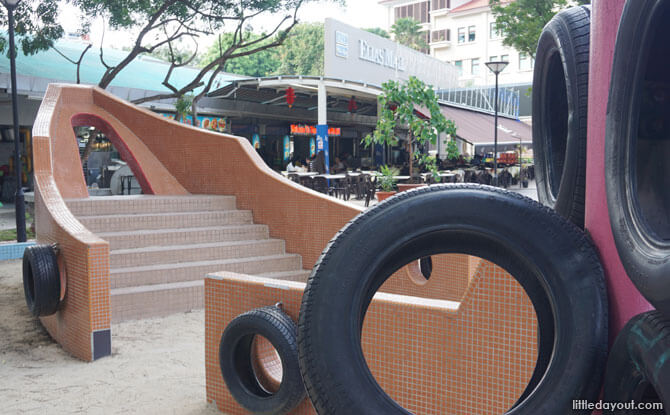 A nice feature of the Pasir Ris playground is its use of tires. Besides the tire ladder at the front of the bumboat / sampan, it is also found on the sides, much like they would be on a real tongkang.
There is also a short climbing structure made from tires.
The Pasir Ris Bumboat Playground is situated on a sandpit, like its fellow mosaic playground, the Dragon Playground at Toa Payoh.
Visiting the Pasir Ris Bumboat Playground (AKA Sampan Playground)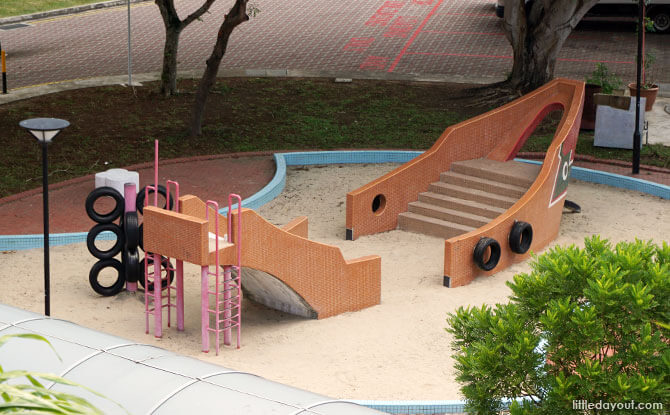 It makes sense that the Bumboat Playground is located at Pasir Ris, since Pasir Ris is situated next to the sea. So, next time you are heading to Pasir Ris Park or elsewhere in the area, keep a look out for this iconic heritage playground beside Elias Mall.
Location: Next to Block 623, Elias Road, Singapore 510623