River Safari's Halloween do, Safari Boo, is back for a second year running, thanks to the popularity of the event last year when it was first launched.
Billed as a "merry-not-scary" Halloween celebration for kids that won't leave them with tears and nightmares, it will see the River Safari transformed into a fantasy wonderland, where kids can go trick-or-treating at game stations, view river monsters at twilight and take photos with various fairytale characters.
Miss Isabel Cheng, Chief Marketing Officer of Wildlife Reserves Singapore, said, "Safari Boo's merry-not-scary proposition provides an opportunity for families and children to have trick or treat fun without the fright, and gives little ones and adults a chance to play make-believe and dress creatively. We are thrilled by the strong turnout during its launch last year, and look forward to welcoming more visitors this year with more characters, interactive discovery stations, performances and animal encounters for an educational and fun night."
This means in place of fake blood, zombies, vampires and other ghouls, there will be mermaids, fairies, princesses and familiar fairytale folk. Instead of heart-stopping scares and sudden shocks, you have interactive and action-packed storytelling sessions, musical pageants and fancy dress contests.
A Fairytale Setting
To create a wonderland feel, the park has been dressed up according to theme. A giant beanstalk stretching to the ceiling greets visitors at the entrance. Jack-o-lanterns of all sizes and colours decorate the display tanks, cutie cartoon standies are found all along the trail like Hansel and Gretel's breadcrumbs, and colourful lights lend a magical, festive atmosphere.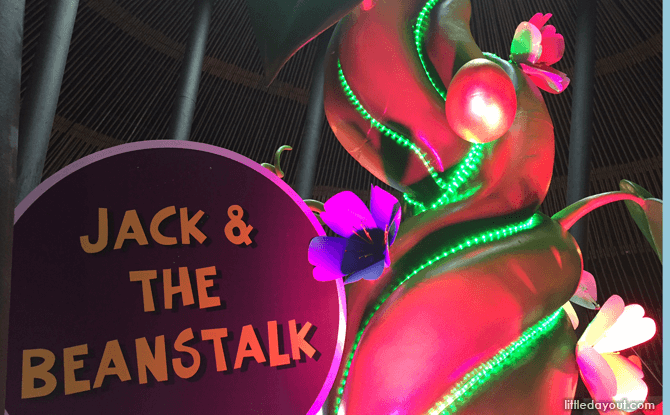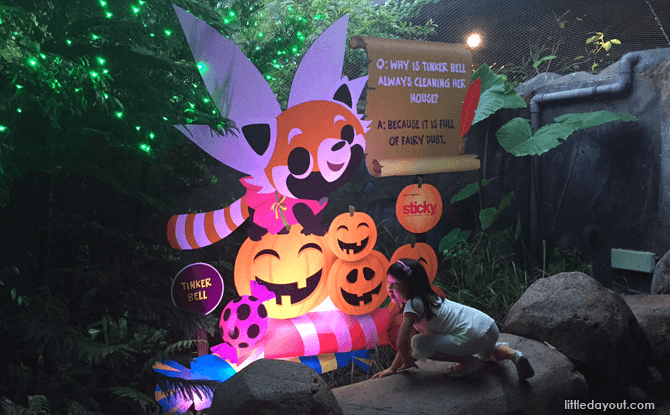 There are also numerous photo ops with familiar fairytale characters stationed around the park, as well as River Safari's panda mascots.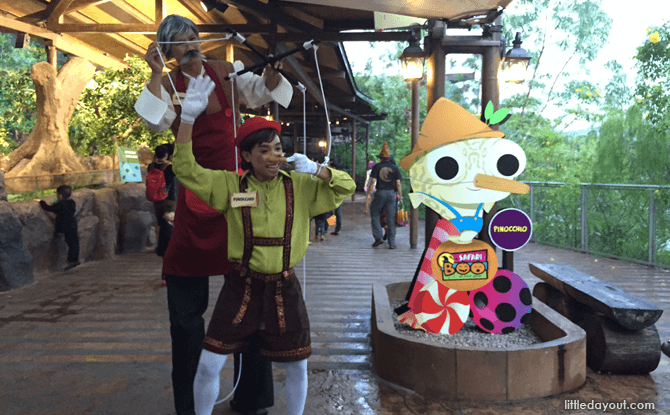 Hansel & Gretel's House of Fun
No, there are no evil witches looking to munch on munchkins here. The House of Fun is where a series of discovery stations are located, each designed to educate kids about the River Safari's animals through simple games and candy rewards. For instance, they can learn how predators lure their prey and the special adaptations that help them navigate the forests at night. There's even a "Wheel of Fortune" of sorts where kids spin the wheel to see what goodie they'll land.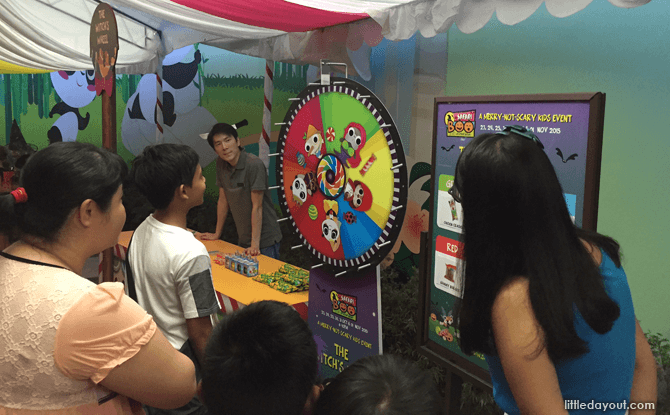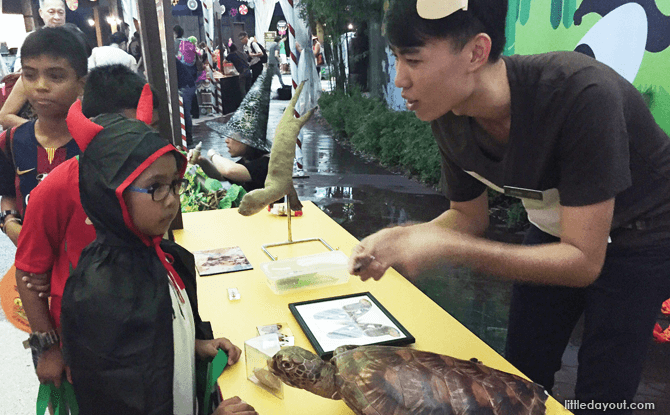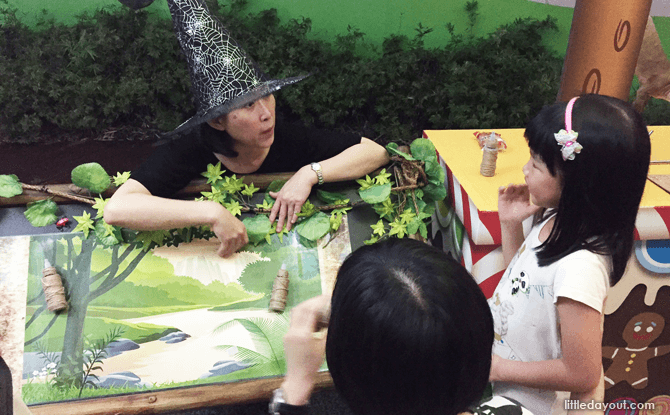 Of Furry Tales and Royal Balls
This year's Safari Boo features two new shows for visitors. Furry Tales is a lively, entertaining performance that puts a twist on familiar stories like Snow White and Puss in Boots. It showcases creatures such as the snake, the pygmy hedgehog, the pelican and the owl, while debunking some of the myths surrounding them. And for a music-filled spectacle, there's the Be My Guests Royal Ball, which is where the best dressed kiddo will be crowned.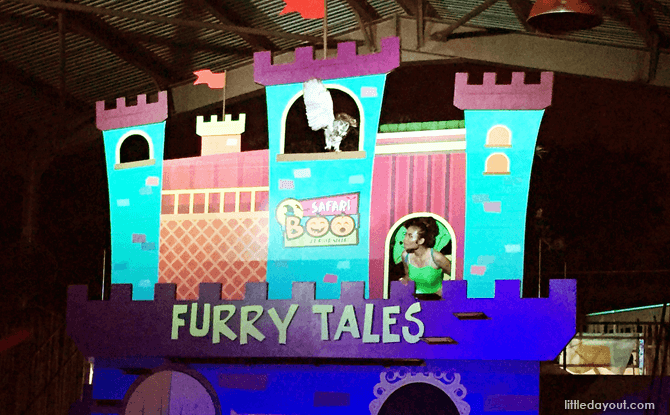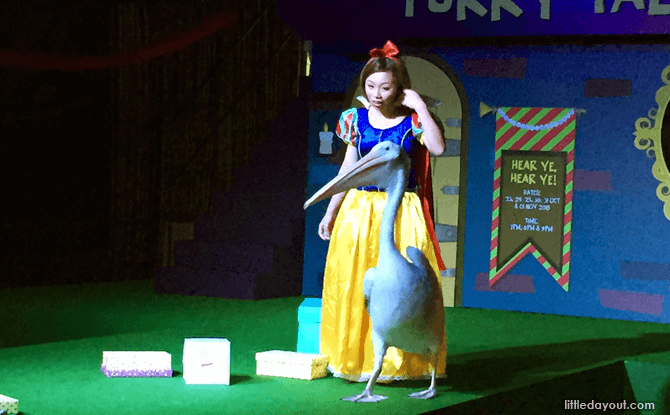 Halloween treats for "mermaids"
Nearing the end of the trail is the manatee enclosure, where you can watch these massive, lovable creatures do their bit of trick-or-treating as divers dressed in skeleton wetsuits dole out goodies to them from a little pumpkin pail.
Important things to note
Held over six nights on 23, 24, 25, 30 and 31 October and 1 November, the festivities will take place between 6 and 10 pm each night.
Tickets are priced at $20 for adults on these event nights, with admission at 6 pm and 8 pm. The only exceptions are on 25 Oct and 1 November, where tickets cost $15 and admission is only at 8 pm.
Children under the age of 12 enjoy free admission from 6 pm.
The Giant Panda Forest will not be open after 6 pm.