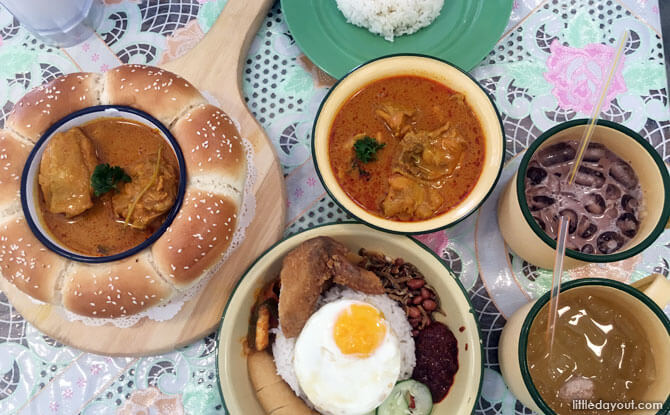 The Old Chang Kee Coffee House along Mackenzie Road, opposite Rex Cinema, exudes a heavy sense of nostalgia. It is a place where you can experience some old school bites (beyond the brand's signature curry puffs) at a location which provides a sense of history.
A Taste of History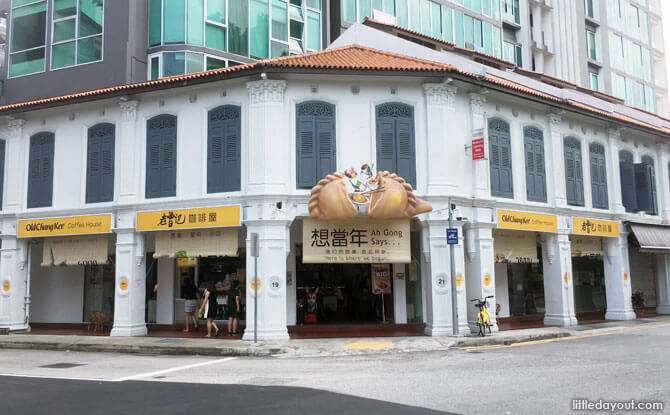 Not only is the establishment's decor reminiscent of 1960s and 1970s Singapore but the location is steeped in Old Chang Kee lore. The coffee shop is where Old Chang Kee had its humble beginnings as a purveyor of curry puffs back in 1956.
The Old Chang Kee Coffee House pays tribute to this heritage and, poetically, a counter selling curry puffs can be found at the same spot where the original stall once stood.
Of course, the difference is that now the Old Chang Kee occupies the entire premises rather than just a single stand.
---
-- Story continues below --
On a more personal level, the location also brings back fond childhood memories of running down to the stall to pick up some flaky puffs while my mother waited in her small white Daihatsu hatchback along Niven Road.
This time around, I walked in for a family lunch with my daughter in tow. Coincidentally, she is about the same age as I was when I was first ventured to the same place to buy curry puffs.
However, one difference is that there are much more than just curry puffs alone on the menu at the Old Chang Kee Coffee Shop nowadays.
Local Bites
The menu is decidedly local.
Nasi Lemak, curry chicken and beef stew are some of the options available.
We ordered a nasi lemak, curry chicken rice and baked chicken stew rice with cheese and a food items that are only available at the Old Chang Kee Coffee House – the Flower Bread with Curry Chicken.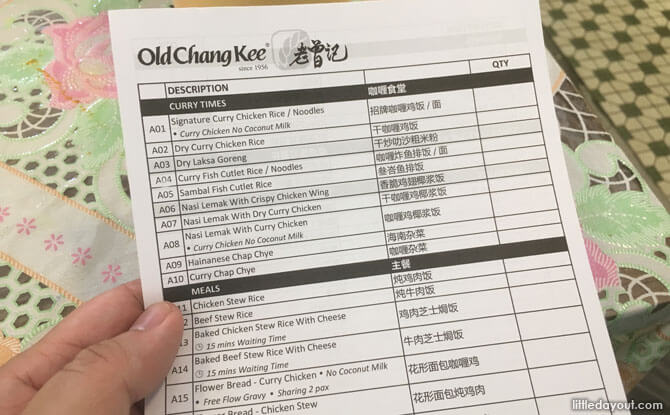 After placing the order and paying at the counter, we took a seat at the vinyl-tableclothed table and waited for the food to arrive.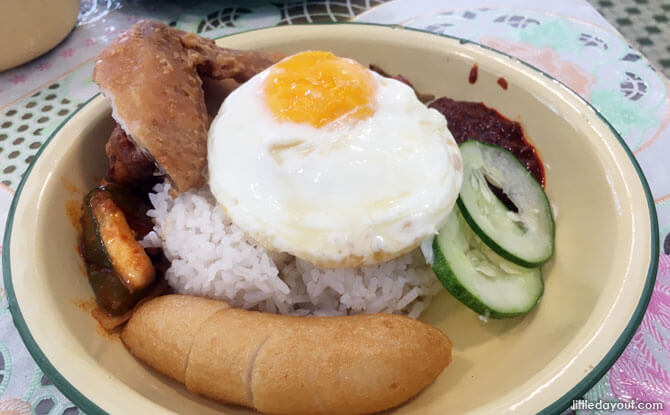 The nasi lemak was served in an old-school enamel plate. It included fish cake, fried chicken wing, achar, sambal chilli with ikan bilis, topped off with a fried egg.
The Flower Bread with Curry Chicken was served on a wooden paddle. It consisted of a bowl of curry chicken surrounded by a ring of bread, divided into seven segments.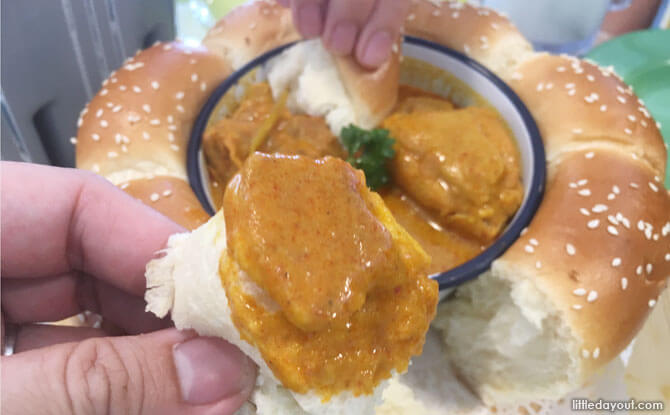 The curry was rich and delicious. The accompanying bread was toasted warm and amazingly soft. It was perfect for dipping into the luscious curry. The chicken curry must have been cooking for some time as the meat was extremely tender and soft.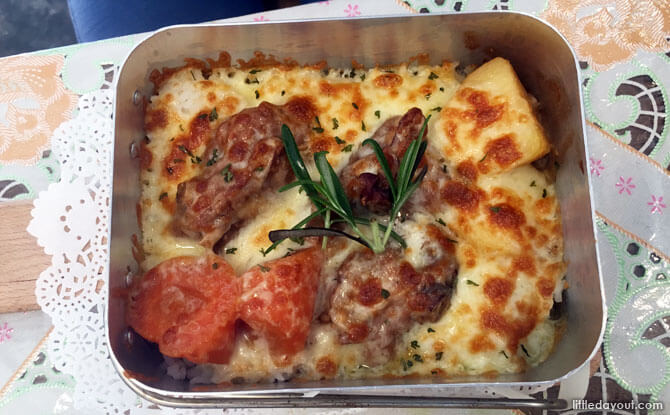 The baked chicken stew rice came in a mess tin. Its chunks of meat, carrots and potatoes were topped off with a blanket of cheese. It did taste slightly dry, but perhaps that was from the baking process.
The Old Chang Kee Coffee House is a nice place to enjoy a meal. It offers a dose of nostalgia without feeling dreary. Plus, when you are done, you can step out to the five-foot way and pick up an Old Chang Kee curry puff to go.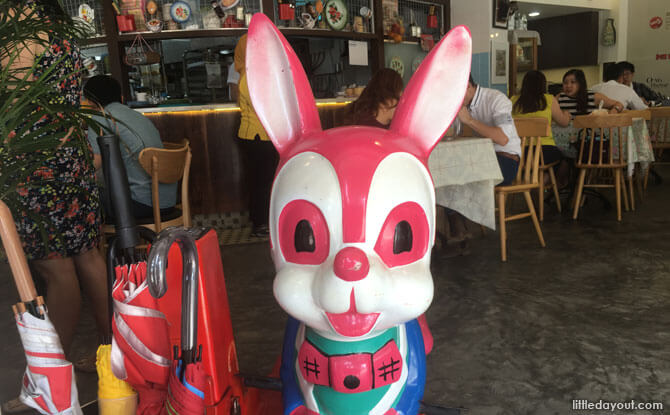 Or kids can enjoy the old school coin-operated kiddy ride by the entrance too!
Old Chang Kee Coffee House
Location: 19/21/23 Mackenzie Road, #01-01 S228678