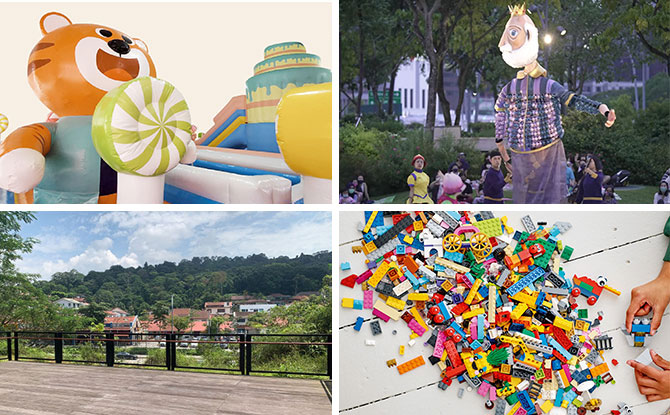 Hooray to March Holidays 2023 – the first school holiday break for the children and their parents! Phew! Although it's just one week, from 11 March to 19 March, there's plenty to do and we hope it will be filled with fun, rest and memories.
Check out some of the top, must-know activities and things to do during the March school holidays 2023 in Singapore!
---
Best Things to Do During the March School Holidays 2023 in Singapore
March On to Great Rewards at Suntec City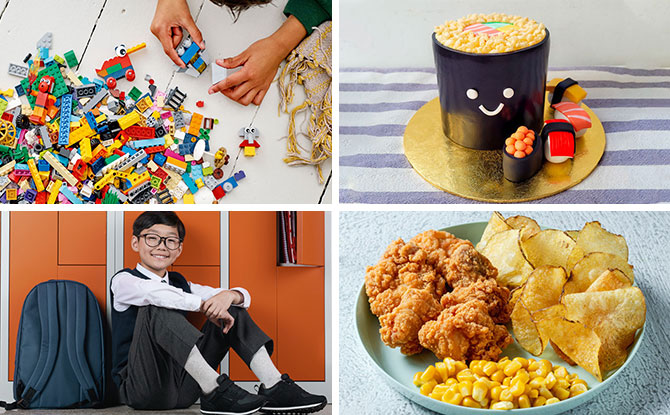 Visit Suntec City between 9 March to 9 April enjoy great rewards and exclusive vouchers! There is plenty to do at Suntec City, from building cool LEGO® structures at exclusive Make & Take sessions for Suntec+ Members on 13th and 14th March, to signing up for a parent-child cooking classes at ToTT. Enjoy dining and shopping promotions around the mall at stores like Big Fish Small Fish Cafe, BATA and ANKER Tech House. In addition, DBS and POSB cardmembers who spend a minimum amount of $125 will receive a $5 Suntec City e-Voucher and Suntec+ members can also take advantage of the Suntec City e-Voucher flash sale from 22 to 26 March!
---
-- Story continues below --
Find out more about what's on at Suntec City during the March school holidays and beyond.
---
Not So Little Fair – 18 to 19 March, Suntec City
Dedicated to families with children, Not So Little Fair is an event featured family-centric products and services, kids' entertainment, workshops, fun trial lessons and a play area for the little ones. Families can shop, play and have a wonderful time engaged in many activities in the 25, 000sqft space.
Join Tiger the Sportsman and visit the bouncy playground at his Donut Joint in the play area. Be the first 100 to RSVP to get one free child ticket to the play area. In addition, stand a chance to win $500 Shangri-La Singapore gift vouchers. There are also sure-win prizes for the little ones. Better yet, be the first 50 people to use promo code <NSLFxLittleDayOut> for an exclusive goodie bag.
Find out all about Not So Little Fair here.
---
Esplanade March On Children's Festival 2023
Get ready to explore new worlds, embark on a theatrical roleplaying game, uncover the story of a lost boy and dance together with family and friends at March On Children's Festival 2023. Esplanade's festival is back from 9 to 19 March with an exciting line-up of ticketed programmes and free activities. Read the deets here.
---
Take Part in the Marky Polo Bookset Giveaway with Tickets to Be Won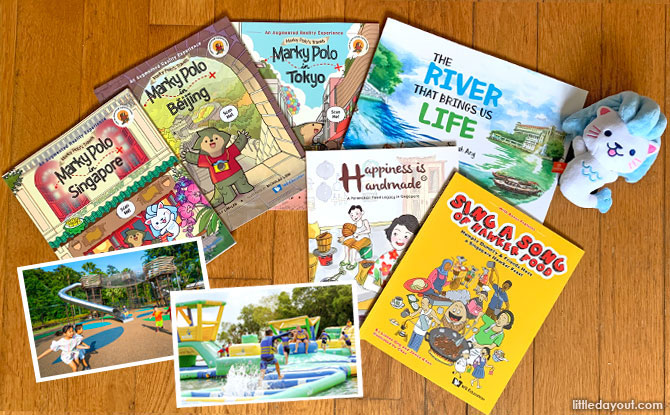 Stand a chance to win your very own copy of Marky Polo in Singapore along with other books and tickets to Nestopia and HydroDash as part of a World Scientific Education giveaway. All you need to do is answer a simple question. Take part before the giveaway closes on 19 March 2023.
---
Tasty Golf Par-Tee at The Star Vista
Designed around the theme of family food favourites, an eight-hole mini golf course has popped up at The Star Vista. It not only offers a buffet of exciting challenges, but also a feast for the eyes. Find out more details on how to go mini-golfing at The Star Vista.
---
Frozen The Hit Broadway Musical
Disney's Frozen The Hit Broadway Musical is here in Singapore! Dazzling shifting lights, thrilling iconic music, an outstanding cast of captivating characters, beautiful costumes and an amazing set showcasing the Nordic winterscape plus royal pizazz made it truly an enchanting spectacle to behold. Find out more about the Frozen The Hit Broadway Musical.
---
Peranakan Museum Visit
For some cultural learning, how about visiting the newly refreshed Peranakan Museum? Over 800 objects are on display ranging from newly acquired or generously donated objects to well-loved artefacts and set pieces. Each of the three levels is organised by a separate theme for visitors to gain a deeper understanding of the unique culture and identity of the Straits-born peoples. Find out more about the newly reopened Peranakan Museum.
---
Take a Walk at Rail Corridor North
The Rail Corridor (North) stretches from Kranji to the Rail Mall, where it connects to the Rail Corridor (Central). With its opening, this creates a 21 km corridor from Kranji MRT in the north down to Spooner road in the south. There are now over 30 access paths along the route that provide access into the Rail Corridor and 12 new access paths have been added along the Rail Corridor (North). Choose a stretch and take a walk outdoors. We also suggest that you can take the opportunity to pay a visit to Rifle Range Nature Park. Find out more about the Rail Corridor North.
---
T3 Underground Carnival Fun at Changi
Head to Changi Airport's T3 Underground Carnival which features over 30 rides, game booths and photo spots. Whether you love Old School Vibes or something futuristic, there are games and rides from different eras! Bumper cars, King of the Hammer, Dino Kart and more await visitors. The fun ends 12 April.
---
Van Gogh: The Immersive Experience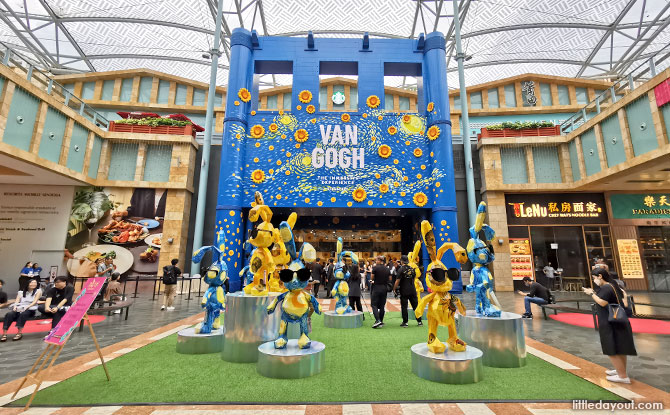 Don't miss out Van Gogh: The Immersive Experience at Resorts World Experience during the March or April school holidays. Step into Van Gogh's paintings and experience his art coming to life, accompanied by music and his quotes. Find out more about Van Gogh: The Immersive Experience.
---
Chatuchak Singapore Night Market
Miss Bangkok? Head to Chatuchak night market at Grandstand South open-air carpark. There are rows and rows of tents, spread out over 25, 000 sq ft area of space. It offers visitors a mix of retail stalls and food vendors.
---
Avatar: The Experience at Gardens by the Bay
Enter the misty world of Pandora at Avatar: The Experience at Gardens by the Bay. Get immersed into the mysterious world and meet the Na'vi tribe, the fantastical ilu creature and you can even "avatarize" yourself! Get tickets here.
---
Disney On Ice
Mickey and his Disney friends will bring the Disney stories to life on ice no less at Disney On Ice! Celebrate true friendship with the Toy Story gang, feel with Joy and Sadness from Inside Out, sail with Moana and swim with Dory and Hank! Of course, everyone's favourite ice princesses – Anna and Elsa will show their most powerful magic. Purchase your tickets to Disney on Ice here.
---
Naturi at Artground
Young audiences will love this sound installation and performance! Set in an imaginative forest, NATURI combines puppetry, sound exploration and invites families to lie back and bathe in the soundscape. Get your tickets here.
---
Mattel Playhouse at Let's Play Marina Square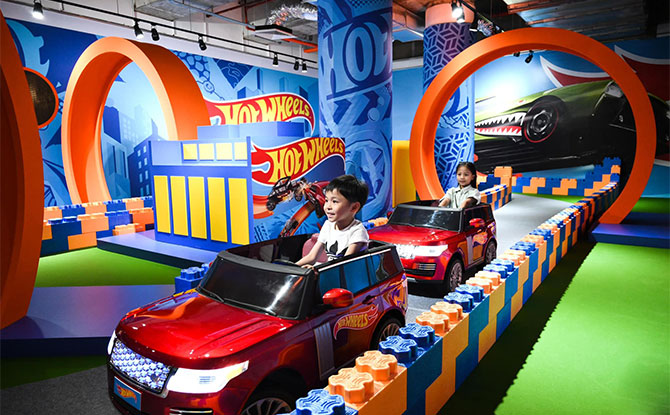 The pop-up play concept by Mattel will let families experience activities and games from their favourite toy brands. Hot Wheels, Barbie, Thomas the Tank Engine and his friends will be there to provide plenty of fun and photo opportunities. Purchase tickets here.