From 22 January to 19 February 2021, pay a visit to 32 participating museums, heritage institutions and galleries and collect a set of unique and cute Year Of The Ox red packets.
---
Museum Roundtable Lunar New Year 2021 Hongbaos
Each museum, heritage institution and gallery will be giving away specially designed hongbaos which have been themed to their institution. For example, the red packet design for the NEWater Visitor Centre features Water Wally and the one for the HDB Livingspace Gallery features the HDB-designed Dragon Playground. National Gallery Singapore's design features a bull with a painter's palette and the Sustainable Singapore Gallery's design has a bull flying a kite at Marina Barrage's Green Roof.
These red packets come in packs of eight pieces.
Avid hongbao collectors will be pleased to know that this year, three new museums have been added to the list of museums participating in the Museum Roundtable Lunar New Year hongbao campaign. These three institutions are the Private Museum, the Singapore Botanic Gardens Heritage Museum and CDL Green Gallery and the Kwong Wai Shiu Hospital Heritage Gallery.
---
QR Code Scavenger Hunt to Collect All Museum Red Packets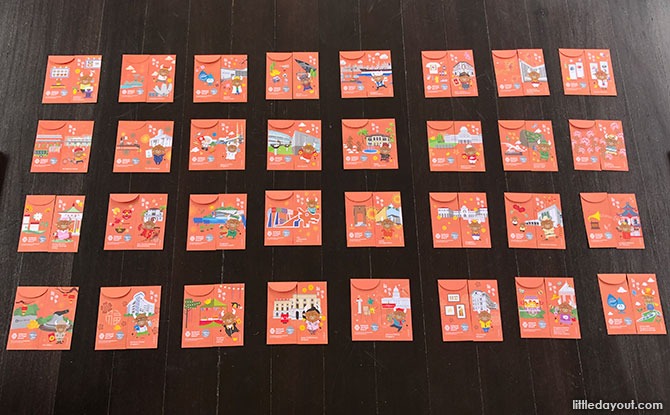 In addition, to celebrate Museum Roundtable's 25th Anniversary, the National Heritage Board will also be launching a QR Code Scavenger Hunt in conjunction with the Museum Roundtable's hongbao campaign.
To participate in the QR code scavenger hunt, participants must visit each participating museum or gallery to collect the Year of the Ox red packets. With each set of Year of the Ox red packets collected, there will be a leaflet printed with a QR code. Visitors can scan the QR code for a chance to win a limited edition box set of all 32 designs from the participating museums.
All QR codes also contain specially designed Lunar New Year greeting gif which can be saved and sent to family and friends.
---
Giveaways
There will also be two online giveaway of 50 Museum Roundtable hongbao box sets. The giveaway will be hosted on "I Love Museum's" Facebook page. The first giveaway will be from 22 to 25 January 2021. The second giveaway will run from 28 January to 8 February  2021.
So, if you are looking for cute Year of the Ox hongbaos for the Lunar New Year season, charge on down to the museums, galleries and heritage institutions to collect them all!
More information and redemption details can be found here.