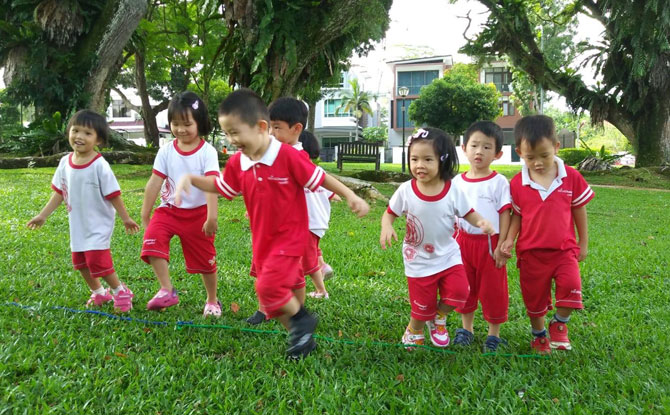 When we visited MindChamps PreSchool @ Upper Thomson, the Chinese language teachers were busy preparing activities for the upcoming Love for Chinese Immersion Programme. The programme, which takes place during the term break, is run by the Chinese teachers to complement the Centre's regular Chinese curriculum.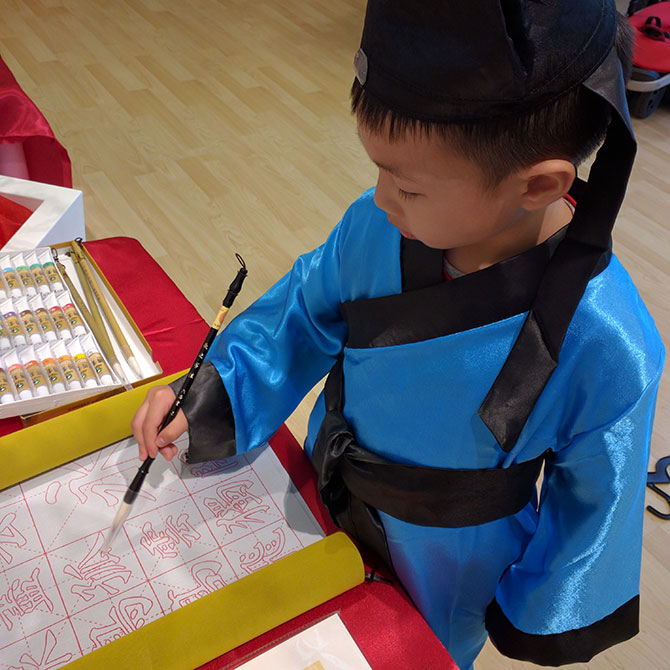 Since the Centre first started the Love for Chinese Immersion Programme in 2015, some of the activities which children have been exposed to include calligraphy, acting and poetry. The upcoming programme is set to include Chinese idioms, tea appreciation and Chinese etiquette activities.
Activities Tailored To Different Ages
As the Centre has children from Play Group to Kindergarten 2 levels, the Chinese Immersion Programme activities have to be tailored to different ages. For example, during poetry-themed activities, Champs in Nursery are taught to recite simple verses while K1 and K2 Champs are challenged to compose their own poems.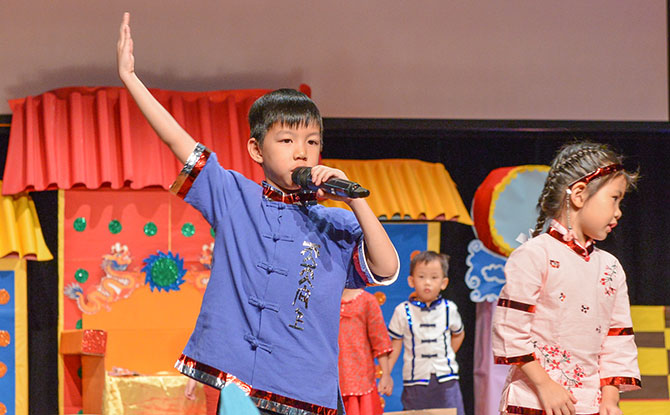 The highlight of the immersion programme is when parents get invited to watch the Champs demonstrate their new-found Chinese language skills.
"These special term break enrichment activities help the Champs interact with Chinese in multiple ways, deepening their interest and love for the language," explained Ms Chew Shu Bee, Principal of MindChamps PreSchool @ Upper Thomson.
Such special programmes reflect the Centre's commitment to go above and beyond, making the curriculum come alive for the Champs.
A Robust Curriculum Rooted In Scientific Study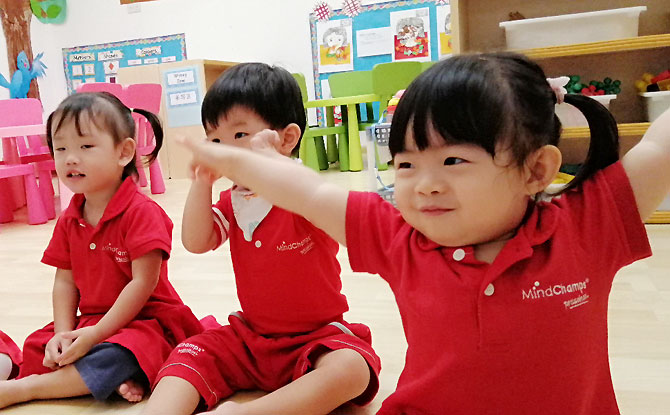 At MindChamps PreSchools, children benefit from the 3-Minds Model which is made up of the Champion Mind, the Learning Mind and the Creative Mind.
The Champion Mind celebrates each Champ's uniqueness and his or her ability to overcome adversity and achieve success. The Learning Mind cultivates each Champ's ability to synthesize information and concepts, and the Creative Mind focuses on how to generate fresh, new and creative ideas.
The 3-Minds Model is implemented through a S.M.I.L.E.S. (Sensory, Motor, Intellectual, Linguistic, Emotional and Social) curriculum, and a nurturing environment based on 100% Respect and Zero Fear.
Developing the Champion Mindset
This approach is demonstrated through the regular activities at MindChamps PreSchool @ Upper Thomson.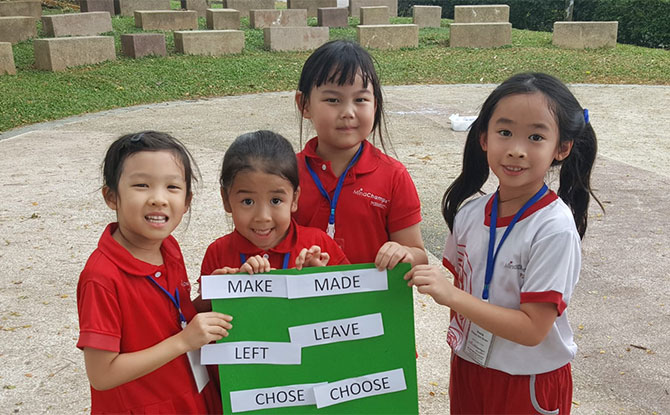 Each week, the Champs get to visit a nearby park for outdoor learning and playtime. The teachers take the opportunities to incorporate learning into the outdoor activities.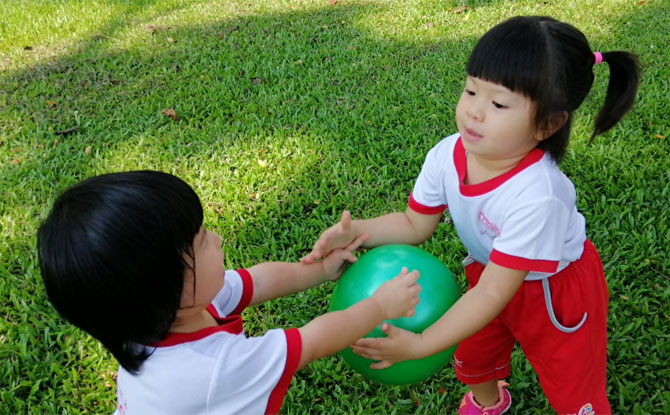 For example, Champs get to play telematches and engage in a spot of friendly competition. These activities provide teachable moments where Champion Values like integrity, "embracing setbacks as setups" and being compassionate are impressed on the Champs.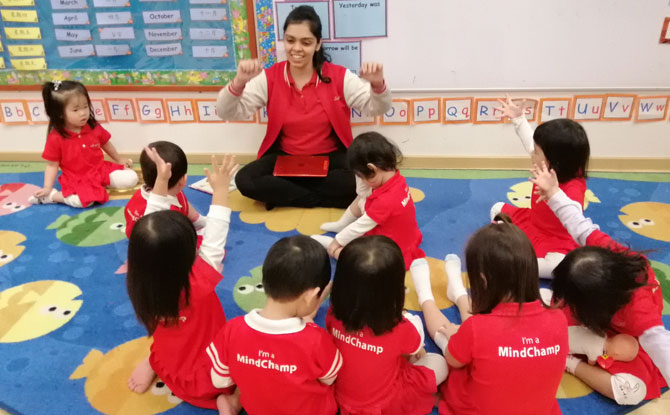 Back in the classroom, Champs at MindChamps PreSchool @ Upper Thomson also get to develop their confidence through weekly Show & Tell sessions, being encouraged to speak up or even saying something as simple as "Hello" to their friends and teachers in the mornings.
"We do this all for the Champs," said Ms Chew, referring to the additional efforts which she and her teachers put in. And this has not gone unnoticed. MindChamps PreSchool @ Upper Thomson has Champs come from as far away as Hillview and Punggol to attend the Centre.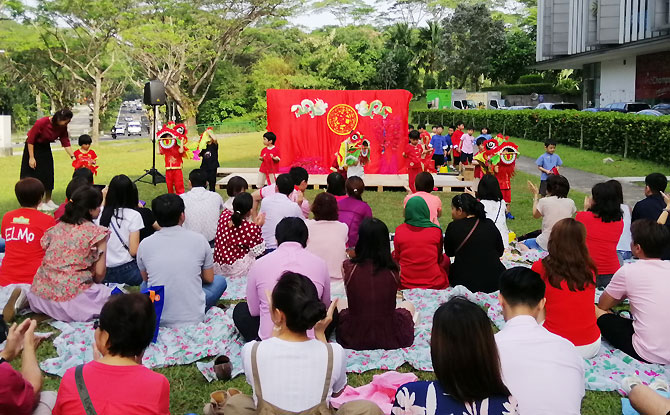 "Parents usually hear about us by word of mouth. After paying us a visit, understanding the curriculum and the lengths we go to make both them and their children feel assured, they choose to send their children here," said Ms Chew.
"We want the Champs to treat us like their second home," she added.
And this is what drives MindChamps PreSchool @ Upper Thomson to go above and beyond.
Book a Visit
If you also wish to find out more about what MindChamps PreSchool @ Upper Thomson can offer your child, book a visit by contacting the Centre at 6552 1032. Alternatively, you can book an appointment online here.
MindChamps PreSchool @ Upper Thomson
Address: 9 Tagore Lane, #01-08, 9@Tagore, Singapore 787472
Contact: +65 6552 1032 / +65 9127 0985
School Bus Available
Website
This feature is brought to you by MindChamps PreSchool.