Enjoy the rich taste of Hershey's chocolate at McDonald's Singapore's outlets and Dessert kiosk from Monday, 23 September 2019 with Hershey's Cone, Twist Cone and ChocoCone.
McDonald's Hershey's Soft Serve in Its Different Variations
Available after breakfast hours, the trio of Hershey's Soft Serve Cones are available from $1.40, with the exception of the ChocoCone which is available from $1.60.
If Hershey's Soft Serve Cones don't do it for you, how about Sundae and McFlurry versions instead?
The Hershey's Soft Serve in a Sundae with fudge on top is available from $2.40.
---
-- Story continues below --
McDonald's Hershey's McFlurry – Hershey's Soft Serve with chocolate fudge mixed with Oreo cookie bits – is available from $3.20.
During this period of time, regular Vanilla Soft Serve desserts will be available exclusively at McDonald's Dessert Kiosks.
Ready, Get Set … Vouchers up for Grabs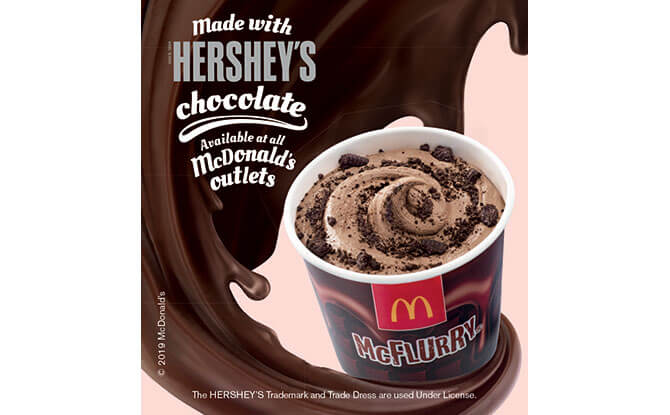 For three days, from 20 to 22 September 2019, a total of 2,700 cups of Hershey's McFlurry will be up for grabs.
On all three days, the bus stop advertisements at three designated bus stops will open up and there will be Be-Our-Guest cards, i.e. gift vouchers, up from grabs. These vouchers will be redeemable at all McDonald's Singapore restaurants from 23 September.
The three bus stops are:
Bus Stop 08057 – Dhoby Ghaut Station at Orchard Road
Bus Stop 66359 – Serangoon Station Exit C / Block 201 at Serangoon Central
Bus Stop 28301 – Jurong Gateway Road Block 131 at Jurong Gateway Road
Good luck, if you are planning to try to get one of these Be-Our-Guest cards.