Heads up, mums and dads with young ones! Suntec City is sporting a younger and snazzier look with its multi-million dollar makeover in its final phase. And you'll be spoilt for choice with new family-friendly venues to not just shop at, but to hang out and dine at. Little Day Out zoomed in on the latest kid-friendly restaurant at the revitalised East Atrium where Tower Three houses Marché Mövenpick Suntec City.
At over 1,000 square metres, this third Marché restaurant in Singapore is an ultimate feast for the senses and an absolute winner for parents with kids. Here are five great reasons why we think this Marché restaurant is a top pick for kids.
1. Welcome to Picky's World
Right at the entrance, a table dedicated entirely for kids is decked out with a Picky Kids Meal Menu and kid-friendly cutlery to welcome families. What's more, there are colouring sheets and craft sets featuring Marché's mascot – Picky, the baby seagull – available free of charge for every child. Brilliant idea to engage kids from the start, we say! Can't finish the craft or food? No worries, you can take them away in a Picky Kids bag to complete the experience.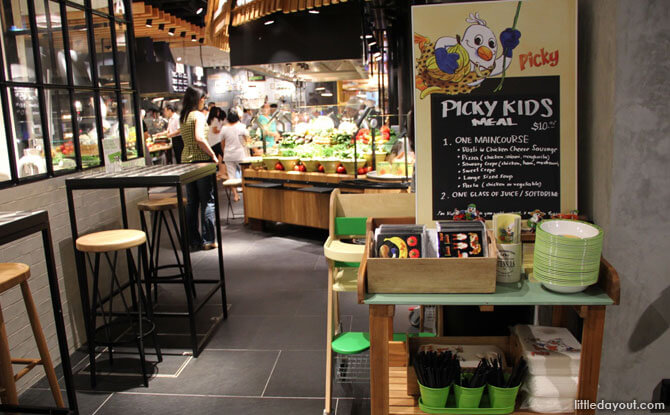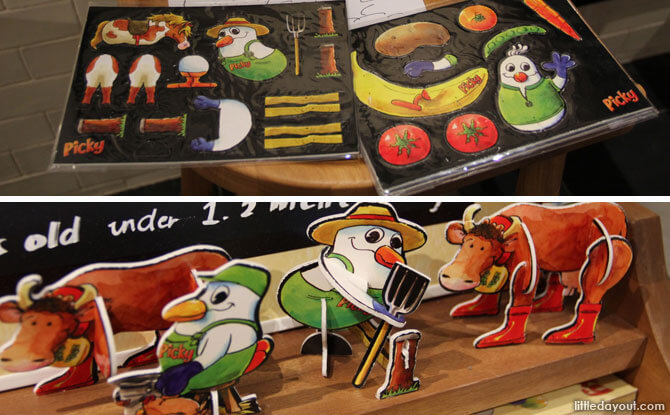 2. Tray Holder Cum Baby Chair Cum Stroller
This is a great invention. We don't know what to call it, but it functions as a tray holder, a baby chair and a stroller all rolled in one. Thoughtfully situated just behind the kids' welcome table at the entrance, this three-in-one stroller allows you to easily stroll your way through the restaurant with your babe in style.
More fancy baby chairs await within the restaurant. And kudos to the waiter whom we saw swinging by and offering a baby chair to a couple with a babe in arms just as they were seated.
3. Classroom in European Market Setting
Your child gets the firsthand and bird's eye view of the bustling European market atmosphere. Hear the stallholders calling out to you, experience the preparation of ingredients live at each market stall and absorb the aromas as you witness the chefs in action.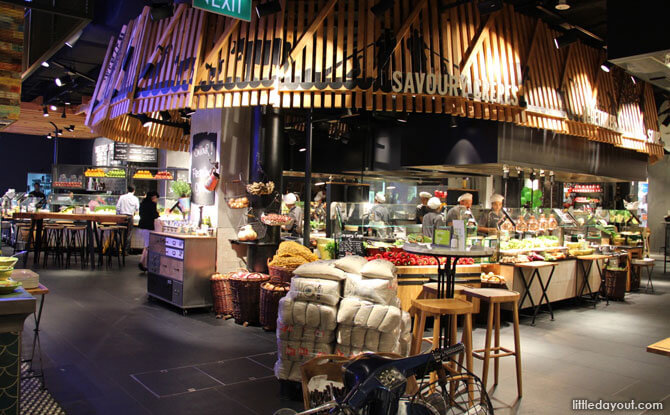 Point out to your kids the raw, natural ingredients on display, including raw oysters and a seafood bar, watch the cooking demonstrations and show them the final product right before their eyes. There is even an in-house bakery with full views of the bread making process.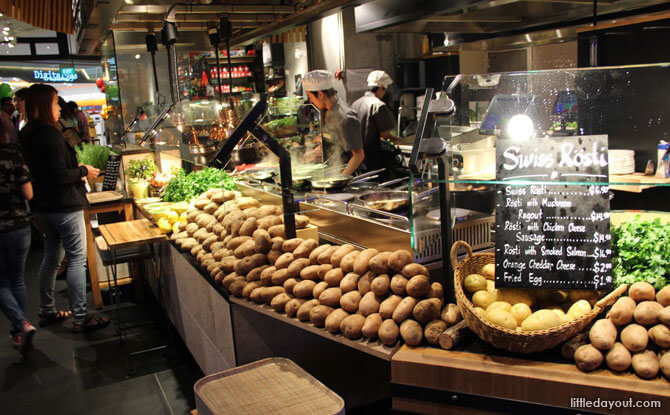 Around the restaurant there are more sights to behold. Motorbikes serve as cutlery holders and there's even one with bar top counter seats.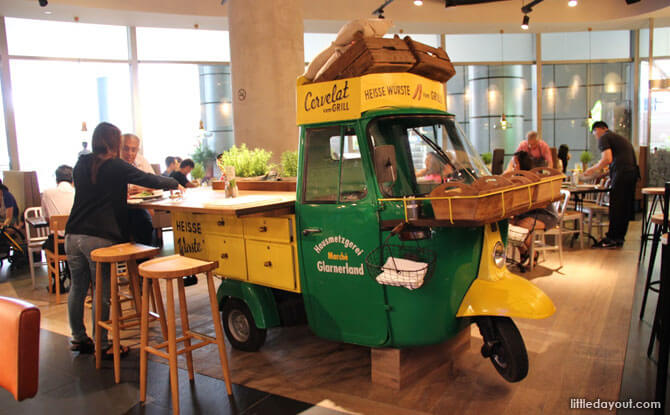 A map of European nations on the wall educates us on the origins of the various delicacies.
At another section with the Swiss Alps as the backdrop, you can almost imagine you're cozily dining atop a Swiss Alpine ski resort.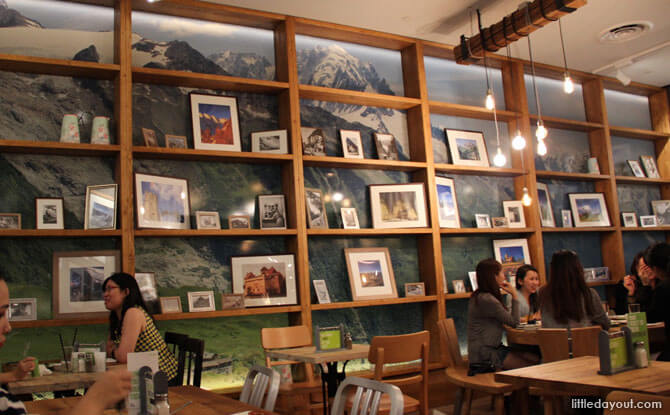 4. Picky Kids Meal
Marché takes pride in serving up healthy nutritional food cooked right in front of you. For $10.90+, kids get to choose from the same fresh market selection (homemade pastas, paper-thin, crispy pizzas, and sweet or savoury crepes) and get a customised main course with a drink.
Not that we needed more assurance, but a large homemade sign on the wall tells us we're getting things fresh and handcrafted.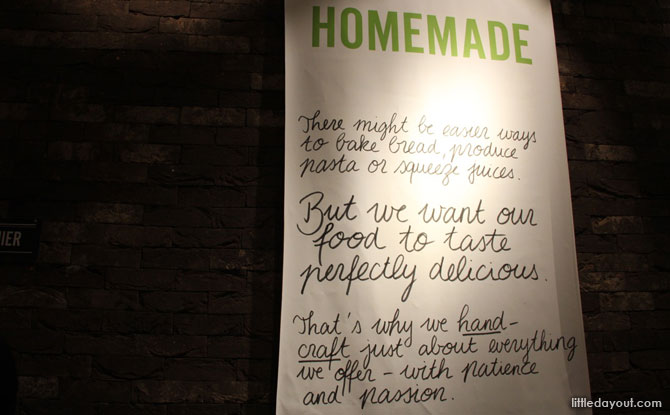 5. Windmill Themed Kids Corner
You may not notice it, but the kids surely will see it and make it the highlight of their Dutch adventure. Tucked into a little cosy corner is a nifty kids' double-storey windmill themed play area. There's a mini-bridge, a stairway to a cub scout hideout on the second floor and it's entirely up to the kids' imagination what they could within this magnificent space, almost twice as large as the kids' corner over at Marché Somerset 313.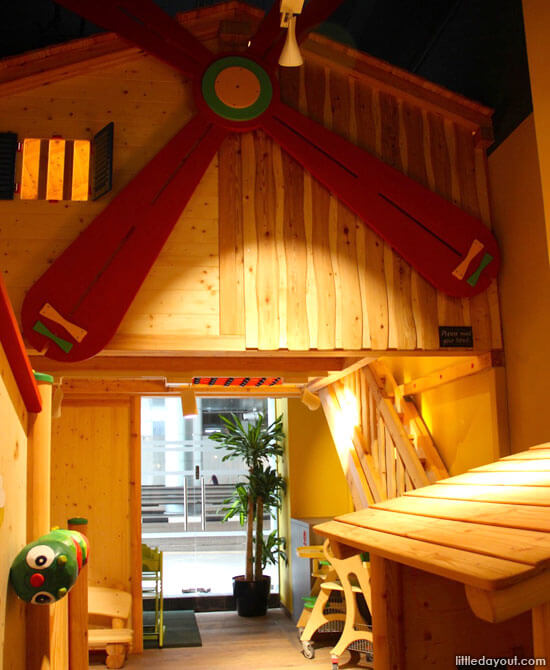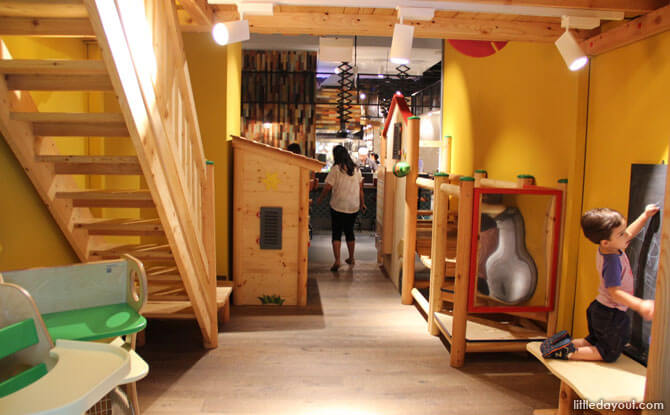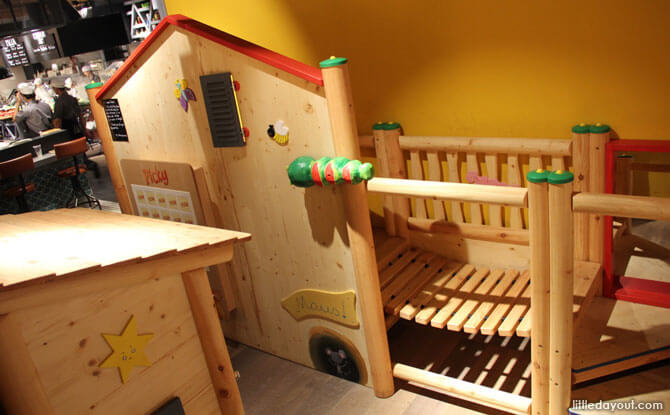 Look out too for the microwave at the Baby Service Station right next to the kids' corner waiting to warm up that milk or meal for your child. Careful thought has certainly gone into the making of this Marché restaurant a family friendly dining destination!
Address: 3 Temasek Boulevard #01-612 to 614, Suntec City (Tower 3), Singapore 038983
Opening Hours:
Restaurant – Daily: 11.00 am to 11.00 pm
Bakery & Coffee Bar / Take Away – Mondays to Fridays: 8.00 am to 11.00 pm, Weekends and Public Holidays: 10.00 am to 11.00 pm