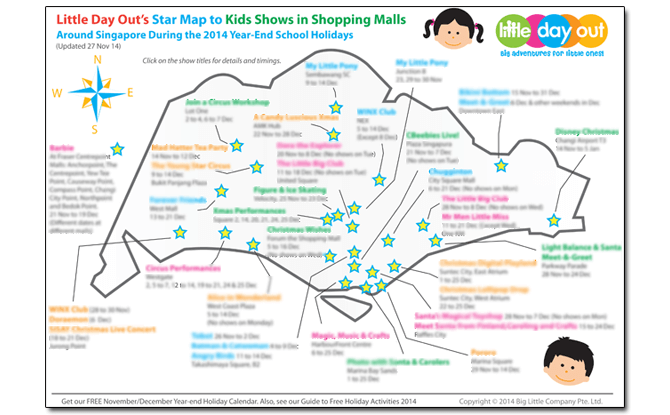 It's showtime!
At the shopping malls at least.
With many shopping centres around Singapore staging free shows to entertain the kids, what other excuse do you need to head down to shop and keep the children occupied at the same time?
There are plenty of Christmas shows featuring your child's favourite characters, and even workshops and related craft activities available around the shopping malls.
What to know what shows to catch and where you can find them? Little Day Out's free, downloadable annual Star Map to children's shows at the shopping malls around Singapore is your go-to guide. At a glance, get an overview of what is taking place, where and when. It is also clickable so all you have to do to find out more information is simply tap on the map to be linked to more detailed information immediately.
Also be sure to check out other child-friendly activities on our Little Day Out Year-end Holiday Page and download our Little Day Out Year-end Holiday Calendar 2014too.
We keep you in the know about the best events and activities for the December School Holidays.
The various event dates and details are as accurate as possible. However, do bear in mind that things do change. You may wish to double-check the dates and times of the various events closer to the date to avoid disappointment – especially for those which have limited capacity.
Get your FREE download of Little Day Out's Star Map to Shopping Centre Shows Around Singapore 2014 below.
Happy holidays!
For more on what to do this November/December holidays with your kids, be sure to visit our Year-end Holiday Guide Page!