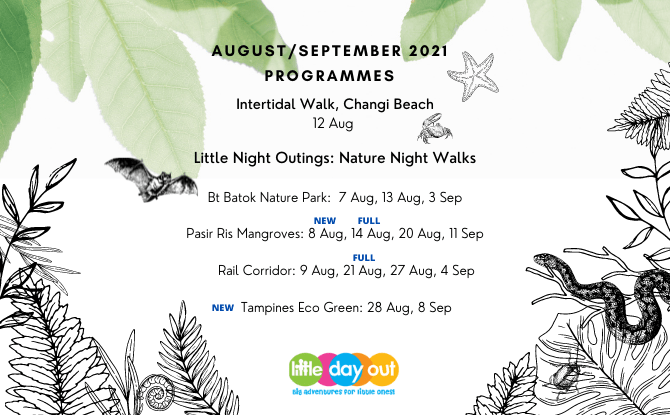 Whether it is a Little Day Out or a Little Night Out, you can take your pick this August and September.
Join us for an Intertidal Walk Little Day Outing and Little Night Outings at various nature parks including a newly-launched walk at Tampines Eco-Green. There are various dates to choose from, take your pick from the opportunities to learn and explore.
---
Little Night Outings: Nature Night Walks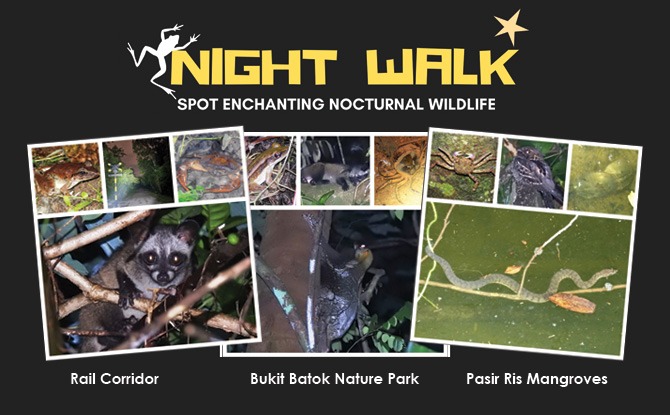 Fancy an adventure in the dark? Come join us for a Little Night Outing where we explore three parks around Singapore to spot nocturnal wildlife! Suitable for curious beings four years and above, it will be an exciting little night out!
---
-- Story continues below --
<SIGN UP for the Little Night Outings HERE>
Bukit Batok Nature Park
7 August, Saturday
13 August, Friday
3 September, Friday
25 September, Saturday
2 October, Saturday
Pasir Ris Mangroves
8 August, Sunday
14 August, Saturday
20 August, Friday
11 September, Saturday
17 September, Friday
Rail Corridor
9 August, Monday
21 August, Saturday
27 August, Friday
4 September, Saturday
18 September, Saturday
24 September, Friday
Tampines Eco Green (NEW!)
28 August, Saturday
8 September, Wednesday
Time: 7.20 pm to 9.30 pm
For more details on what you can expect and what kind of creatures to spot, click here.
Hurry! Spaces are filling up fast so <SIGN UP for the Little Night Outings HERE NOW!>
---
Little Day Outing: Changi Beach Intertidal Walk
Have fun learning about marine life at the outdoor classroom at Changi Beach. Join us on 12 August 2021, a "low-tide" day that is perfect for an intertidal walk!
The intertidal zone and its inhabitants will be exposed for a rare window, for us to spot crustaceans like crabs, sea stars, sand dollars, molluscs, worms, corals and sponges! This magical zone is rich in marine biodiversity and the creatures you find are toughest of its kind as they are able to withstand heat and, wet and dry conditions.
Little Day Out's Changi Beach Intertidal Walk
Date: 12 August 2021, Thursday
Time: 7.00 am to 9.00 am
Venue: Changi Beach
<SIGN UP HERE>
---
Love what we are offering but can't make it this time round? Keep your eyes peeled on this page or register your interest with us below for our next adventure!