Dazzling light shows and glittering Christmas decor make up the magic of the Christmas season.
From the best places along Orchard Road to view Christmas lights, to the most entertaining light and sound shows for the whole family, as well as all the fun activities in between, here's our shortlist of the best lights of Christmas 2015.
Merry Christmas from all of us at Little Day Out!
Marina Square: The Christmas Village
Marina Square shopping mall's Christmas Village is a five-minute light and sound show. Look out for the animated toy soldiers and the rotating 8m-tall Christmas tree decked in red and gold baubles and lights.
20 Nov to 27 Dec, 7 pm, 7.30 pm, 8 pm, 8.30 pm & 9 pm
City Square Mall: Christmas with SpongeBob SquarePants
Dive into the sea with City Square Mall's SpongeBob SquarePants playland and show, from 20 Nov 2015 to 3 Jan 2016.
In the live show, SpongeBob prepares to celebrate with the Krabby Patty burger, and everyone is invited to the party! From 5 to 20 Dec (except Mondays), SpongeBob and his best friend Patrick Star will amuse the young ones with their antics.
The outdoor SpongeBob Playland offers festive fun for the whole family, with SpongeBob's cosy Pineapple House, his bouncy castle Super Bouncer, train rides, and games and activity stations.
Explore the Christmas market at Santa's Bazaar, where you can take in the festive goodies and handicrafts, while doing your part for charity.  Don't miss the light shows and snow play sessions!
Gardens by the Bay: Christmas Wonderland
At 20 metres tall, the Spalliera is the largest Luminarie this year.
The spectacular Supertrees are dazzling in their special Christmas edition of the "Garden Rhapsody" light and sound show, to sounds of familiar Christmas tunes.
Meanwhile, the Luminaries Light Sculptures, handmade from white wood by skilled craftsmen from Italy, cast their colourful light all across Gardens by the Bay – all 56 pieces of them.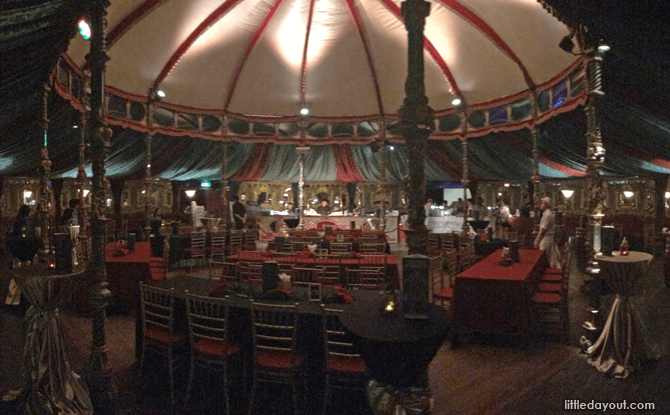 Christmas Wonderland includes an European-style festive market with game stalls, a vintage carousel, and funfair rides at Gardens by the Bay.
Snow "blizzards" will also take place at least three times a night, in addition to Christmas parades and choral or theatrical performances.
Find out more about Christmas Wonderland in our walkthrough here.
Christmas Lights along Orchard Road
Ion Orchard and orchardgateway shopping malls were named the best-dressed buildings in 2015.
Ion Orchard won the Judges' Choice Award in the Best-Dressed Buildings Contest 2015.
Ion's decor, with its "Christmas Bedazzle" theme, is a glittering confection of 28,000 crystals dotting a stunning outdoor Swarovski Christmas tree.
Meanwhile, orchardgateway clinched the Voter's Choice Award with its "An Icicle Xmas" theme.
Tanglin Mall chimes in with Christmas decorations resplendent with larger-than-life toy soldiers and a candy-cane castle, and a wintry townscape. Don't forget the popular snowfall sessions here!
Universal Studios: Lights and Fireworks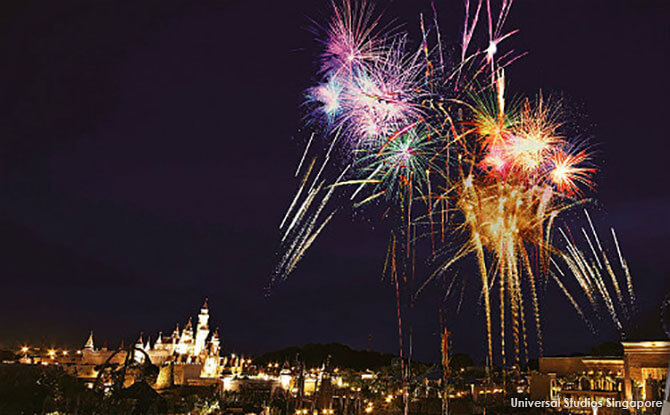 Universal Studios Singapore's Christmas offerings include fireworks, light shows, and snowfall.
A dazzling fireworks display set to a festive score (12, 19 to 29 Dec 2015) will wrap up a festive night.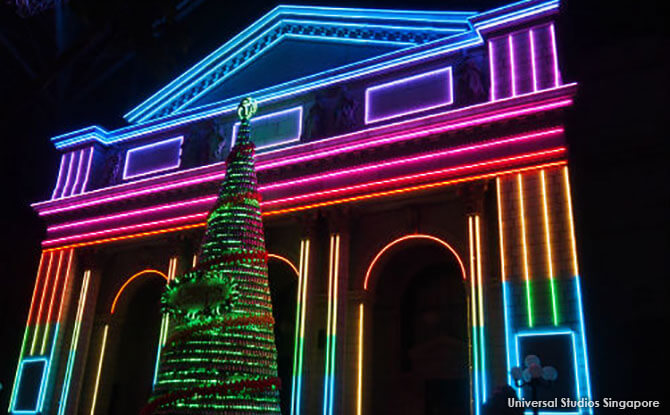 New York Public Library puts on a funky Dancing Christmas Lights Show where colourful lights 'dance' to the music.
Visitors can also travel back in time and celebrate a Victorian Christmas, as snowy Sting Alley in Universal Studios Singapore is transformed into 19th-century England.
For places where you can find snow in Singapore this Christmas, click here.