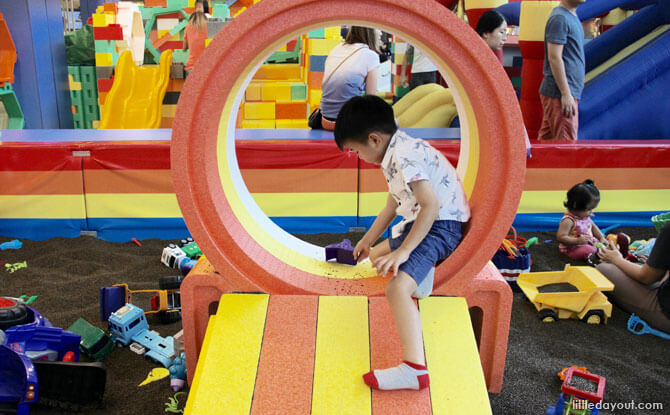 Jump, dig, build and create – there is lots of fun to be had at the Happy Castle playground, located at The Seletar Mall.
Opened in October 2017, this indoor playground in the north-east – yay for Sengkang and Punggol residents – is one of Happy Castle's multiple outlets in Singapore.
There is much to do at Happy Castle, The Seletar Mall. Activities range from a cassia-seed playground to a ball pit to an art-and-craft zone. Parents are allowed to enter too and socks for kids and adults are available for free.
Bounce Into the Ball Pit
The first zone that greets you at Happy Castle is a pit full of balls, gleaming like big bubbles. Kids love to throw themselves and "swim" in a ball pit, so you'll find squealing children having a great time here.
---
-- Story continues below --
An added bonus – the banana boat-looking rocking toys are great for groups of kids and interactive play. They attract kids to have fun together and rock to their hearts' content, like a see-saw at traditional playgrounds.
Cassia Seed Playground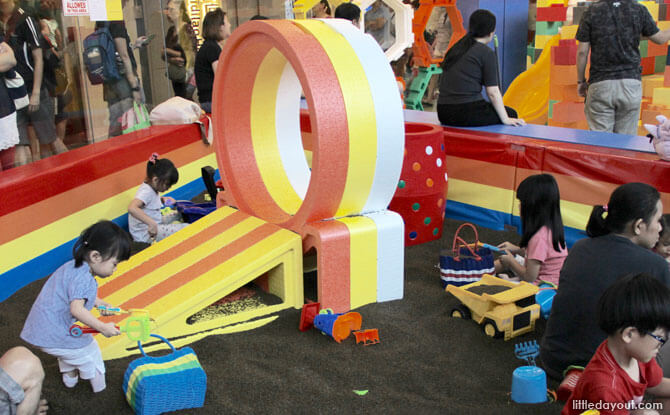 Known also as "jue ming zi" in Chinese, cassia seeds are commonly used in Chinese medicine to treat eye infections and help with weight loss. It is said that pillows filled with cassia seeds help improve the quality of sleep too.
Lots of sand toys are available at Happy Castle's cassia seed playground, from spades to buckets and funnels. Kids get to learn about physics and cause-and-effect by pouring seeds through spinning-wheel towers and other toys.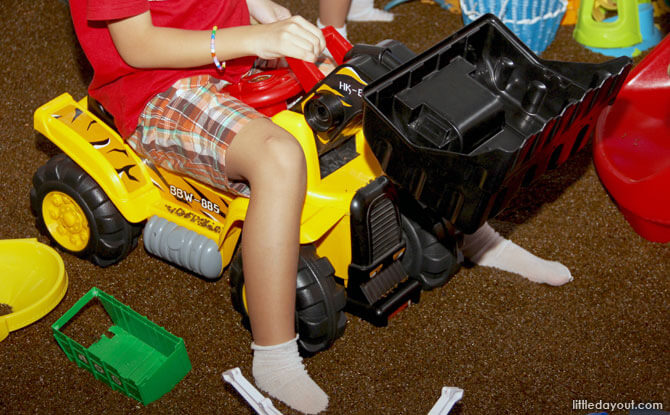 Train motor skills and coordination with ride-on excavators, as your child figures out how to scoop up seeds.
Younger children and toddlers will find this play zone a welcomed area as the seeds are only ankle-deep.
There is also a toy kitchen at the corner for role play. Cassia seed stew, anyone?
Happy Bouncing in a Bouncy Castle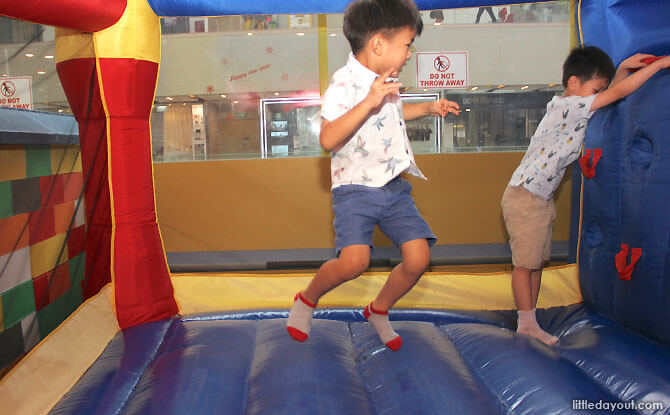 Jump, climb, slide; jump climb, slide – rinse and repeat. Watch as kids bounce to their hearts' content at this bouncy castle, and make friends with fellow bouncers.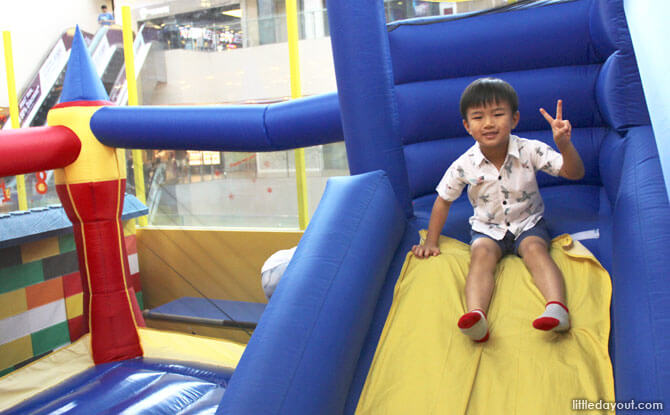 A slide allows them enjoy some whooshing fun. Expect to spend a fair amount of time here, particularly for kids who love physical activity.
Bricks Land
Climb up to this giant-brick structure and storm the castle! The short slide is a fun activity for both older and younger kids.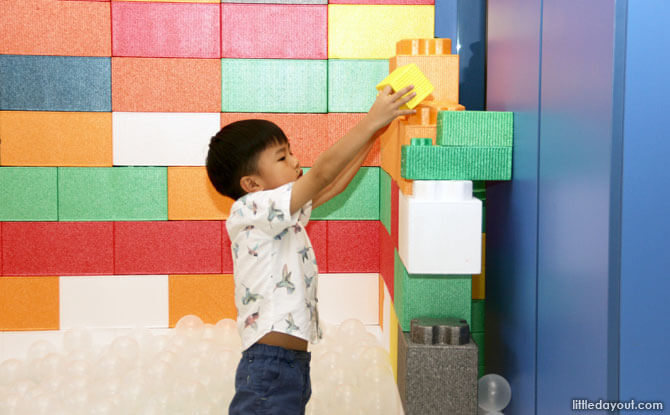 Kids can create their own life-size "castle" with giant bricks. Colourful and fun, the bricks are large and easy for young children to handle.
Let your imagination go wild.
Art and Craft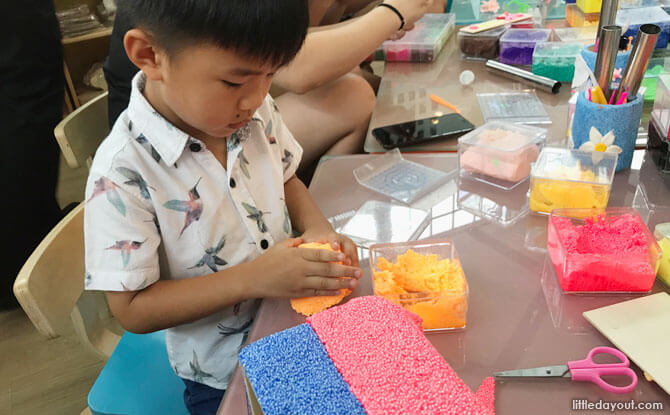 After your time at the playground, head to the art zone for some winding down activities. Pick from a variety of craft here – from bead craft to foam craft.
Our little one was attracted to the neon colours of the foam art and wanted to decorate a wooden tissue box.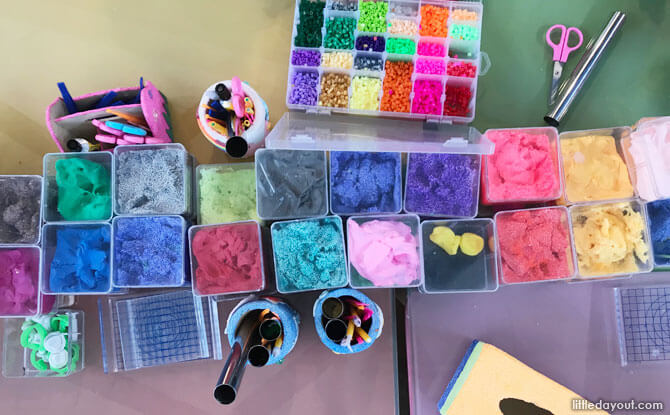 The mission was to coat the box with a design of your own.
The sticky, tacky mixture felt like crunchy slime, filled with tiny styrofoam beads. Roll and knead thin sheets out of the foam dough to create your personalised design.
This craft cost $18. Bead crafts start from $5 for a bracelet.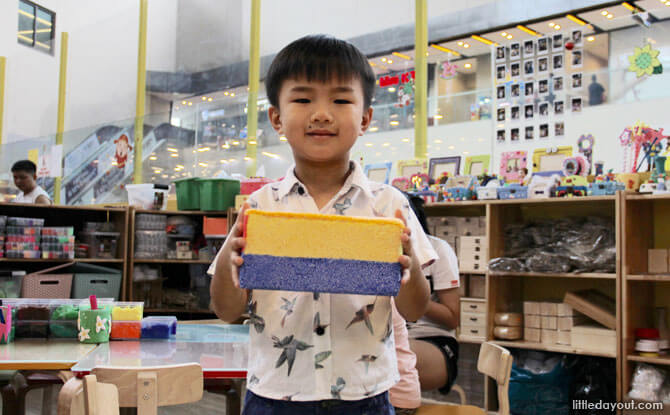 Mission accomplished! He is very proud of his design (with lots of help from mum) – the choice of colours is all his.
Something to bring home after a fun little day out.
Happy Castle, The Seletar Mall
Address: 33 SengKang West Ave, #03-K1/K2/K3, Singapore 797653
Website
This feature is brought to you by Happy Castle.