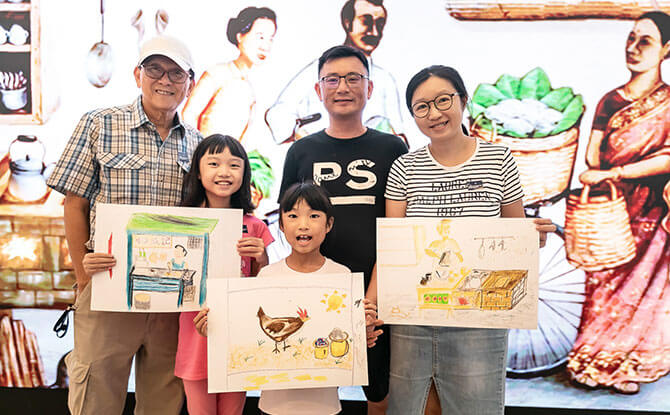 As the saying goes, it takes a village to raise a child and on Grandparents Day 2019, we honour some of the most important people in that village – grandparents. This year, Grandparents Day 2019 in Singapore falls on 24 November.
There aren't that many organised activities and events which celebrate Grandparents Day 2019 in Singapore – which we think is a bit of pity. Nonetheless, that should not stop you from taking steps to make it a special day for grandparents.
It could be a simple card or meal. Nothing goes unappreciated.
If grandparents are up to spending a day out with their grandkids, here are some activities taking place around Singapore in conjunction with Grandparents Day 2019.
---
-- Story continues below --
---
Grandparents' Day 2019 at National Museum of Singapore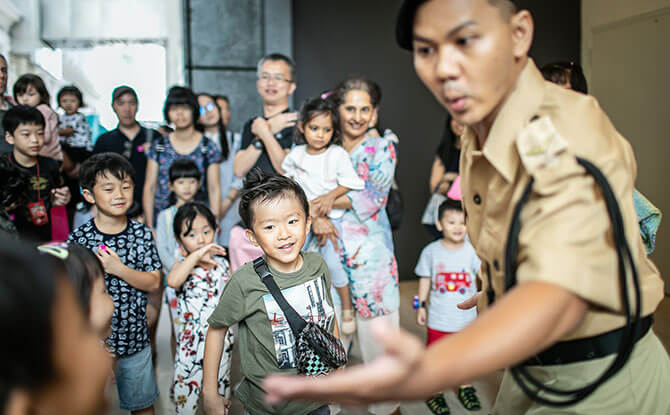 There will be performances, film screenings, character tours, inter-generational workshops and more at National Museum of Singapore for Grandparents Day 2019. Rediscover Singapore's past together at the "What's Your Toy Story" showcase, view an art showcase by Seniors or tour the exhibition "An Old New World" together. There will be inter-generational art jamming, family-friendly tours, storytellings and a drop-in "Grandparents' Day Card" craft activity too. More details are available here.
---
Grandparents Day at Short Street
Have fun-filled morning of inter-generational bonding with vintage car rides, health and wellness group activities, community performances all while supporting a social cause at this Grandparents Day celebration. Celebrate Selegie's rich heritage at Short Street at 9 am on Sunday, 24 Nov 21. More information here.
---
Xinyao Concert at Our Tampines Hub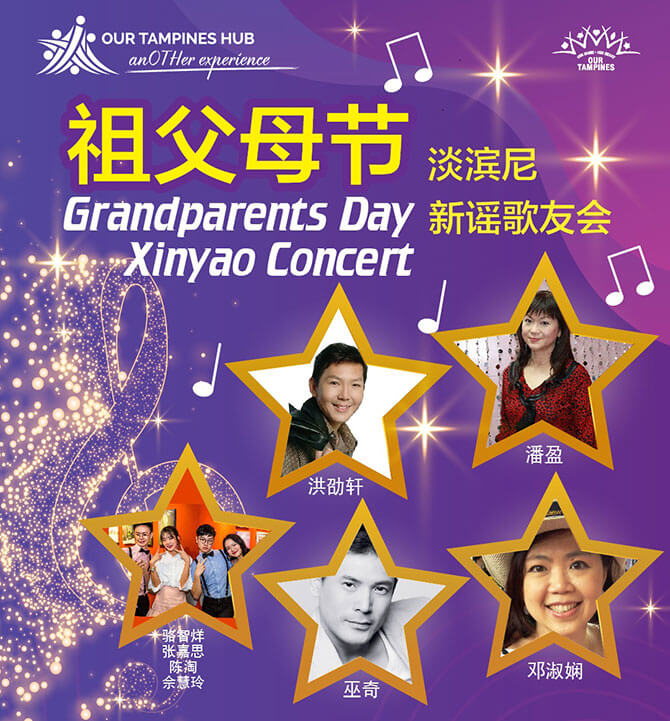 In celebration of Grandparents' Day this weekend, Our Tampines Hub is hosting a Xinyao Concert with local popular artistes performing Singapore's nostalgic mandarin ballads of the 1970s and 1980s. To be held on Saturday, 23 November 2019, the Grandparents' Day concert is expect to attract about 5,000 visitors as they take a walk down memory lane at the Xinyao Concert.
Local xinyao performers like Deng Shuxian (邓淑娴), Alan Moo (巫奇), Pan Ying (潘盈) and Hong Shaoxuan (洪劭轩) will be singing popular songs such as "A Step at a Time" (一步一步来) and "Encounter" (邂逅) which became the first xinyao song to make it to the Mandarin pop song ranking chart "Pick of Pops" (新加坡龙虎榜). Free tickets are available for collection at the Public Service Centre from 9 am to 10 pm daily, while stocks last. Get more information here.
---
Grandparents Day Promotion at Changi Experience Studio
Visit Changi Experience Studio as a three-generation family and enjoy free entry for the grandparents! Grandma and grandpa can also share with young ones about their memories of Changi Airport and its predecessors. This promotion is valid for entry into Changi Experience Studio from 19 to 30 November only. In order to enjoy this Grandparents Day 2019 promotion, you will need to purchase at least one adult and one child single ticket and enjoy admission for up to 2 seniors (age 60 and above). More details can be found here.