Ready for an adventure? The Fort Canning Park Adventure Quest is possibly the most challenging one that we have done so far. The "conquest" of the Forbidden Hill takes stamina, patience and trials, unless you choose the easier route of peeping at the answer sheet of course. If you are one of the brave warriors eager to attempt this quest, be armed with lots of liquids, insect repellent and sunblock. There is a fair bit of walking to do!
---
Adventure at Fort Canning Park
We started at the lower part of the hill and then progressed to the top. We have been to Fort Canning Park a few times, but never went ventured beyond the usual haunts. This Adventure Quest got us visiting places we never knew about such as its themed gardens.
Given how Fort Canning Hill is of such historic significance, there was much to learn on this Adventure Quest.
---
-- Story continues below --
Fort Canning Hill was known as Bukit Larangan in the past, also called Forbidden Hill. It was once the centre of ancient Singapura in the 14th century, with a palace of major significance, it then became a British fortress in the 19th century.
Archaeological digs have revealed "Temasek" as a site for royalty, trading activity and then homes to the British governors during colonial times.
The main attractions of Fort Canning include Fort Canning Green, right in front of Fort Canning Centre, Asean Sculpture Garden, Spice Garden, Artisan's Garden, Sang Nila Utama Garden, Raffles Garden, Old Married Soldiers' Quarters, Battle Box, Pancur Larangan and of course Jubilee Park. The Adventure Quest will bring you to several of these spots. (Hint: spots are listed on the Adventure Quest map)
---
Tackling Checkpoints 1 to 3
Checkpoint 1 brought us to a spot that transported us "back in time". It got the boys searching all over, looking for things big and small. It was a bit surreal being in a garden which looks like it could have passed off as a spot overseas.
Checkpoint 2 was easily located. But the answer to the puzzle isn't so obvious; do walk around the area to find the answer. It was more literal than we interpreted it to be!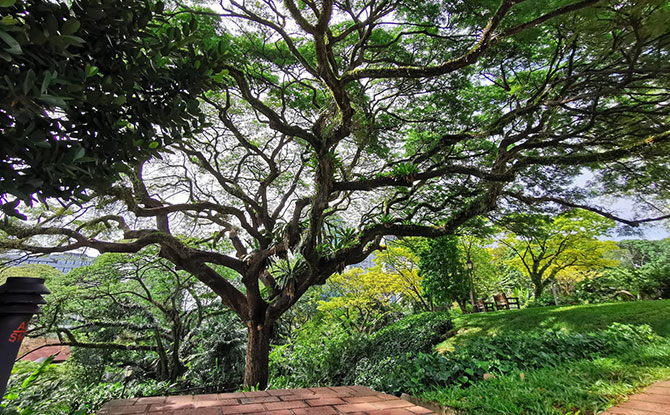 Do look out for the massive heritage trees in the area. The beautiful raintree must have been there for centuries and witnessing all the changes in the area where it was planted.
Checkpoint 3 is an obvious one, kids particularly boys, will want to interact with the exhibits.
---
Checkpoints 4 to 6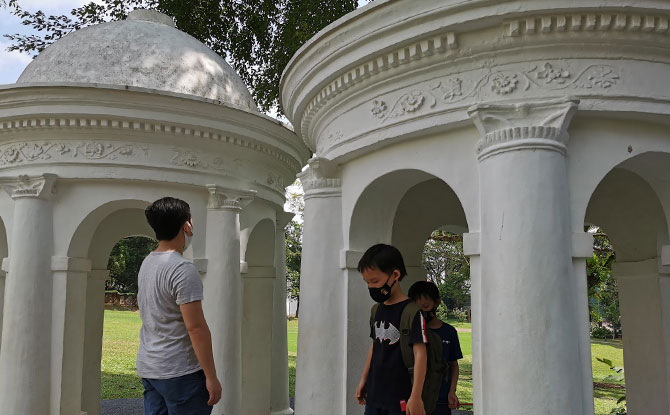 Checkpoints 4 to 6 for the Fort Canning Adventure Quest will lead you uphill. Be prepared to "chiong" and constantly hydrate yourself. This area should be more familiar for families who have attended the Bicentennial Experience. While Checkpoint 4 is located at Fort Canning Green, the rest are behind Fort Canning Centre.
While the puzzles can be solved quite independently, the children may need their parents' help to direct them to the right Checkpoints. So look at the map carefully and use the clues when in doubt. For the last Checkpoint, your child may even want to splash around – so you might want to bring a spare change of clothes!
---
Uncover the Secrets of the Hill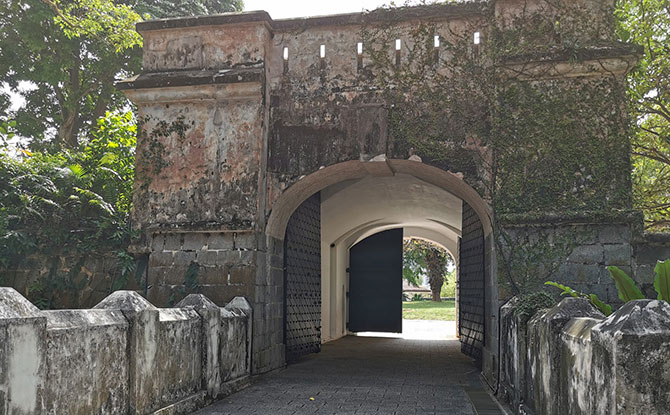 Allocate at least two hours for this Adventure Quest. There is a distance to cover in this 18-hectare park. Perhaps you can even get the kids to play at Jubilee Park, Fort Canning Park's playground, after the final checkpoint.
Wear good walking shoes, comfortable clothes and be dressed for the weather. We would recommend starting early in the morning or in the late afternoon. There is plenty to see and learn apart from the checkpoints so it would be beneficial to families if they dedicated more time for this quest.
---
How to Join in the Fun for Fort Canning Adventure Quest
First Step: Download the playsheet and clues from Little Day Out Shop.
Second Step: Pick a date and visit Fort Canning Park, Carpark 2 is best for drivers.
Third Step: Start your quest!
If you love adventure and solving puzzles, check out the Fort Pasir Panjang and Former Ford Factory Adventure Quests as well!