"Earth Day is the first completely international and universal holiday that the world has ever known. Every other holiday was tied to one place, or some political or special event. This Day is tied to Earth itself, and to the place of Earth in the whole solar system." – Margaret Mead
On 22 April 2013, we will be celebrating Earth Day, an event that began in 1970 as a grassroots moment in the United States and sparked a global movement. It has since become a day that is celebrated in 192 countries in support of environmental protection.
Today, it is with even greater urgency for us to become more conscious and active about protecting the earth. Especially for us parents, the green choice is clear. Caring about Mother Earth has to be the way to go simply because this is where our children will continue to live in.
In the Garden City of Singapore, various groups of people and organisations have made the stand to leave behind a green legacy with their decisions and events that they have organised around Earth Day. We highlight some of these great activities and places to visit for a Green Little Day Out with your children, family and friends!

Earth Day at the Parks
NParks is responsible for the parks in Singapore. Unsurprisingly, they have many events held around Singapore to mark Earth Day:
Learn about Carbon-Printing at Jacob Ballas Children's Garden
Let your inquisitive child explore the world of carbon footprinting. Learn about things we can do to make a positive difference for Planet Earth and also be introduced to "useful" trees by Sara the Botanicosaurus and her new friend, Rana the Frog!
Date: Saturday, 20 April 2013
Time: 10.00 am to 11.00 am
Plant a Mangrove at Sungei Buloh Wetland Reserves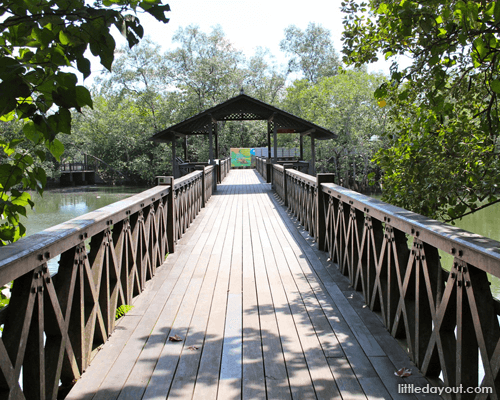 Discover Sungei Buloh anew as you learn about mangroves and much more through guided tours at 9.30 am and 9.45 am. There are also talks and activities for both adults and children. Try your hand at planting mangrove saplings, painting your own personal pebble and making a nature origami of animals and plants.
Date: Saturday, 20 April 2013
Time: 9.00 am to 12.30 pm
Bird-watch at Singapore Quarryland
Here's a chance to appreciate the diversity and abundance of birdlife with the help of the experts. Join three NParks officers who will be leading this special guided session at Dairy Farm Nature Park on Earth Day itself.
Date: Monday, 22 April 2013
Time: 7.30 am to 9.30 am
Clean-up a Park
Let's walk the talk and do our bit for the environment at Bishan-Ang Mo Kio Park's Park Clean-up 2013!
Date: 27 April 2013
Time: 8.00 am to 10.00 am or 4.00 pm to 6.00 pm
Earth Day at the Malls
Enjoy a Free Outdoor Movie Screening and More at City Square Mall
Over at Singapore's first eco-mall – City Square Mall ­– a host of memorable activities will be taking place to enable families to commemorate Earth Day together.
Reflecting this year's Earth Day theme, "The Face of Climate Change", a videographer will be roving around the mall from 12.00 pm to 3.00 pm looking for shoppers to "Be the Face of City Square Mall". Shoppers can share what they will do to fight against climate change and this may even find its way into a short video clip which will be played before the free outdoor movie screening of "Happy Feet" at 7.30 pm on Saturday, 20 April.
Eco-bags will also be given away from 6.30 pm to 7.25 pm at B1 Fountain Square before the movie screening. These are redeemable with a receipt of any amount spent on that day. To learn more about the recycling of cosmetic containers, be sure to visit the NEA and Origins exhibition at B1 outside Coffee Bean & Tea Leaf.
The mall, which has won the BCA Green Mark Platinum Award, is designed, built and managed with environmental sustainability in mind. Let the kids have fun at the eco-playground at the entrance of the mall at the junction of Kitchener Road and Serangoon Road. The child-friendly conditioned wood is certified by the Forest Stewardship Council (FSC), a certification system that promotes responsible forest management worldwide.
Where: City Square Mall
When: Saturday, 20 April 2013
Time: 12.00 pm to 10.00 pm
Shop Without Costing the Earth at GREENBOX
"I always believe when you look at children…what we have now, is it what they can see for the next 50 years? That was what inspired me to start something green. Green is now, not the future," says Captain Planet (Founder of Greenviron Eco, a green environmental company that runs the entirely eco-friendly retail shops, GREENBOX@ Buona Vista and GREENBOX@Tampines, and provides corporate green gifts and commercial engineering eco-solutions).
Both GREENBOX shops, newly-opened in October 2012, carry items made from recycled paper, plastic and glass, biodegradable material, organic chemical as well as bamboo and other natural products. If you think that these green items will cost you a bomb, fret not as this company has kept to their mission of advocating green living and sustainable awareness to the environment by encouraging small, affordable and creative changes to our lifestyles.
Let your child have a mug made from rice husks, wear a RPET (see "Interesting Facts" below) T-shirt, play with salt water-powered cars, use a bamboo or cardboard wrapped thumb drive, enjoy candies made from fruit juice or dry themselves with a towel made from bamboo fibres! These unique items make great gifts and serve as green talking points too.
Paper Pencil

How much: $0.80 for 1, $1.80 for 3, set of 12 for $6.50

Made of recycled newspaper.

Love Earth Rice Husk Mug

How much: $5.90

Made of rice husks, grown naturally without pesticide and fertiliser. Highly biodegradable and recyclable.

Reusable Foldable Water Bottle

How much: $2.80 for kids, $3.50 for adults

Drink from a water bottle that is reusable, foldable, attachable, freezable, washable and identifiable!

Robot Kits

6-in-1 Educational Solar Kit

How much: $24.90

Make your own robot into six different models – solar windmill, solar revolving plane, solar airboat, solar plane, solar car and a solar power, and power it with energy from solar module and a gearbox.

Salt Water Power Car

How much: $19.90

Assemble your own car made of sustainable and biodegradable material and power it with saltwater. 

Thumbdrive

How much: $9.90 for 1 GB, $13.90 for 4 GB

Made of bamboo or cardboard.

RPET Shirt

How much: $17.90 for females, $19.90 for males

Made from recycled plastic bottles. See note below on RPET.
Drop by and discover more at:
1 Vista Exchange Green, #B1-26 Star Vista
Singapore 138617
Tel/Fax: 66944635
Opening Hours: Monday to Sunday – 11.00 am to 10.00 pm
2 Tampines Central 5
#03-21 Century Square
Singapore 529509
Tel/Fax: 67811796
Opening Hours: Monday to Sunday – 11.00 am to 10.00 pm
Let's all start by making a difference and sharing with the kids through these Earth Day activities this weekend! 
Interesting Facts 
Wondering why there is Earth Day and also Earth Hour? Earth Hour had its roots in 2006 when World Wildlife Fund (WWF)-Australia got Sydney-siders to show their support for climate change action at an event. The next year, 2.2 million individuals and more than 2,000 businesses in Sydney turned their lights out for one hour to take the stand against climate change. Today, Earth Hour has almost 5 million supporters and a global reach of over 100 countries. In 2013, Earth Hour took place on 23 March, Saturday, at 8.30 pm and several buildings in Singapore went dark that hour to commemorate the moment.
By using waste paper to produce pencils, we can save up to 14% of landfill space and 17 trees.
Recycled paper requires 70% less energy compared with making it from raw materials.
It takes 7 plastic bottles to create 1 recycled plastic bottle (RPET) T-shirt. PET is short for Polyethelene Terephthalate, the plastic material that is used to manufacture plastic drink bottles and other containers. RPET can be processed into fabric material by cutting up the bottles into flakes that are then melted and shaped into fibre, and spun into yarn.